Wild caught shrimp and scallops from the folks over at Fisherfolk meet a green curry paste infused coconut sauce and an abundance of vegetables! My version of green curry contains a rich store of minerals from the grass fed and finished, ethically pasture raised lamb bone broth, brain supporting protective nutrients and trace minerals, iodine, and selenium from the wild seafood and colourful vegetables, which together may help to increase and optimize your mitochondria.
Resurrect and emerge from the dormant darkness of winter. Because life finds a way.
Ingredients you'll need for this Wild Cape Breton Shrimp and Scallop Coconut Green Curry:
grass fed ghee or virgin cold-pressed coconut oil
wild Cape Breton shrimp (or local shrimp near you)
shallots
garlic
ginger
zucchini
carrots
red pepper
green curry paste – click here for my easy green curry paste recipe that blends up in mere seconds.
coconut milk or coconut butter
grass fed and finished, local ethically pasture raised bone broth (I used lamb from wildmeadowsfarm.ca – use code ROOTTOSKY15 for $15 off your first order)
maple syrup
tamari or coconut aminos
tamarind paste
lime
cilantro
basil microgreens
snap peas
soaked rice or cooked soba (buckwheat) noodles
oh, and try aiming for 100% organic/biodynamic and as local as you can find/grow. You can really use any veggies you like, but for the greenest curry possible, I opted for green zucchini, green pepper, and a cilantro basil garnish. Check out your local farmers' market!
Why the heck should I soak the rice?
If you choose to use rice, it is imperative that you follow the ancestral practice of first soaking the rice for 12-24 hours (or overnight) in filtered water with a splash of lemon juice or raw apple cider vinegar and a pinch of sea salt before cooking with it. The acids help to break down the anti-nutrients and nutrient inhibitors which are present in most plant foods. Optionally, you can even boost it further by including a fermentation process: add about 1 tsp of grass fed kefir or whey mixed in for the entirety of the 12-24 hours.
Ancestral and indigenous knowledge and intuition has made way for these natural practices including soaking, sprouting, cooking and fermenting long before the advent of globalization and industrialization, where people did all they could to maximize the nutritional profile and preserve their food while creating minimal waste. Not only has this knowledge been passed down through family recipes, it has actually been part of the foundation of ancient Eastern healing systems including Ayurvedic and traditional Chinese medicine for thousands of years. It's up to us to revive, reclaim, share, and carry on these systems in our daily lives and explore the ways in which we can get the most out of our food, keeping in mind that modernity has most of us malnourished, sluggish, and burdened by toxins more than ever. Malnutrition is not a game. This is where proactive, preventative detoxification practices and cultivating vibrant health enter the picture!
By soaking rice overnight, draining and rinsing, then cooking it in excess filtered water with a ratio of 1:5 rice to water, not only do you reduce the arsenic content by up to 82% or even more, you also help reduce the inherent anti-nutrients (built-in protection mechanisms) present within the grains, namely lectins, phytic acid, and protease inhibitors, for bioavailability and digestibility's sake. When the rice is cooked, you'll want a remaining reservoir of extra water in which any lingering arsenic can be poured out. Lundberg (California) is currently my favourite brand because they actually test their rice and publish the results for the public, and Basmati rice generally has the least amounts of it. Even then, it still contains some arsenic and should still be properly prepared before consuming. Personally, I only consume rice once every few months because prep is an entire production process, and nutrition wise, it's not really worth it most of the time.
Rice is totally optional in this recipe, as the nutrient dense seafood more than makes up for it. The curry is totally fine on its own!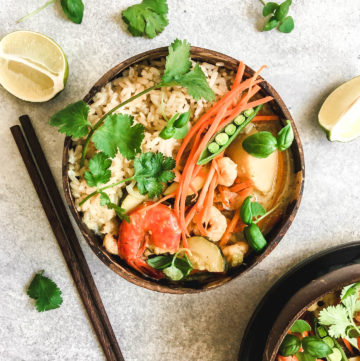 Wild Cape Breton Shrimp and Scallop Coconut Green Curry
This green curry is unreal. Wild caught Atlantic shrimp and scallops meet creamy, coconut infused green curry paste and a hefty dose of colourful, locally grown vegetables, just in time for spring!
Ingredients
1

tbsp

grass fed ghee

or virgin cold-pressed coconut oil

2

organic shallots

2

cloves

organic garlic

1

inch

organic piece of ginger, peeled and minced

1/4

cup

organic green curry paste

1

organic zucchini, sliced into half moons

2

organic carrots, julienned

1/2

organic green pepper

1/2

cup

organic snap peas, sliced

1

cup

grass fed and finished, pasture raised lamb bone broth

400

mL

organic coconut milk (always BPA-free can) OR 2 tbsp organic coconut butter (glass jar)

1

cup

wild caught local shrimp

1

cup

wild caught local scallops

1

tsp

organic maple syrup

1

tsp

organic tamari or coconut aminos

1

tsp

organic tamarind paste

freshly squeezed organic lime juice, organic basil and organic cilantro, to garnish

soaked organic brown rice or cooked organic soba buckwheat noodles, for serving
Instructions
Heat the ghee in a large skillet over medium heat. Add the shallots and sauté for 3 minutes until translucent and soft. Add the garlic and ginger, and stir for 30 seconds until fragrant.

Stir in the curry paste and combine until fragrant, about 30 seconds. Add the vegetables: zucchini, carrots, bell pepper, and snap peas. Sauté the vegetables and stir to coat them in the aromatics, about 4 minutes.

Pour in 1 cup of bone broth, and gently scrape the bottom of the pot to release any accumulated brown bits. Raise the heat to medium-high. Stir to combine until the mixture simmers. Cook the curry, uncovered, for about 7 minutes, or until the carrots are tender enough to be pierced with a paring knife and the curry has thickened up slightly.

Add the shrimp and scallops, and stir to combine. Bring the heat down to a gentle simmer as they cook through, this will only take a few minutes. Add the remaining coconut milk along with the maple syrup, tamari, and tamarind, stirring to combine.

Once the seafood is cooked through and the shrimp is pink, serve warm with properly prepared rice or buckwheat noodles, and garnish with cilantro, basil, and freshly squeezed lime juice.
Notes
Grain-free friends: serve with buckwheat soba noodles instead of rice, or just have the curry on its own!
Plant-based friends: swap the seafood for sprouted chickpeas, sprouted tofu, or tempeh chunks. Use virgin cold-pressed coconut oil instead of ghee.