This spring salad with spiced activated nuts and homemade mustard dressing is refreshing, nutrient dense and tasty, keeping you satiated and satisfied for hours on end! Raw food is full of living enzymes and structured water, and I tend to feel super hydrated and energized with it, especially in the warmer seasons. High energy, nourishing goodness, bursting with life. Earth's food.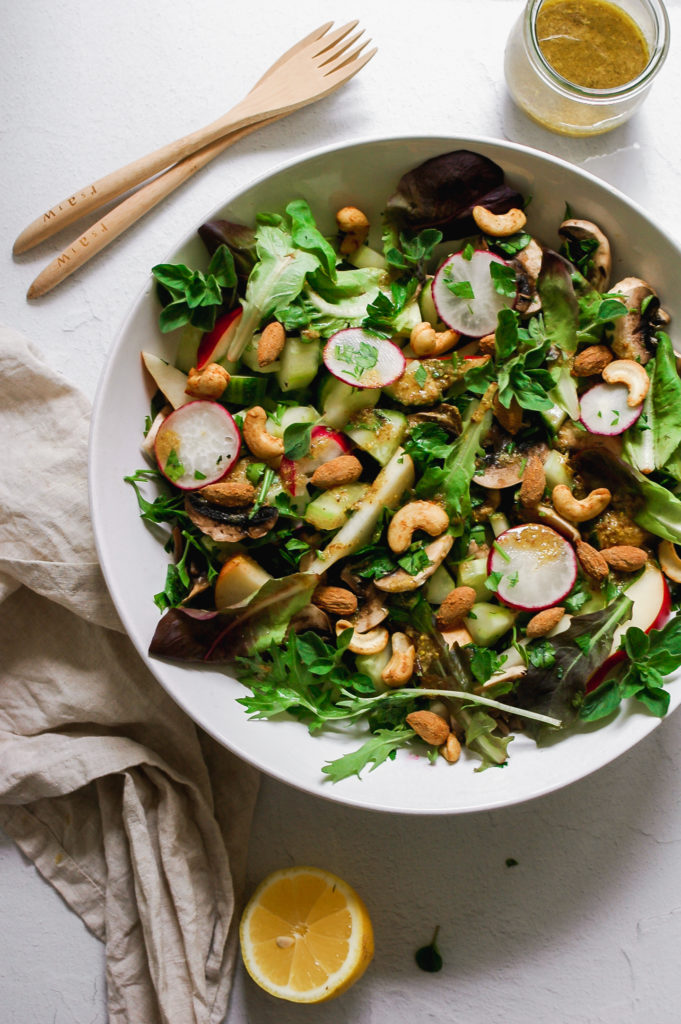 I've teamed up with 51raw to bring you this simple and amazing recipe using their spiced activated nuts!
51raw is a brother sister team rediscovering human health through a balance of wholefoods and connecting with Nature, who intend to emanate vitality. They are a lifestyle brand with an online platform to share research and their own experiences of healing through organic wholefoods and cleansing techniques.
Truth be told, I had wanted to clear out my refrigerator and so I made do with whatever ingredients I had, I wasn't too choosy about the ingredient combination. Really, you could use whatever's hanging out in your own fridge, too – always changing it up as your own needs and preferences shift through the seasons. What really brings it all together is the spiced activated nuts and the bright homemade mustard dressing. Never underestimate the power of spices and herbs, people.
The spiced activated nuts are made with ORGANIC, WHOLEFOOD INGREDIENTS: almonds (Australia)*, cashews (Vietnam)*, onion powder (China)*, cayenne pepper (India)*, cumin powder (India)*, raw apple cider vinegar*, Celtic sea salt. *certified organic
Not entirely local here, but some of the best of the earth's foods in one package from the source. Let this yummy preventative medicine inspire you beyond your imagination where you are! They're honestly addictive, and I'm already running out of them.
The raw cashews and almonds have been activated (pre-soaked) in filtered water (very important) to destroy enzyme inhibitors, ease their digestive burden and increase the bioavailability of the nutrients, essentially awakening them for full spectrum absorption of the nutrients they have to offer. They are then dehydrated at a low 40º over several days in order to not destroy the precious phytonutrients, keeping them in a raw state. Improper nut and seed consumption with unactivated nuts/seeds, or nuts/seeds roasted directly from raw can actually burden digestion, causing bloating, cramping or gas, and inhibit proper nutrient absorption!
Personally I feel much *better* after consuming activated nuts and seeds as opposed to the conventional or unactivated nuts and seeds, we in the West have forgotten proper ancestral methods of food preparation. Luckily we're bringing them back in order to thrive in this modern and wacky age. Create a sense of balance throughout the imbalances, constantly harmonizing, always maintaining balance as to avoid the stress of extremes!
PS. A life of approximately 51% raw foods can be incredible. Even the most "paleo"/"traditional"/"ancestral"/Ayurveda/TCM/Weston Price/Sally Morell/Aajonus/Ray Peat abiding proponents will inevitably include some form of raw fermented vegetable/fruit, dairy/kefir, local honey, or even raw ethically raised/wild caught meat, egg yolk, or fish. Mix it up and question everything! In the West/Anglosphere we love attaching our entire individuality onto external labels and ideologies, including diets. This can get stagnating, boring, and even downright dangerous! Always listen to your own body and trust the changing flow of life as your needs inevitably shift over time. How can we then come to differentiate between a fear-based, rigid dogma vs. what feels real?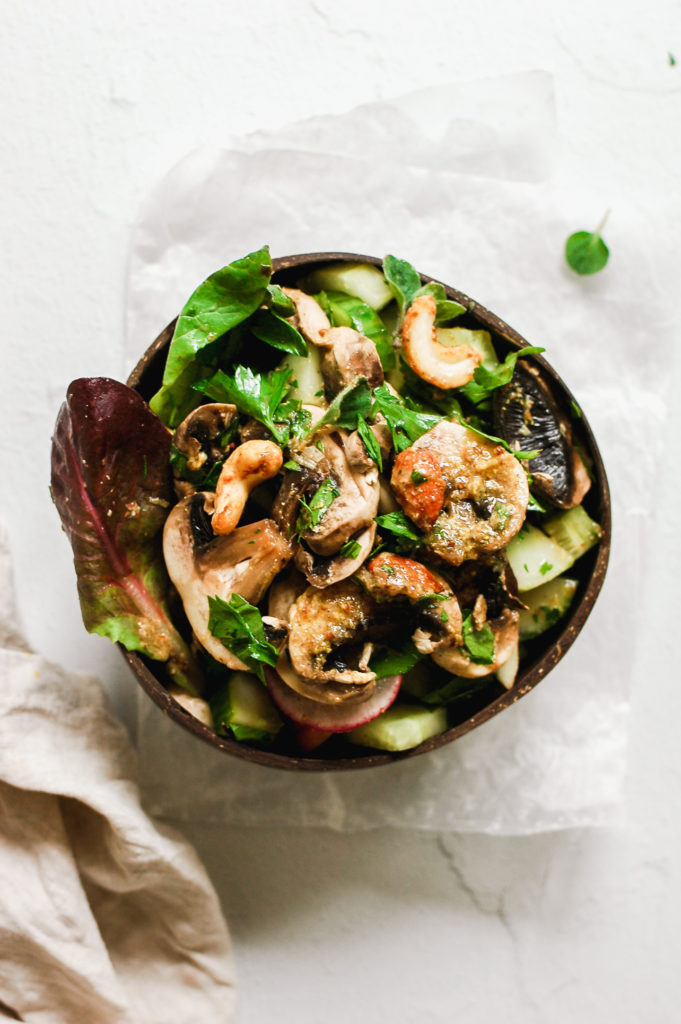 Almonds and cashews are rich in vitamins, minerals, protein, healthy fats, antioxidants and fibre.
Almonds are a good source of calcium, magnesium, phosphorous, and B vitamins such as riboflavin, niacin, thiamine, vitamin B6 and folates. They also provide vitamin E and are alkalizing.
Cashews are a good source of copper, magnesium, phosphorous, manganese, zinc, iron, potassium, selenium, calcium and vitamin K.
Cayenne can relieve digestive issues and provides a stimulant effect utilized for relieving nerve pain. It contains vitamin A, vitamin B, vitamin E, vitamin C, riboflavin, potassium and manganese. It also contains capsaicin, which increases blood flow and circulation to all major organs, facilitating oxygen and nutrient delivery.
Cumin seeds are a source of calcium, magnesium, iron, vitamin A and vitamin C. A vital part of Ayurvedic cooking with medicinal qualities, restorative to the tissues. Kindles gastric fire and improves the absorption of minerals in the intestines. Relieves digestive issues and is a mild pain reliever.
Onion offers calcium, potassium, manganese, vitamin C and a small amount of magnesium.
Now I could go on and rail off endless lists of vitamins and minerals, but at the end of the day, if you try one and you feel great, you'd know firsthand that the perfect nutrient ratios of nature's offerings are nourishing your body!
Gather these for this spring salad with activated nuts:
Spring mustard greens mix (or other seasonal greens such as wild unsprayed dandelion or arugula)
Red radishes
White or brown mushrooms
English cucumber
Flat leaf Italian parsley
Red pear
Fresh garden oregano
Freshly squeezed lemon
51raw uncoated bamboo cutlery set – reusable and comes with a canvas pouch. Bamboo in its raw state genuinely makes food taste better, improves the experience of eating, and is perfect for on-the-go, because screw plastic and coated cutlery. Pop the lightweight canvas cutlery pouch into your bag and go out fearlessly into the world! These days even the eco-friendly oil coated bamboo option in mass production can contain traces of chemicals such as petroleum, and most oils when heated to a high degree are toxic to the human body. Therefore these sets are non-toxic to the inner human ecosystem and outer environment.
Ingredients you'll need for the flax seed mustard dressing (from scratch!):
Mustard seeds
Raw apple cider vinegar
Olive oil
Sage
Maple syrup
Turmeric
Sea salt + black pepper, to taste
Garlic
Flax seeds
I will leave you with a quote that I think is appropriate now:
We have splintered the world into fragments, and if we ourselves are broken, fragmented, our relationship with the world will also be broken. But if, when we act, we act totally, then our relationship with the world undergoes a tremendous revolution.

Krishnamurti
Enjoy 51raw's spiced activated nuts? You might also enjoy this raw cacao banana pie, made with their dehydrated (raw) cacao bananas! Yum!!!!
Spring Cleanse Salad with Spiced Activated Nuts and Mustard Flax Seed Dressing
I've teamed up with 51raw to bring you this spring cleanse salad using their raw, organic spiced activated nuts as a garnish! Simple, basic and reliable. Nourishing, organic wholefood goodness!
Ingredients
Homemade mustard (makes extra)
1/4

cup

organic mustard seeds

1/2

cup

organic raw apple cider vinegar

with the 'mother'

3

tbsp

organic/biodynamic extra virgin olive oil

2

tsp

organic sage

1

tsp

organic maple syrup

1/2

tsp

organic ground turmeric

1 1/4

cups

filtered/spring water

1/2

tsp

sea salt
Mustard flax seed dressing
2

tbsp

organic/biodynamic extra virgin olive oil

1

tsp

homemade mustard

see above

1

tbsp

ground organic flax seed

1

tbsp

organic raw apple cider vinegar

with the 'mother'

2

tbsp

filtered/spring water

1

clove

garlic, finely grated with a Microplane

sea salt and organic black pepper, to taste
Spring Cleanse Salad
1

cup

organic seasonal local spring mustard greens mix

1

cup

organic flat leaf parsley, finely chopped

1

entire large organic English cucumber, diced

1

organic red pear, finely sliced

1

lb

organic white button mushrooms, sliced

2-3

organic red radishes, thinly sliced

2

tbsp

fresh organic oregano

1/2

freshly squeezed organic lemon

a generous sprinkle of 51raw spiced activated nuts

sea salt and organic black pepper, to taste
Instructions
Make the homemade mustard. In a bowl, soak the mustard seeds with a little filtered water for about 30 minutes. Strain seeds to remove water. In a blender, combine seeds and apple cider vinegar, olive oil, sage, maple syrup, turmeric, and sea salt. Blend to a smooth mustard of even consistency, this can take several minutes. Scrape out the mustard into a glass mason jar with a tight fitting lid, and set aside.

Make the mustard flax seed dressing. In a small bowl, combine the olive oil, mustard, vinegar, flax seed, apple cider vinegar, and water. Grate the garlic into the bowl. Season with sea salt and pepper and whisk to combine. Set aside.

Assemble your salad. In a large bowl, place the spring mustard greens, parsley, cucumber, pear, mushrooms, radishes, oregano, lemon juice, and toss to combine. Season the salad with sea salt and pepper. Sprinkle generous amounts of the 51raw spiced activated nuts on top.

Pour the mustard dressing over the salad, toss, and serve!
Notes
For more 51raw products and useful life tips, visit the 51raw website.
Wooden, uncoated cutlery by 51raw is truly a game changer. Seriously, it makes the food taste way better and more alive. It is also beneficial to eat directly with your hands or with uncoated wooden chopsticks (there are actually digestion-specific meridians in the fingers that are stimulated with the proper use of chopsticks, but that's a story for another time).
This salad is pretty huge, I estimate that it makes about 4 servings, but I recently consumed the whole thing for lunch and dinner!
Store the homemade mustard in a glass mason jar with a tight fitting lid. Keeps FOREVER (at least 6 months, if not more), in the refrigerator. Use in quick dressings!
Mushrooms are one of the only foods where the precursors to vitamin D are found naturally. Vitamin D is vital for metabolic health, longevity and immunity. Please do not forget the sunlight's benefits itself. To have them soak up more vitamin D, place them gills up in the sunlight outside (away from the reach of critters, must be outside for full spectrum benefits). Let them sit for 1-2 hours. You should get a day's worth of vitamin D (about 20 mcg or 800 IU) in about a cup of white button, cremini, or portabello mushrooms.