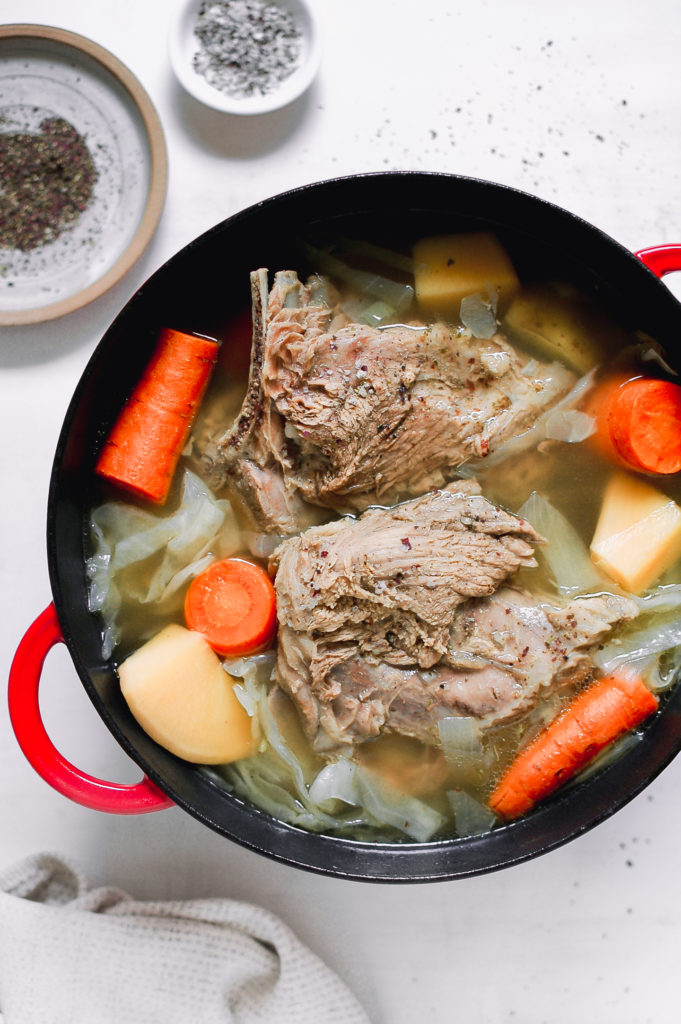 Scenario 1
You're hiking in the mountains around the volcanoes and glaciers in Iceland. It's stormy, cold and wet, and the wind is so strong that it could knock you over. You've been hiking for 4 hours straight, on your way to the closest hut for a rest, and your mittens and socks are soaked. Exhausted, once you reach the hut, you open the door, greeted by the other hikers and a blast of warm air from the fireplace. You set your mittens and socks on the heater, hang up your coat, and release yourself from the heavy backpack before proceeding to collapse onto a bench in the kitchen amidst the hustle and bustle of people walking around in their baselayers and Icelandic wool sweaters (lopapeysa). You and your hiking buddies are served a piping hot bowl full of freshly made kjötsúpa. The sun is setting and the hut is warm and cozy. You feel utter bliss.
Scenario 2
You're hiding behind a large mossy rock with your bow and arrow poised, observing the wide landscape for any wandering sheep or lamb. You've wandered half a day from your cave to go hunting. It's raining and you're famished after having only wild foraged plants and glacier water for 10 days straight. Your buddy is out spear-drift hunting for whales (this is back when they weren't severely endangered) on the west coast and will return in a week to swap and share rations. The sun is setting in a few hours, so you continue on your hunt as quickly as you can. Your wool and fur clothing that you stitched together and your handmade fish leather shoes keep the rain out quite nicely.
You see something moving in the distance and it turns out to be a lamb. You hunt the lamb with your bow and arrow, giving blessings to the lamb god while you pack the meat, organs and bones in your rucksack. You head back to your cave, dig out some carrots, potatoes, an onion, and a rutabaga from your vegetable garden, and you get your clay cauldron ready over the fire to make some delicious kjötsúpa (and save some of the organs and muscle meat for curing and sharing with your friend later).
Whatever scenario you prefer the most, Icelandic meat soup (kjötsúpa) has got your back.
What is Icelandic meat soup (kjötsúpa)?
I once thought that the winters in Canada were brutal until I visited Iceland in the summer. Naturally a cozy dish like this would arise from a place with such tumultuous, unpredictable weather, where food was often scarce and energy and warmth is needed to battle the elements. I think we could learn a lot from our Icelandic neighbours when it comes to thriving despite the dreary weather.
Icelandic meat soup (kjötsúpa) is a basic, rustic, hearty, primal soup made with pasture raised, bone-in local lamb and stored root vegetables, a staple comfort food of Iceland. Kjötsúpa means "meat soup" in Icelandic but in Iceland it will almost always be made with lamb. I mean, have you seen all of the sheep roaming the mountains there? Icelandic lamb is renowned for its flavour and quality, most widely available for centuries as sheep first settled on the land 1000 years ago, but it is best for health to source local, ethically and sustainably, regeneratively pasture raised, grass fed and finished lamb—wherever you are.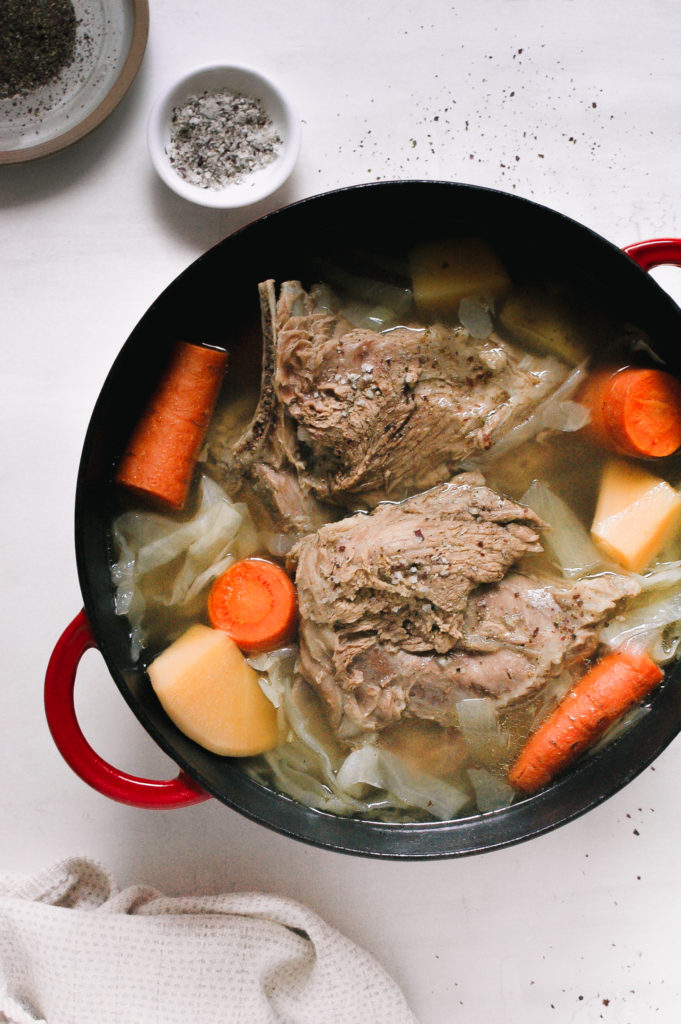 Icelandic meat soup (kjötsúpa) has legendary healing powers and serves as a warm healing hug when your summer is over and the cold days settle in. It's ideal for cold, dark winter nights: full spectrum, bioavailable nutrition that will revive the dead. It used to be a somewhat fancy dish served on Sundays, though it uses parts that are typically cheaper than the leg and loins. Icelandic meat soup (kjötsúpa) is made with hardy vegetables that can withstand Iceland's harsh outdoor conditions: carrots, potatoes, onions and rutabaga (swedes).
This soup is so simple, yet its ingredients are so fundamental in preserving and protecting our health. Because of its stark simplicity, opt for the highest quality, organic/biodynamic/homegrown ingredients you can possibly find. The bone broth is full of calcium and collagen that our bodies desperately need, and provides the detoxifying benefits of glycine, dopamine-regulating benefits, and improved brain function (goodbye, seasonal affective disorder!). Collagen can help decrease anxiety, it's good for our bones, and glycine (also a part of collagen powders) prevents and manages autoimmunity by detoxifying any nefarious glyphosate from the body.
Because bone broth is so rich in calcium (and don't get me wrong, this is a beneficial thing), you may want to consider taking a magnesium supplement regularly or swim in the ocean, as it may cause the kidneys to need extra magnesium to cope with the extra calcium, diverting the magnesium needed for good adrenal function.
Traditional cultures have always included bones, tendons and cartilage in their soups and stews, and their teeth were usually very strong and free of cavities or crookedness with a wider, stronger jaw due to how they lived and ate. Bone broth can also decrease modern addictions to coffee, sugar and chocolate. When we forget these vital food traditions, we pay the price with our physical, mental and spiritual health. The best things in life are free (or close to it)… reacquainting ourselves with these old ways will help us thrive and stay resilient, adaptable and full of life despite the inflammatory modern environment, hence the growing awareness and movement towards more primal, authentic, and simple living, closer to nature's elements.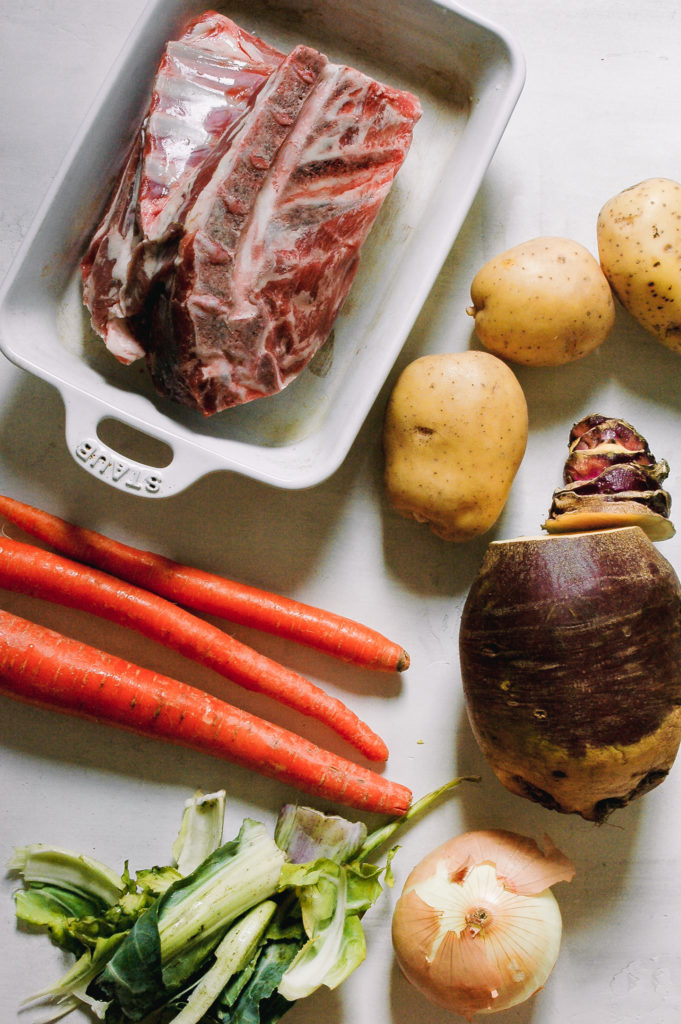 Ingredients you'll need to make Icelandic meat soup (kjötsúpa)
The ingredients in Icelandic meat soup (kjötsúpa) could not be more simple, which reduces the cost of fancy ingredients while enhancing your health and well being. There are as many ingredient variations as there are cooks in Iceland, so once you get this basic recipe down as a starting point, feel free to adjust it according to what you have in your fridge or pantry. As a soup it's very forgiving, so go wild – don't be afraid to be flexible. I also recommend that you grow some of the vegetables on your own, as you get to control the soil and nutrient quality to an extent.
Súpukjöt (soup meat) – the meat can be bought fresh or frozen, or wild caught. Always go for grass fed and grass finished, organic, and pasture raised. This recipe famously uses lamb shoulder, bone-in, although shank, loins, or stewing meat can be used. Remove any silverskin but keep any fat on! The fat is the most nutritious part, with vital nutrients so often missing from today's world with nutrient depleted agricultural soils. Cut the meat into just over bite-size pieces before cooking.
If you're in southern Ontario, use code ROOTTOSKY for $10 off your first order at Wild Meadows Farm.
Icelandic "soup herbs" – this is typically comprised of dried parsnip, carrots, leeks, and other herbs or vegetables cut small to resemble fresh herbs that aren't able to grow in the harsh sub-Arctic climates of Iceland. If you want to get fancy you can use a mixture of wild arctic thyme, birch leaves, bilberry and juniper, if you can find them. I like using local Atlantic dulse and kelp flakes with homemade vegetable stock.
Spring water or filtered water – the original recipe calls for water but I also like to include a few cups of homemade vegetable stock or throw some frozen vegetable broth cubes into the water, instead of using "soup herbs".
Onion – one medium yellow onion will suffice. Dice this finely.
Carrots – cut into large chunky pieces.
Rutabaga (also known as swedes) – the one I had for this batch was massive, but a small or medium sized rutabaga will suffice. Cut it into large chunky pieces.
Green cabbage – sliced into fine shreds. The photo above shows cauliflower leaves; you could use those if you don't have a cabbage – or any seasonal cruciferous veggie can be used.
Saltverk seaweed salt – Natural, unprocessed sea salt remineralizes and hydrates the body with its trace elements and minerals. There are no harsh chemicals and it's just as nature intended. Sea salt is similar to the mineral composition in human blood, and balances the body's pH. Saltverk is sustainably and geothermally produced by the power of the geysers, hand harvested and sustainably sourced from the pristine and pure waters of the Westfjords.
Icelandic sea salt is among the least contaminated sea salts on earth, aside from Mayan and Peruvian salts (Himalayan salt contains rust and dynamite fragments, most sea salts are full of microplastics and the Celtic sea is polluted). Always do your research regarding sourcing and composition. Saltverk salt is a bit expensive so I like to use it for special occasions, though I wish I could add it to everything. Read more about sea salt's benefits here.
To find Saltverk seaweed salt, click here for more info.
Birch leaves if you can find them far away from any roadside, are rich in vitamin C, betulin, betulinic acid (anti-cancer) and flavonoids, and are anti-inflammatory, anti-microbial, and antiseptic, great for our immune system. In Scandinavia and Russia, people use it in saunas as a purifier for the skin, and birch sap is a traditional Mongolian remedy. Read more about birch here.
How to make Icelandic meat soup (kjötsúpa)
All you have to do is chuck the meat in a pot and boil it for about an hour, add the vegetables, keep boiling until they soften, add in the cabbage to wilt, and serve. Voila, Icelandic meat soup (kjötsúpa).
You could also make it in a slow cooker instead. Simply place all the ingredients into the slow cooker, fill it up with spring water, and cook on high for at least 2 hours (you could even go up to 6-8 hours for a really tender meat).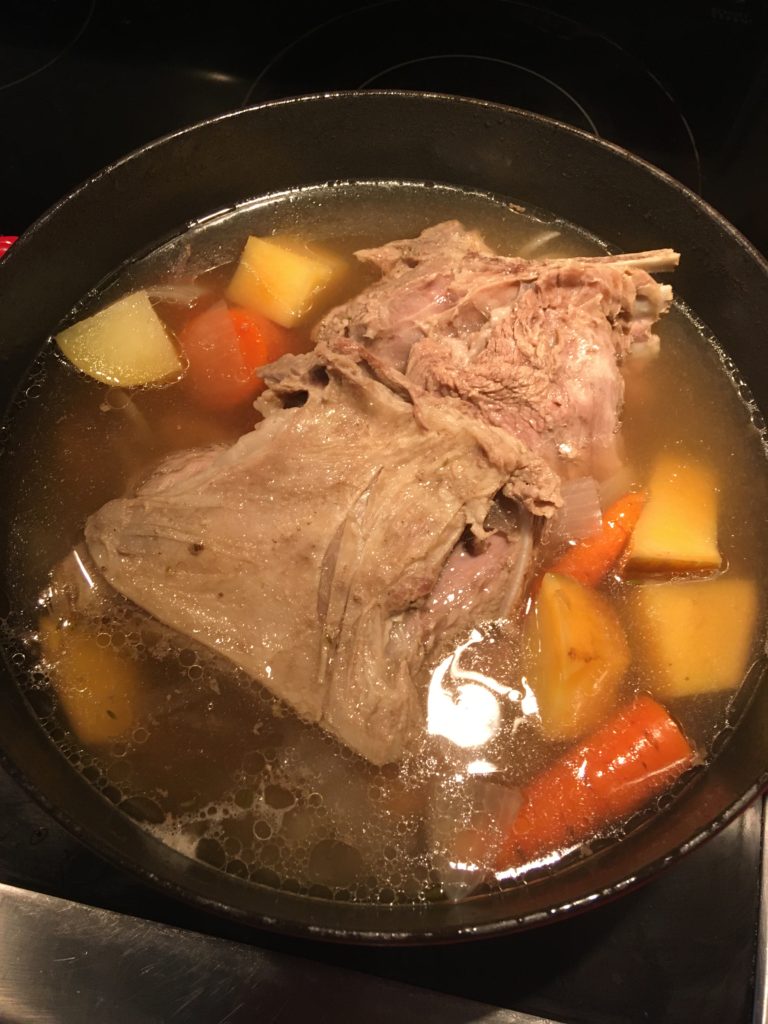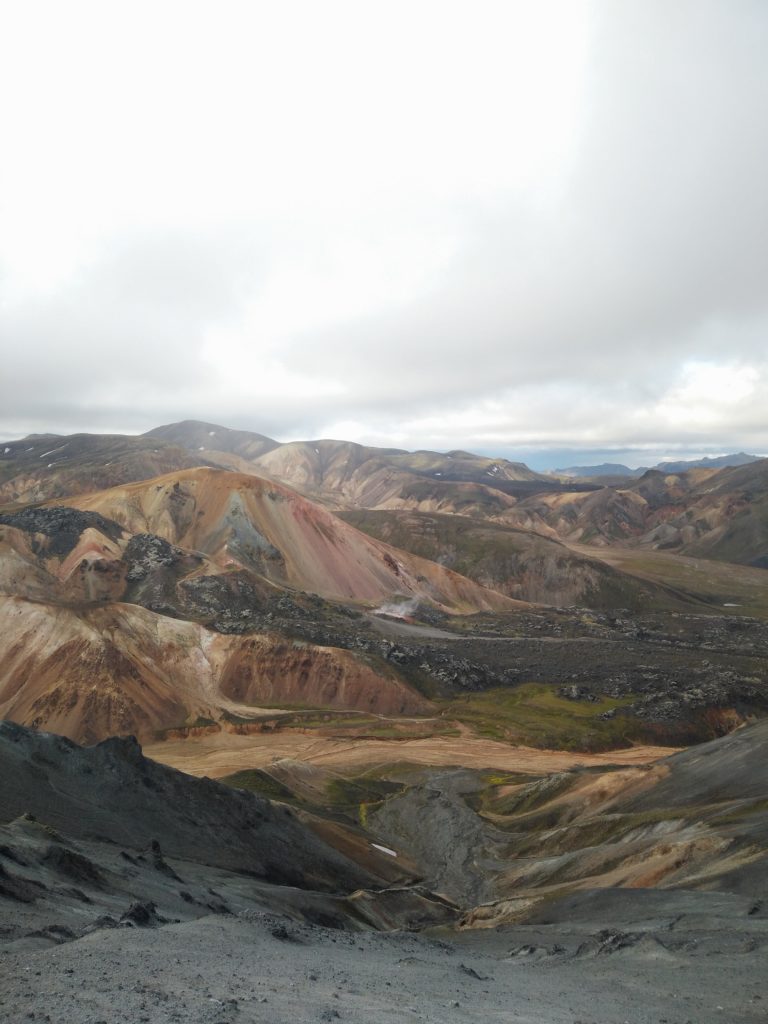 This Icelandic meat soup (kjötsúpa) recipe is featured in my upcoming ebook, The Vital Life Cookbook. It was adapted from Icelandic Food & Cookery by Nanna Rögnvaldardóttir.
As an affiliate of Saltverk I will receive a commission if you make a purchase through this link. All thoughts and opinions are my own.
Icelandic meat soup (kjötsúpa)
Kjötsúpa is a simple, hearty and nourishing classic Icelandic soup. Its full spectrum bioavailable nutrition is best enjoyed on a cold, dreary, dark day, with ample time to get cozy. This can be made in a soup pot or a slow cooker like an Instant Pot.
Ingredients
1-2

lbs

grass fed and finished, organic pasture raised lamb shoulder or neck, bone in, thawed and cut into rough pieces a little larger than bite size

or shank, or stewing meat

fresh, wild spring water to cover the ingredients

Saltverk seaweed sea salt, to taste

1

large

organic onion, small dice

1

large

organic rutabaga, diced into thick 1-2 inch chunks

4

medium

organic carrots, chopped into thick 1-2 inch chunks

4

medium

yellow or white organic potatoes, diced into thick 1-2 inch chunks

3-4

organic homemade vegetable broth cubes, or 2-3 cups vegetable broth

optional

1/2

head

small organic green cabbage, thinly sliced
Instructions
Place your meat into your favourite stewing pot, and include the bones and fat! Cover the meat with spring water, and season the meat liberally with sea salt. Bring the meat to a boil. Once the meat starts simmering, you can skim off some of the scum that may form on the surface of the water as this promotes a clearer soup, but not necessary as this doesn't impact the flavour. Let the meat simmer for 45 minutes to an hour, or until meat is tender.

Add the onion, rutabaga, carrots, and potatoes to the pot. Add in the vegetable broth, if using. Bring the pot to a boil, and back down to a simmer until the root vegetables are fork tender, about 15-20 minutes.

As the soup simmers, add in the cabbage and stir it in with the rest of the soup. After 5-10 minutes or cabbage is wilted, taste and adjust seasoning with more sea salt if required. Serve hot!
Notes
If your veggies are organic/biodynamic, no need to peel them! Slice your vegetables as thinly as you prefer – I prefer to cut them into larger pieces here as the soup is intended to be hearty and rustic. Don't tell the staunch k

jötsúpa traditionalists, but sometimes I sneak in some dark leafy greens like winter kale towards the end of cooking.

This can easily be made in a slow cooker/Instant Pot. Simply add all ingredients at once, cover with spring water, add some vegetable broth if using, include a splash of raw apple cider vinegar or lemon/lime to draw out the minerals from the bones, then cook on HIGH for at least 2 hours (you could even go up to 6-8 hours for a really tender meat). The meat will fall off the bone, which is the best texture.
In Iceland, dried "soup herbs" consisting of flaky dehydrated leek, parsnip and carrots is common, but the vegetable stock I use also serves the same purpose. Any fresh herbs that you use can be added in with the vegetables once the meat is boiled.
Keep any unused portions in an airtight glass container in the fridge for up to 4 days. You could also freeze any unused portions for up to 3 months. 
For the love of the lamb god, please keep the nutritious fat on.