Opening the heart and invigorating the spirit with these rose tahini cookies, made with almond, maple, tahini, coconut oil, coriander, cardamom, sea salt and local rose by Wild Bloom Botanicals.
Rose Tahini Cookies
These rose tahini cookies are sort of a mix between classic peanut butter cookies and Moroccan rosewater cookies (aka ghriba), without the typical rancid vegetable and seed oils, caustic sugars, toxic wheat fortified with literal iron filings that accumulate in your organs, or modern rosewater containing synthesized flavours derived from petroleum and other nasties.
With an Ayurvedic sensibility, these rose tahini cookies are an excellent opportunity to use food as medicine to calm and ground, especially if you're feeling scattered and anxious. The mildly sweet taste from the maple syrup is calming and these "everyday" cookies make a great augmenting part of a meal, or as part of a child (or child at heart)'s lunchbox.
Wild Bloom Botanicals Rose Powder opens the heart
Rosa centifolia can bring us a deeper level of healing that work on more subtle aspects of our Being. Not only do they heal the physical body, but they extend into our energetic auras and resonate at a healing frequency that work on our emotional and spiritual body.
Like all of the Wild Bloom offerings, this blend is 100% organic, ethically sourced, unprocessed, unsprayed, non-irradiated, raw, and without any added flavours, colours, additives, excipients, or preservatives. I really couldn't ask for more!
Rose teaches us to maintain an open, full, and strong heart – just like the soft, delicate, heart-shaped flowers – yet to maintain proper boundaries, like her sharp thorns. Ruled by Venus, Rose helps us to stay open-hearted in all of our relationships; including our relationship to ourselves, to others, and to nature.
Benefits of rose:
helps soothe skin irritation
opens and softens the emotional heart, extending into our energetic auras
eases the pain associated with trauma, restoring integrity
cools the pitta dosha, relaxing fiery emotions such as anger and frustration
helps one to connect to love more freely
soothes sore throats
reduces skin redness
prevents and treats infections
contains antioxidants
heals cuts, scars and burns
enhances mood
relieves headaches
potent anti-inflammatory properties
formidable natural beauty ally
naturally caffeine-free
may help alleviate menstrual pain
reduces severity of allergic reactions
antibacterial properties
improves insulin resistance and heart health
loaded with vitamins C, A and E, the B-complex, as well as calcium, magnesium, and potassium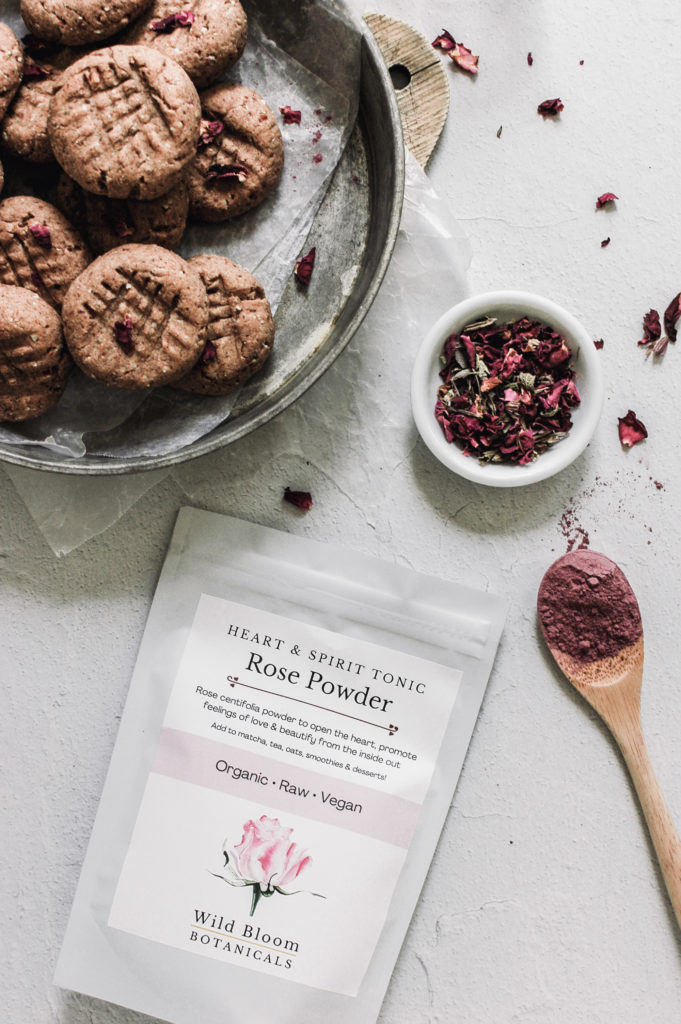 Ingredients you'll need for these rose tahini cookies: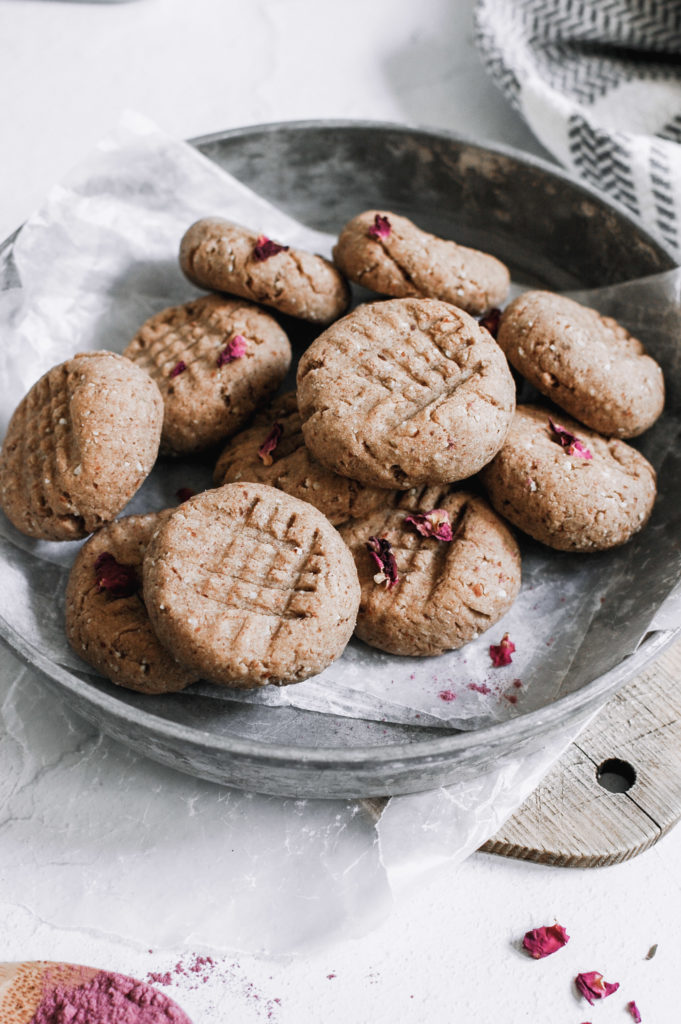 Tips for making these rose tahini cookies:
The state of mind you are in while preparing food will be present in your final product. Be present while you prepare the recipe and this energy will transfer to you as you consume the cookies. Take a few slow, deep breaths or say a short prayer as you begin to make your food. Go inward and remove any distractions, let this time be for you to bake meditatively. This will get you into parasympathetic mode, enhancing your digestive fire, and improving your experience.
My top tips for affording organic food: live simply, low maintenance and bare, wear less clothing, grow your own food, and connect with your local neighbourhood growers!
These go really well with herbal tonics, coffee or tea.
Dive Deeper
The healing power of rose on Wild Bloom Botanicals
Pharmacological effects of Rosa damascena
Antihyperglycemic effect of rose
Rose, an ancient, holy herb with novel applications
Rose in treatment of liver disease
Thanks to Wild Bloom Botanicals for collaborating with me on this post. All thoughts and opinions are my own. Click here for the magical Rose powder.
Rose Tahini Cookies
Open the heart and invigorate the spirit with these medicinal rose tahini cookies made with the Wild Bloom Botanicals Rosa centifolia powder. Visit wildbloombotanicals.com for more organic goodness and herbal remedies.
Ingredients
1

tbsp

ground flax seed + 3 tbsp spring water

1

cup

local, fresh milled organic spelt flour

or buckwheat flour for GF option

1/2

cup

activated organic almond meal

1/2

tsp

ground organic coriander

1/4

tsp

ground organic cardamom

2

tsp

Wild Bloom Botanicals rose powder

1/4

tsp

sea salt

1/4

cup

organic local maple syrup

2

tbsp

virgin cold pressed organic coconut oil

or grass fed butter

2

tbsp

organic hulled tahini

1/2

tsp

organic vanilla bean
Instructions
Preheat the oven to 350°F. Line a baking sheet with unbleached, biodegradable parchment paper, and set aside.

Combine the ground flax seed with the water in a small bowl. Set aside to thicken, at least 5 minutes.

In a medium bowl, whisk to combine the dry cookie ingredients: spelt flour, almond meal, coriander, cardamom, rose powder, and sea salt. Add the ground flax seed gel and stir to roughly combine. Set aside.

In a small saucepan, combine the wet ingredients to melt the coconut oil with: maple syrup, solid coconut oil, tahini, and vanilla. Heat the mixture over medium low, just until the coconut oil has melted. If your coconut oil is already in liquid form, skip this step.

Pour the wet mixture into the bowl with the dry mixture. With a spatula or your hands, stir to combine until a sticky dough forms. It might make it easier to form the dough into a unified ball for the next step.

Using a tablespoon or your intuitive judgement, portion out about 1.5 tbsp of dough onto the baking sheet, leaving at least 1 inch between each cookie. Roll each portion of dough into a ball.

With a fork, create an indentation on each ball of dough to form the cookies. Repeat to make a criss cross indentation and evenly flatten out the dough.

Slide the baking sheet into the oven and bake 12-15 minutes, or until slightly golden. Serve and devour!
Notes
The almond meal doesn't need to be from activated almonds, but if you prefer to activate them, soak the raw almonds overnight in filtered water with a pinch of sea salt, then blend them up in a food processor the next day.

Visit wildbloombotanicals.com for more organic goodness and herbal remedies.

Buckwheat flour is an excellent GF option as a cousin of rhubarb. I recommend it for any flour substitute!