Raw Medicinal Mushroom Nanaimo Bars
If you're into chocolate, look no further! I've devised this recipe for raw Nanaimo bars with medicinal mushrooms and cacao with a cashew based filling that's slightly lemony. Just like the classic recipe found at snack bars, markets and coffee shops across the land, but way more powerful, I'd say.
You're probably aware that Nanaimo bars originate from the small town of Nanaimo, BC. I've been an east coaster my whole life, but my lifelong obsession with the west coast knows no bounds. Back when I visited the Rocky Mountains as a kid, grocery store Nanaimo bars were primarily what fueled me on my travels along with strange watermelon flavoured fudge. Sweet, sickly and fudgey, ultimately making me feel off balance with my energy… not so great when hiking.
As an east coaster I wanted to make my own version of Nanaimo bars on a whole different level. Today I've teamed up with the west coasters at Wild Bloom Botanicals to bring you this easy, delicious recipe to create, enjoy, and share! …or have all to yourself, I'm not judging.
Did you know that organic, sugar free dark chocolate is a prebiotic? This makes it a great addition to daily rotational grazing of both pre and probiotic foods!
The Wild Bloom Botanicals mushroom cacao milk blend is a total dream that meets my exceptionally stringent criteria. It's made with only organic, mostly locally grown whole food ingredients as nature intended, and zero preservatives, gums, hidden fillers, manufactured flavours, and/or additives. No ingredients have been irradiated and all mushrooms have been properly dual extracted for optimal bioavailability, potency and efficacy. This blend is bursting with straight up life force, free of BS.
Every decision you make ripples out into the universe. With each bite of food, you inform the entire system in the play of the cosmic whole. When you nourish yourself with whole, unprocessed foods—whether organic, biodynamic, homegrown or wild, you nourish not only your mind, body and spirit, but also the earth, your home.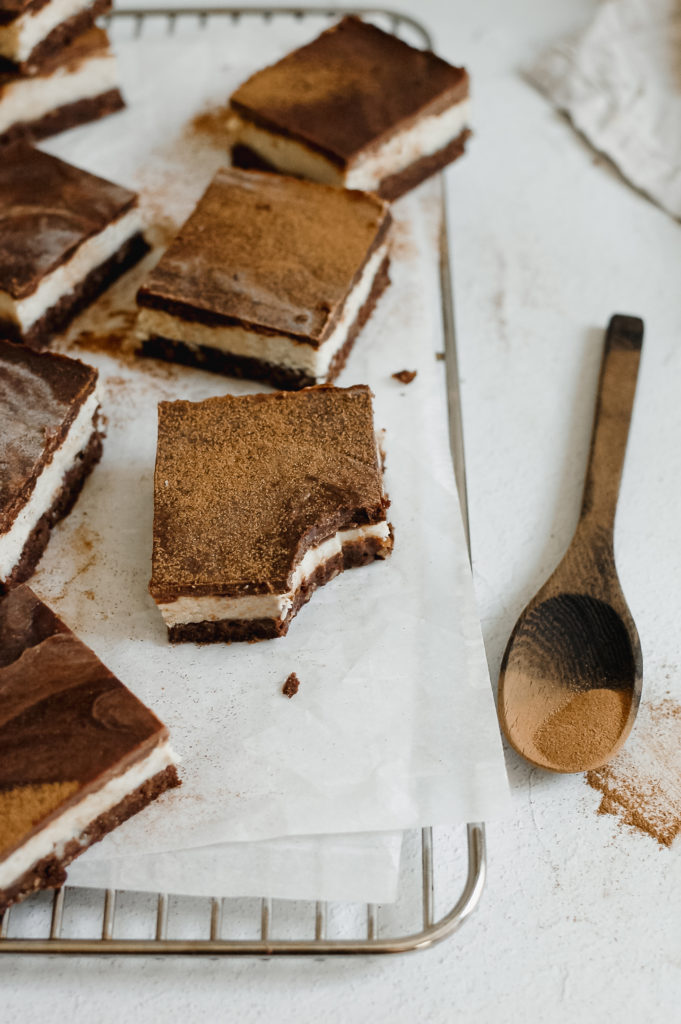 Ingredients in the Wild Bloom Botanicals mushroom cacao milk blend:
Chaga mushroom (Inonotus obliquus) – organic and dual extracted – known as the king of the medicinal mushrooms and among the most recommended herbal adaptogens by health practitioners, 'experts' and experiencers alike. Anti-aging adaptogen (though aging and the wisdom that ensues should be embraced!) that provides DNA repair, immune boosting, and anti fungal benefits, to name just a few. Chaga is loaded with melanin which repairs your DNA, making Chaga a powerful tonic herb to integrate into your life, especially during the warmer months when your body is (hopefully) exposed to more sunlight. Chaga is also protects you from radiation damage, not only from the sun but also radiation from airplanes, x-ray scanners, and radiation-based cancer treatments.
Raw cacao (Theobroma cacao) – packed with minerals and vital magnesium, mood boosting and energizing. Absolutely delicious, promotes health and longevity thanks to the rich phytonutrients and fiber. The OG chocolate. Promotes good mood, keeps you satiated, reduces cravings for food-like products due to the polyphenols, promotes heart health and skin health, reduces inflammation, and is a prebiotic due to its fiber. A traditionally sacred, powerful food that tastes amazing, synergistically improves the delivery of micronutrients to your cells, and promotes feelings of happiness, calmness and love! So powerful. I crave cacao frequently, as many of us do. Not to be confused with cocoa powder, its processed and ineffective cousin.
Reishi mushroom (Ganoderma lingzhi) – organic, dual extracted – one of my all time favourite medicinal mushrooms, heart opening Reishi or 'the mushroom of immortality' is one of the most highly revered herbs in the Daoist tradition that has personally reduced my own generalized anxiety and mental distress, helping me cultivate a profound sense of fearlessness and zen. Part of Reishi's Dao is to help us connect into a wider, mythic state of being, it's even been described as a "deep psychedelic" in a very subtle but powerful sense of the word. Used traditionally in Eastern medicine to expand Shen (the spiritual essence of our being), support immune and nervous system function, and improve sleep quality, promoting deep and restful sleep. May support heart & immune system, stress management, liver, kidneys and lungs, cardiovascular function, healthy sleep and mood, jing, qi and shen. Western science also recognises reishi as a powerful immune herb and as an adaptogen for its ability to help us fight stress. I've even seen people report a better experience with asthma while using reishi! The more reverence these herbs are sourced with, the more powerful the intangible benefits will be.
Lion's mane mushroom (Hericium erinaceus) – organic, dually extracted lion's mane is a brain boosting, neuroprotective medicinal mushroom known to repair damaged neurons in the brain and nervous system. Over time, lion's mane helps improve memory and cognitive function, helping form new neural pathways. Studies have shown it to be very effective in people with declining brain function. Lion's mane is a great source of beta-glucans, polysaccharides that act as "biological response modifiers" in humans, meaning when ingested, they awaken and greatly augment our own native immune cells to carry out actions that they're designed to do but may be executing poorly – exposing and removing decaying cells, improving surveillance to pathogenic threats, and regulating rogue inflammation in the body, offering potent benefits for immune dysregulatory conditions, inflammatory disorders and stealth infections. Lion's mane may also support optimal organ function, nerve, cognitive and digestive health, immune system, stomach lining, and memory. Nootropics have permeated the West in recent years and lion's mane is the star of the show, popular with the "biohacking" crowd, traditionally used in Chinese medicine for thousands of years as a digestive tonic, prescribed for gastric ulcers as well as general debility and neurasthenia, and a genuinely great 'shroom I like to consume on occasion. Recently I procured fresh lion's mane from a local organic farm and added it to a hearty bone broth stew like my ancestors must've done… it was elite.
Turkey tail mushroom (Trametes versicolor) – organic, dually extracted turkey tail is a super immune boosting medicinal mushroom proven to fight cancer cells, and support liver, colon, and kidney health. Turkey tail is used by Daoists to cultivate a robust immune system that's able to combat pathogens. Turkey tail is a potent tonic herb revered on nearly every continent, high in protein-bound polysaccharides PSK and PSP, explaining its ability to elevate surface and core immunity against all sorts of dangerous pathogens. Turkey tail is used to replenish Qi (chi, or life force), supporting bone health, toning the liver, and improving gut health with its prebiotics helping nourish helpful bacteria and suppressing harmful species. May also support liver function, digestive health, Qi, respiratory health, and stress management. An incredible mushroom to take as a preventative measure.
Cordyceps mushroom (Ophiocordyceps sinensis) – organic, dual extracted – Cordyceps mushroom is a powerful potentiating Daoist adaptogenic Lung and Kidney tonic that can fortify the immune system with prevention and help colds and flus dissipate in days, if they even get a chance to start! Cordy, as I like to call it, is an energizing medicinal mushroom full of antioxidants, polysaccharides and beta-glucans, known for improving oxygen intake & boosting stamina and endurance, so pop a teaspoon into your pre-workout and watch as the activity becomes a breeze. Oxygen is needed for ATP (energy) production, and cordyceps help the cells take in an increased amount of oxygen. Cordy can also fortify your Jing, or primordial energy that resides in the Kidneys, improving your core energy and increasing your cellular performance, resilience, and endurance, cultivating a robust sense of energy in the body, mind and spirit, pacifying inflammation and cellular decline. I actually haven't been particularly drawn to cordy for myself but I find it quite nice in this blend. You won't be disappointed integrating this magical and powerful potentiating powerhouse into your life, safe to use for both the young and the young at heart. From athletes to the elderly to postpartum mothers and those seeking to replenish their foundational energy stores, Cordy's got your back.
Coconut milk powder (Cocos nucifera) – a decent ratio of coconut milk to medicinal herb comprises this blend, providing a creamy texture perfect for desserts, snacks, and tonics alike. Full of healthy fats to balance blood sugar, benefit the brain, and reduce stress on the adrenal glands.
Pure vanilla bean (Vanilla planifolia) – adds a creamy and decadent flavour, full of antioxidants helping repair your body on the molecular level. Antibacterial, reduces inflammation in the body, mental health booster, fever reducer, and cholesterol stabilizer, to name just a few. (x)
**Properly dual extracting tonic herbs (and spagyric extractions if you want to go the extra mile for a more well rounded full spectrum of the plant's physical and spiritual qualities) are ideal ways to make their medicinal constituents more bioavailable. Certain herbs such as chaga when raw have a basically nonexistent medicinal value! Tonic herbs are gentle, basically to be treated as foods. Obviously you wouldn't be consuming pounds and pounds of this stuff at once, but adding a few teaspoons into your cooking and baking over time can be fun and can powerfully replace your average synthetic daily multivitamin.
Never underestimate the power of full spectrum nutritional intervention when it comes to various issues you may be experiencing. Adaptogens are foods that are here for you to help your body (and therefore your mind) adapt to modern stressors of all kinds, working with your body's quest to reach relative homeostasis, your body's natural state of radiant health among life's many doozies. They work on a molecular level by regulating a stable balance in the hypothalamic, pituitary and adrenal glands involved in the stress response, and aid in recovery from periods of short or long-term stress. Studies have shown that adaptogens combat fatigue, enhance mental and physical well being, and really help you thrive, rather than just survive. Personally they have truly served me over these past few years, cycled on and off over periods of time. Adaptogens present in different herbs serve unique purposes but all contribute to improved mental function, mood, and well being. Although the results may not be instant, adaptogens are the ideal stress relievers because of their natural, subtle but powerful attributes! It's also useful to take a step back on occasion and examine your relationship to these substances and whether they continue to serve you at any point throughout the seasons, considering your shifting inner cycles and patterns.
Gather these ingredients for these Raw Medicinal Mushroom Nanaimo Bars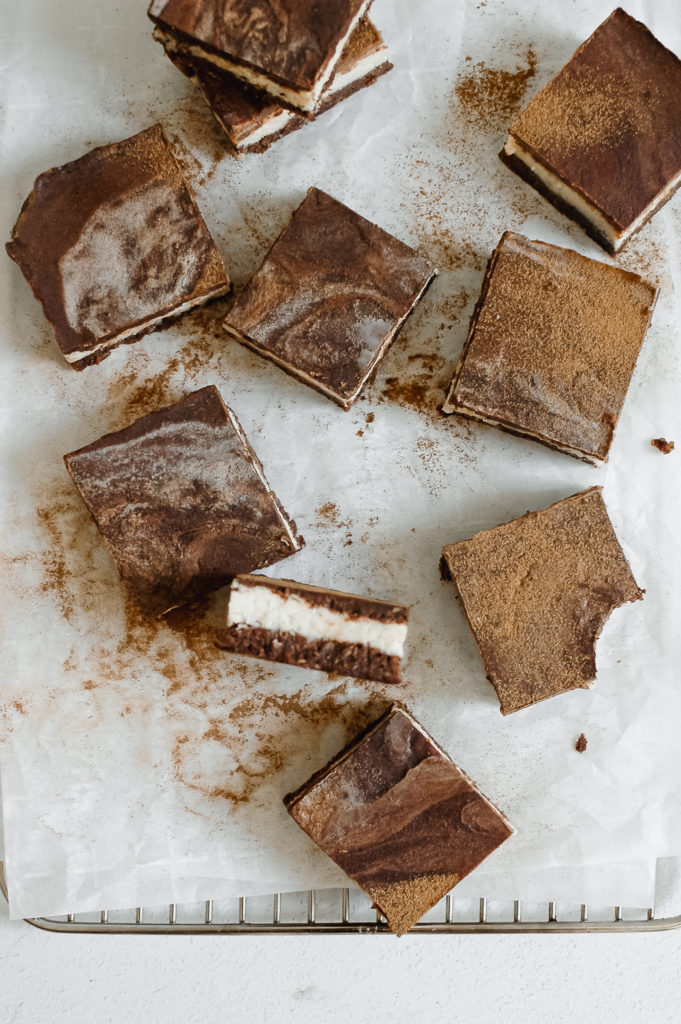 Thanks to Wild Bloom Botanicals for collaborating with me on this post. All thoughts and opinions are my own.
If you tried these raw medicinal mushroom Nanaimo bars or any other recipe on this blog, let me know how you liked it by leaving a comment below. Be sure to follow along for more inspiration at Pinterest, Instagram and Facebook.
Click here for Wild Bloom Botanicals' Mushroom Cacao Milk!
Enjoy these raw medicinal mushroom Nanaimo bars? You might like this vanilla hazelnut mocha with medicinal mushrooms, or this no-bake cacao cake with avocado frosting.
Raw Medicinal Mushroom Nanaimo Bars
Blissfully raw medicinal mushroom Nanaimo bars with heaps of health benefits. A date filled base meets a creamy cashew filling and a chocolate top layer made from scratch! Visit wildbloombotanicals.com for the Medicinal Mushroom Cacao Milk blend.
Equipment
food processor

8×8 or 10×10 inch baking pan lined with unbleached parchment paper

silicone spatula or spoon
Ingredients
Base
3/4

cup

raw organic pecans, activated

1/3

cup

Wild Bloom Botanicals mushroom cacao milk powder

1/4

cup

unsweetened shredded organic coconut

1

tbsp

ground organic flax seed

1/4

tsp

sea salt

1 1/4

cup

organic medjool dates

1/3

cup

virgin cold pressed organic coconut oil, melted
Lemony cashew cream filling
1

cup

raw organic cashews, activated

1/2

cup

pure organic coconut milk

1/4

cup

organic maple syrup

1/4

tsp

organic vanilla bean

1

tsp

freshly squeezed organic lemon juice

1/2

cup

unsweetened shredded organic coconut

2

tbsp

organic cacao butter, melted

1/4

cup

spring water or filtered, restructured water
Chocolate topping
1/2

cup

organic cacao butter, melted

1/3

cup

organic coconut butter, melted

1/4

cup

organic virgin cold pressed coconut oil

1/2

cup

raw cacao powder

1

tbsp

organic maple syrup

1/8

tsp

sea salt
Instructions
Line the baking pan with parchment paper, leaving an overhang on opposite sides to help lift the brownies out.

In a food processor fitted with the 'S' blade, add the pecans, Wild Bloom Botanicals mushroom cacao milk powder, shredded coconut, ground flax seed and sea salt. Blend to reduce into a crumbly texture, about a minute. Add in the medjool dates and coconut oil. Blend briefly to combine until a crumbly, uniform dough forms.

With a spatula, scrape out the dough into the bottom of the baking pan to make the base. Press the crumbly dough to evenly and firmly cover the bottom of the pan. Place the pan in the freezer to firm it up, about 10 minutes.

Meanwhile, make the cashew cream filling. Rinse out the food processor. Blend the cashews, coconut milk, maple syrup, vanilla bean, lemon juice, shredded coconut, cacao butter and water until the mixture turns into a smooth creamy texture, stopping to scrape down the sides when necessary. This may take several minutes.

Remove the pan from the freezer. Scrape out the cashew cream to create an even layer on top of the base. Using a spatula, spread it out evenly to create a flat surface. Set aside the pan on the counter at room temperature.

Make the chocolate topping. In a small saucepan over medium-low heat, gently heat up the cacao butter, coconut butter, coconut oil, cacao powder, maple syrup and sea salt. Stir occasionally as to not burn the chocolate until the chunks of cacao butter and coconut butter melt and all ingredients are combined into a uniform liquid. You could also use a double boiler for this, but I find this method easier and quicker.

Pour the chocolate evenly over the cashew cream layer in the baking pan. Place the pan in the freezer for 30 minutes or until the bars are firm. Remove, thaw, cut evenly into 16 squares, and serve!
Notes
These bars are best stored in the refrigerator or freezer for best texture. Thaw before serving.
For the chocolate topping layer, you could also opt for carob powder instead of the cacao powder.

My favourite brands of coconut butter include Nutiva and Artisana. You can always make your own with unsweetened shredded coconut. I recommend using this recipe here.
The chocolate topping is incredibly versatile. This is legit unprocessed chocolate, full of beneficial fats, nutrients and antioxidants. Don't be afraid to use the topping recipe with other recipes, tempered in chocolate molds, almond butter cups, drizzles over ice cream or brownies, etc. or just eat it off the spoon. Go wild.
This batch serves 16 bars. Enjoy!