Today I've teamed up with Wild Bloom Botanicals to bring you this summery rose lotus berry smoothie made with the Wild Bloom Botanicals Rose Lotus Milk Powder.
This rose lotus berry smoothie is tangy and sweet, and it'll thoroughly hydrate your every cell like no tomorrow! It harmonises the flavours of grapefruit, strawberries, mango, raspberries, cardamom and a bit of coconut oil with a single medjool date for a hint of natural sweetness.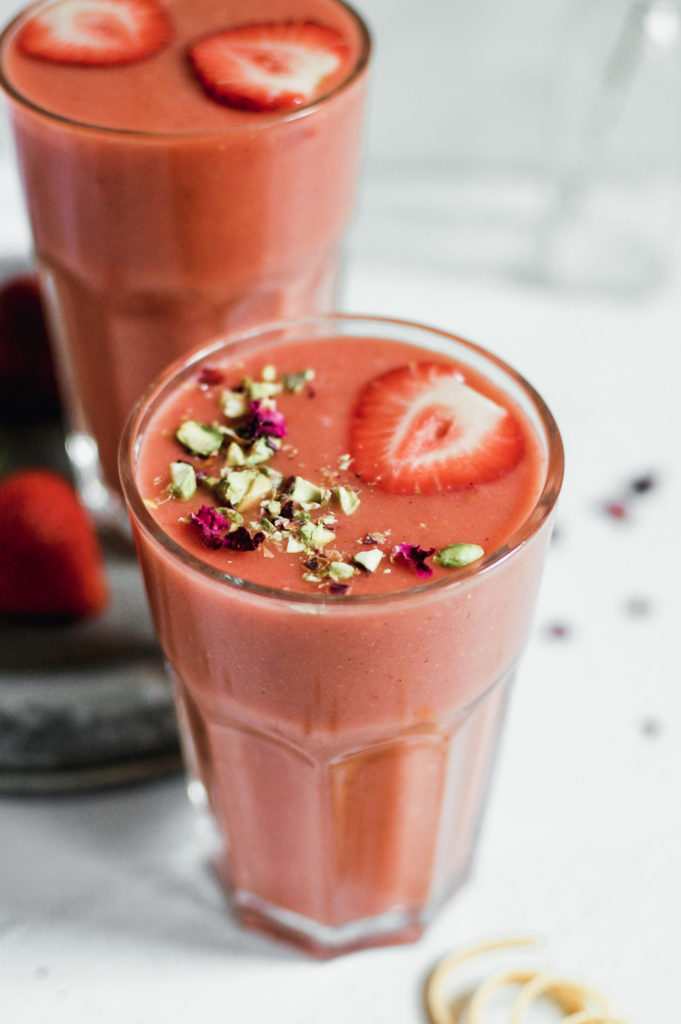 Rose Lotus Berry Smoothie
This rose lotus berry smoothie takes only a few minutes to make and is naturally grain-free, refined sugar-free, gluten-free, and dairy-free. Simply blend the ingredients in a blender.
Smoothies in general are best consumed at an uncooled temperature, as cold is shocking to the body and inhibits optimal digestion. I recommend that you don't freeze any ingredients, but if you need to, simply let the smoothie thaw and warm up before consuming.
For an extra kick, further digestive and skincare support from the inside out along with blood sugar regulation, you could add a small piece of fresh/frozen ginger along with a small scoop of ethically grass fed, pasture raised collagen!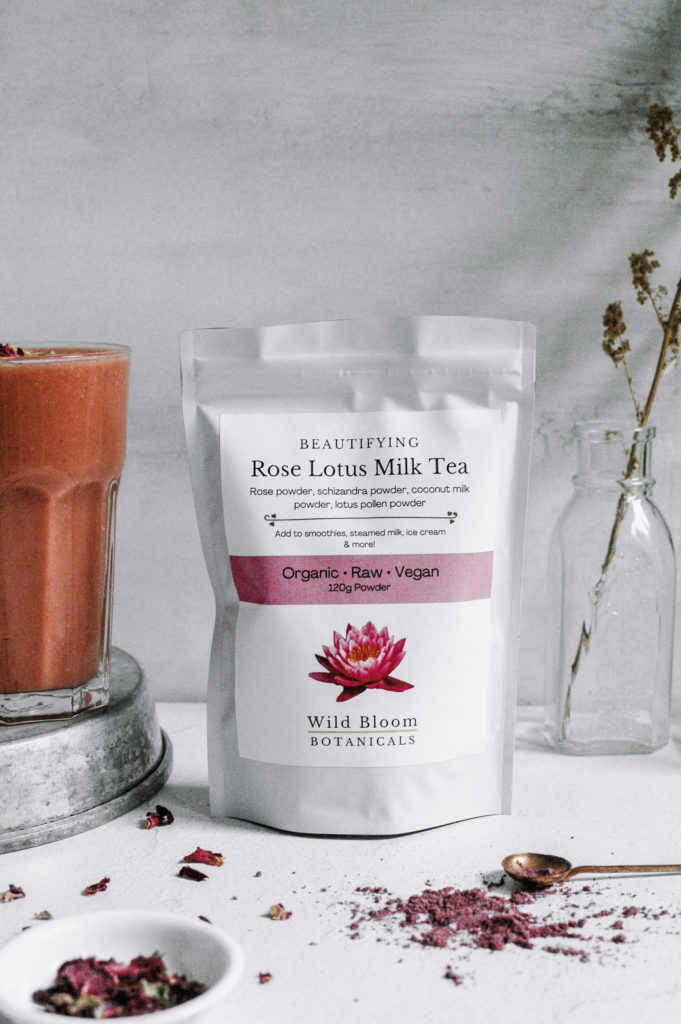 Wild Bloom Botanicals Rose Lotus Milk Powder
This rose lotus milk powder is a naturally beautifying blend that works to nourish your skin from the inside out. It's packed with powerful antioxidants, minerals, anti-inflammatories, and healthy fats to keep the skin happy, glowing, and healthy. These herbs help alleviate mild depression, boost the mood, open the heart and promote feelings of loving happiness. To love the skin you're already in is the highest revolutionary act in a world that programs insecurities, shame, and self-doubt.
Like all of Wild Bloom's offerings, this powder is 100% organic, non GMO, ethically and mostly locally sourced, and is created without any fillers, colours, flavours, excipients, additives or preservatives. Just pure, straight up Earth goodness—I couldn't ask for more!
Rose: (Rosa centifolia) Rose is packed with vitamin C, a necessary nutrient needed to stimulate collagen production. It's considered a cooling herb that brings down inflammation or redness and is known to 'tighten' the skin to reduce appearance of wrinkles. Not only is it a beautifying flower, but it also works on a subtle energetic level to open the heart and promote connection to love. Rosa centifolia can bring us a deeper level of healing that work on more subtle aspects of our Being. Not only do they heal the physical body, but they extend into our energetic auras and resonate at a healing frequency that work on our emotional and spiritual body.
Schizandra Berries: Schizandra has roots in both Traditional Chinese Medicine and Ayurveda for beautifying the skin by detoxing the liver. The liver and skin are closely linked in TCM, and when one suffers from any skin conditions, they look into what's happening with the liver. Schizandra stimulates both phase I & II of liver detoxification, nurtures the kidneys, and restores sexual depletion while tonifying the body. It has all 5 flavours and enters all 12 meridians, thus supporting all organs of the body.
Lotus Flower Pollen Powder: For centuries the sacred lotus has been a symbol of divinity, beauty, elegance, purity and perfection. The pollen is collected from the flowers and is very difficult to gather, making it very rare and in high demand. In TCM and Ayurveda it is known to clear away toxic heat, invigorate qi, support blood circulation, reduce wrinkles and age spots, reduce anxiety, calm the mind and make the skin more elastic.
Coconut milk powder: A delicious powder packed with healthy fats to help make the skin soft & moisturized.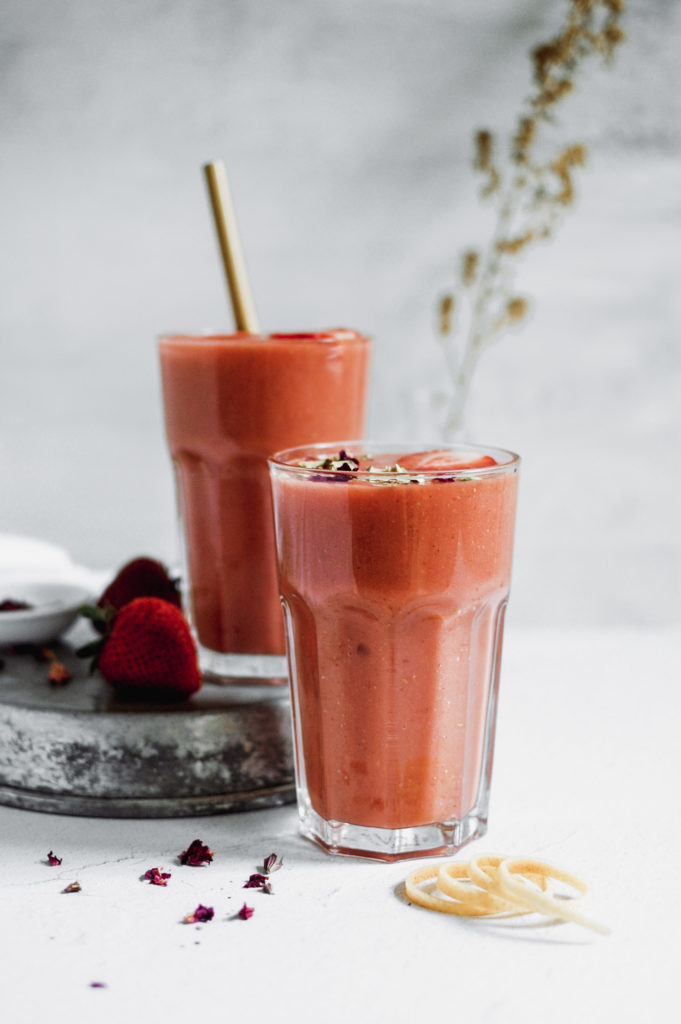 Is this Rose Lotus Fruit Smoothie healthy?
"Health" can be seen as a relative relationship to the surroundings, and as long as you feel good and enjoy the taste of fruit, you're good to go. Mango can raise blood sugar but I've been playing around and I find moderate amounts seem to work well for me at the moment, despite a bit of scatterbrain induced by it in comparison to a generally more "ketogenic" and focused state that I'm in these days. You could always swap mango for more astringent and delicious tasting pineapple chunks, papaya, or even local wild pawpaws if you can find them! We were meant to feel GOOD and thrive in all circumstances! You'll know exactly how much is right for you.
When it comes to tropical fruits, I would ideally opt for fresh off the tree in a tropical region. Do especially make this fruit smoothie if you're in a tropical area with easy access to abundant local fruits. I'm mostly a stickler for produce local to my region that can be grown in my exact gardening zone as the foods mesh best with the body within the shared climate, but this smoothie is still fun while making use of the earth's foods that I'm fortunate to have access to.
Ingredients you'll need for this Rose Lotus Berry Smoothie
Virgin cold pressed coconut oil
Grapefruit
Strawberries
Mango or pineapple, or papaya
Raspberries
Coconut water or wild harvested local spring water via findaspring – glass vessel is best
Wild Bloom Botanicals Rose Lotus Milk Powder
Collagen peptides (optional) – I'm partial to the Ancient Nutrition brand by Dr. Axe as it's unflavoured, non-GMO, grass fed, ethically pasture raised and cruelty free, and contains 3 different types of collagen from cow, chicken and fish. It's "paleo", "keto", gluten free, and made without dairy and nuts. (I say this because in the West/Anglosphere we often tend to fixate on man made dietary labels and dichotomous, black and white thinking to the point where it can do more harm than good. For best results, I'd opt to use the labels as shifting tools that fit in with your ever changing unique needs and goals.)
Chopped pistachios and/or dried rose petals to garnish (optional)
Dive Deeper
The healing power of rose on Wild Bloom Botanicals
Pharmacological effects of Rosa damascena
Antihyperglycemic effect of rose
Rose, an ancient, holy herb with novel applications
Rose in treatment of liver disease
Schizandra benefits Alzheimer's, liver disease, menopause, depression, stress
Schizandra benefits adrenals and the liver
Schizandra and restoring vision
Schizandra addresses qi deficiency
Pharmacology of Schizandra chinensis
Medicinal uses and pharmacology of Nelumbo nucifera/lotus
Nelumbo nucifera phytochemical and therapeutic profile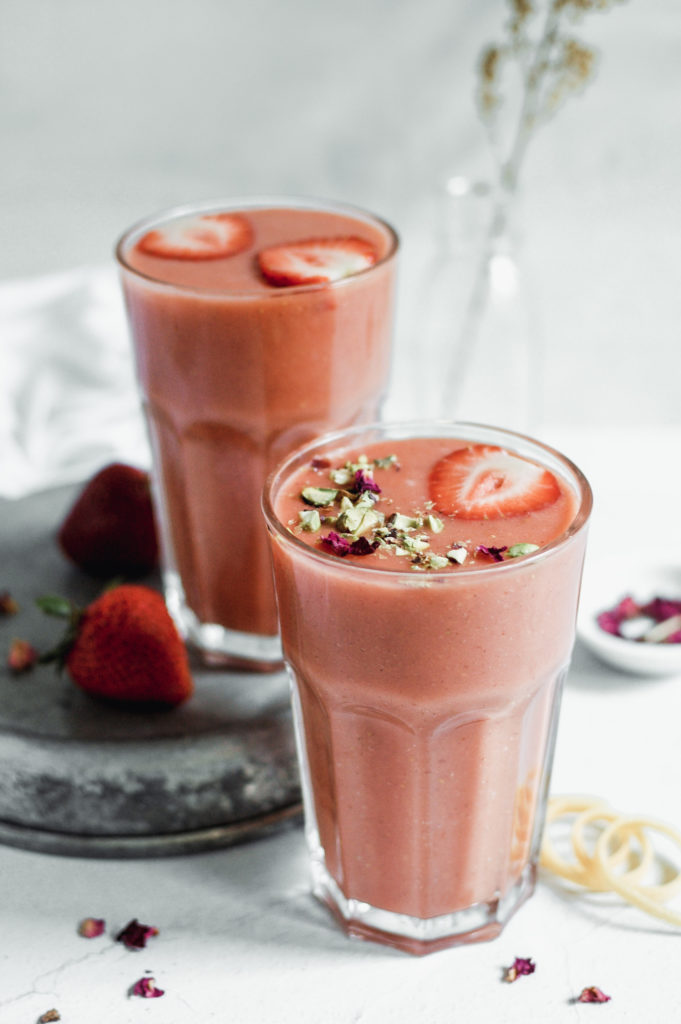 You might also like these recipes
If you tried this rose lotus berry smoothie or any other recipe on this blog, let me know how you liked it by leaving a comment below. Be sure to follow along for more inspiration at Pinterest, Instagram and Facebook.
Thanks to Wild Bloom Botanicals for collaborating with me on this post. All thoughts and opinions are my own. Click here for the Wild Bloom Botanicals rose lotus milk powder! Enjoy!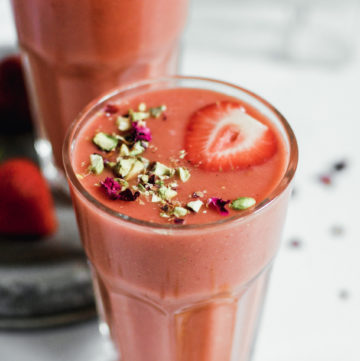 Rose Lotus Berry Smoothie
Tangy, citrusy berry smoothie, made with the rose lotus milk powder by Wild Bloom Botanicals. Visit wildbloombotanicals.com for more organic goodies and transformative herbal medicines.
Ingredients
1

tbsp

melted virgin cold pressed organic coconut oil

3

organic grapefruit segments

4

organic strawberries, trimmed

3/4

cup

organic mango flesh

1/2

cup

organic raspberries

1/2

tsp

organic ground cardamom

1

organic medjool date

1 1/2

cups

organic coconut water, or wild harvested spring water

1

tsp

Wild Bloom Botanicals rose lotus milk powder

1

inch

piece of organic ginger

1

scoop

collagen peptides

optional

chopped organic pistachio and organic dried rose petals, to garnish (optional)
Instructions
In a blender, combine all ingredients and blend into a thick smoothie. Serve, garnished with the pistachios and rose petals.
Notes
Keeps 2 days in the refrigerator in an airtight container (Classic Mason jars are the absolute best).