Every now and then I crave a massive salad or Buddha bowl and cram all of the colourful plants I can find into it. This raw pad thai is one such case. There's just something about a fancy, colourful salad that's like a massive flavour and colour bomb in a bowl, and spiralized and thinly shredded vegetables are a game changer that can make even the pickiest of vegetable eaters inclined to try them.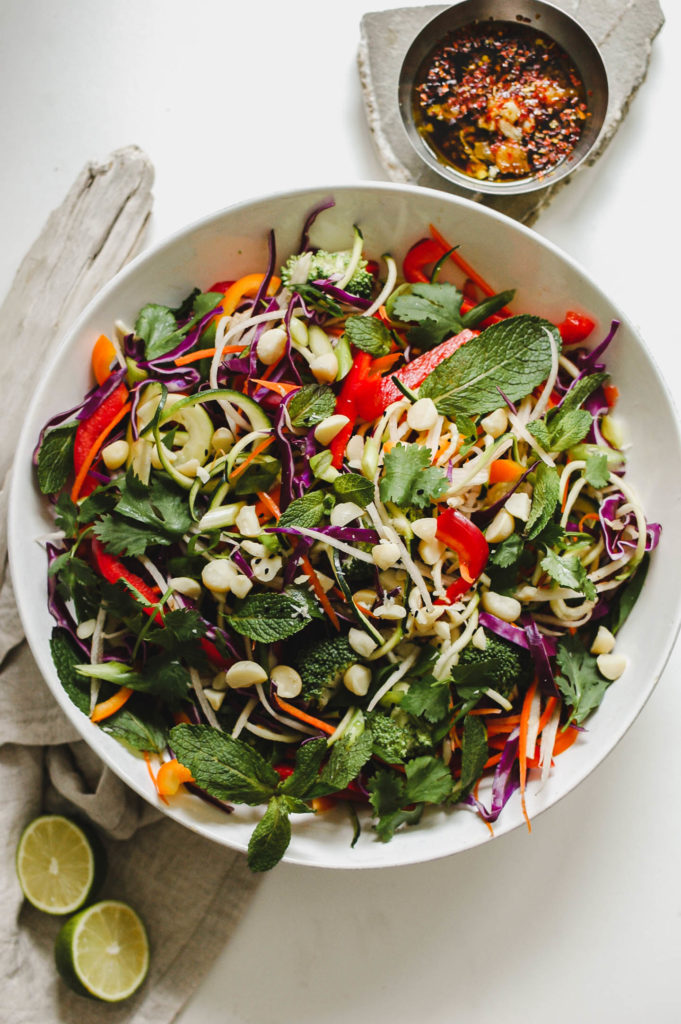 The body is comprised of 80% water. Don't get me wrong: properly filtered, structured, and mineralized spring or reverse osmosis filtered water is probably the best drink out there, and you can drink a ton of water each day, but most of it passes right through you which tends to deplete the body of important vitamins and minerals because they get flushed out of the body too quickly. How much of it is actually getting into your cells and staying there?
By eating water-rich foods, the water stays trapped in the structure of the foods so it can be absorbed much more slowly. This 'structured water' (aka living water, EZ water, or the fourth phase of water, as coined by Dr. Gerald Pollack, professor of bioengineering) that mimics our own bodily fluid composition stays in our bodies far longer, and easily slips into our cells for optimal hydration. It can also be created inside you by your own metabolic reactions, and through healthy activities such as walking barefoot on the earth and basking in the sunlight. The structured water, biophotons, and hydrating salts and minerals present within seasonal organic or biodynamic fruits and vegetables truly hydrate your cells, making for a genuinely feel good meal. Certain plant chemicals such as lutein and zeaxanthin help increase hydration even more.
Have you ever noticed that you feel particularly energized after drinking a cold pressed organic fruit and vegetable juice? Fruits and vegetables are not only anti-inflammatory, but some studies have found that they can hydrate the body twice as effectively as a glass of water (though it is unclear if the water came from a tap, or if it was inherently structured spring water). A study published in the American Journal of Clinical Nutrition found that fruits and vegetables were better able to hydrate school-aged children. I personally find that true for myself as well, even compared to my reverse osmosis filtered water at home. #eatyourwater
"Vegetarian" pad thai was my favourite dish while growing up, but in the restaurants it's usually cooked with dubious sauces containing high fructose corn syrup, industrial seed oils, addictive flavours and fillers, and made with pesticide soaked ingredients… not to mention the resulting yucky food coma afterwards.
Honestly, the stuff I make at home tastes way better, my tastebuds have adjusted, and I experience no food coma (inflammation induction) whatsoever… now it's more like a burst of vibrant energy. Truly, simple is best. I try to go for "SLOW" ingredients that embody one or more of the following:
Locally grown/ethically raised
Personally, I eat 100% organic, and even that is a baseline. The local CSA/farmers' market delivery service closest to you would likely be your best bet for sourcing. Try conducting an internet search to find one nearest you! The fresher the produce, the more biophotons and life force it contains, and the more powerful and healing it is to the body.
These days, there are a lot of arguments against lectins and other antinutrients particularly in many raw, uncooked plant foods despite the potential that hormetic stress may induce from some, but truth be told, at the moment I crave many of them regularly so I think there must be something to them, so long as I properly sprout, soak and ferment others as needed to optimize bioavailability. I think there are massive benefits to raw, fermented, and cooked foods alike depending on the substances involved, and I find that going with a variety according to what I crave works best for me right now by tuning into my bioindividuality at any given time.
Recommended tools to get the most out of this raw pad thai toss:
For me, what got me onto vegetables in the first place is through using a quality dressing or sauce made from scratch to really bring out the flavours. The one in this recipe is DEAD simple to whisk together, and is truly delicious. I hope you enjoy it as much as I do!
Raw Pad Thai Toss
Raw pad thai for all of your veggie craving and hydration needs. A nutrient-dense flavour, colour and texture bomb that's great as a side dish or on its own.
Ingredients
For the pad thai toss
1

cup

organic red or green cabbage, finely shredded

1

large organic zucchini, cut into spaghetti with a spiral cut machine or mandoline

1

medium organic carrot, peeled or julienned into shreds

1

medium organic daikon radish, peeled or julienned into shreds

1

organic red bell pepper, finely sliced

1

organic orange or yellow bell pepper, finely sliced

1/4

cup

organic green onion, sliced

1/4

cup

organic fresh basil

1

cup

organic mint leaves

1/2

cup

organic fresh cilantro, leaves & stems chopped & packed

sea salt and organic black pepper, to taste

1/2

cup

raw organic macadamia nuts or cashews, chopped, for garnish

2

tbsp

organic black seeds (nigella sativa) or organic sesame seeds, for garnish
For the sauce
1

inch

organic ginger, peeled & grated

1

organic garlic clove, grated with a microplane or finely minced

1

tbsp

extra virgin organic olive oil

1

tbsp

gluten free organic tamari sauce

1

tbsp

organic lime juice + zest

1

tbsp

organic maple syrup

1

tsp

organic tamarind paste

optional

1/4

tsp

organic red pepper flakes

to taste

1

tbsp

filtered or spring water

sea salt and organic black pepper, to taste
Instructions
Make the sauce. Add the ginger, garlic, olive oil, tamari, lime juice, maple syrup, tamarind, pepper flakes, water, salt and pepper to a small bowl and whisk to combine to a smooth consistency. Set aside to allow the flavours to marry.

Make the pad thai toss. Place the shredded cabbage into a large salad bowl. With a vegetable peeler, make long strips with the carrot and radish. Spiralize or peel the zucchini. Remove the seeds and stem from the bell peppers, and slice them thinly. Cut the broccoli into separate florets. Add them all to the bowl with the cabbage.

Add the sliced green onions, basil, mint and cilantro. You can add them in whole or chop them before adding them. Season the vegetables in the bowl with some salt and pepper, then toss to mix.

Pour the sauce over the salad and toss to evenly coat. Garnish the salad with the chopped macadamia nuts and black seeds, and serve.