No joke: raw eggs in a sugar free cookie dough can be highly nutritious and gut healing if you source the eggs from properly pasture raised chickens virtually eliminating the risk of salmonella, but if you're looking for an easy, gluten free, plant based way to snack on cookie dough without the side of insulin resistance or pre-diabetes, this may just be your recipe.
Not only does this recipe use SPROUTED chickpeas, it also contains no refined sugar, takes about 15-20 minutes to make, and you could even have them for breakfast (as is recommended for all of my dessert recipes here). Most importantly—it's delicious!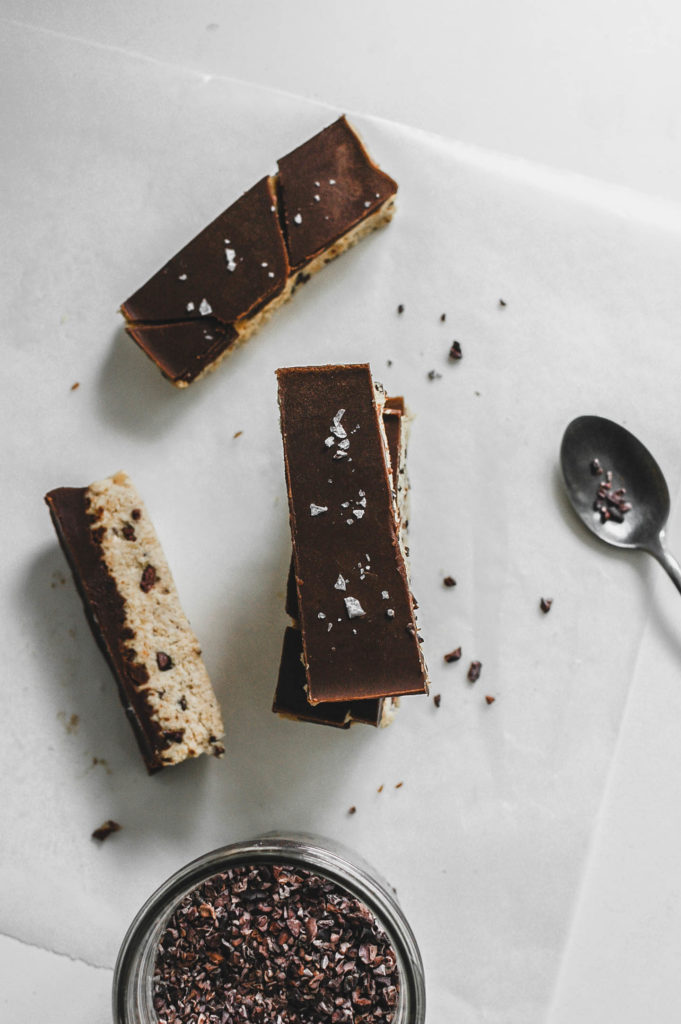 The chocolate is made from scratch, infused with local, wildcrafted, versatile chaga (inonotus obliquus) tincture that has been dual extracted with organic alcohol and purified spring water for bioavailability: a powerful, healing medicinal mushroom with polyphenols, polysaccharides, minerals, vitamins B2 and D2, melanin, beta-glucans, phytosterols, superoxide dismutase (SOD), 200+ phytonutrients, and triterpenes like betulinic acid, densely packed with antioxidants and many other beneficial nutrients, according to over 190 research studies.
I'm kind of obsessed with it.
Other benefits of chaga mushroom, aka the king of medicinal mushrooms, can include: emotional and physical stress adaptation with potent immune modulation and support, improving cognitive function and memory loss (inducing neurogenesis), increases metabolism, aids the endocrine system, reduces inflammation, can selectively shrink some types of cancerous tumours and cancer cells (colon, cervix, brain, hepatoma, and lung) through its betulinic acid while leaving healthy cells untouched, adaptogenic, battles sun damage, removes certain internal parasites, prevent and slow cancer via the anticancer compounds betulin, betulinic acid, lupeol and triterpenes, DNA protection, anti-viral properties, reduces pain, detoxifying to the blood and liver, lowers and balances blood sugar by increasing insulin sensitivity, protects the heart, improves circulation, digestion, and the intestines, boosts exercise endurance, balances cholesterol, supports graceful aging, and is a source of chemotherapy & radiation therapy protection, including protection from EMFs. Many experts consider it to be one of the most potent natural foods for autoimmune conditions.
Suro is personally my favourite brand that uses purified spring water and organic (non-GMO) alcohol for its ethically, sustainably wildharvested extractions. Chaga is generally well-tolerated as a whole food "supplement", but should be taken in moderation or in small amounts over time as it contains oxalates, and can interfere with blood thinning medications, as a natural blood thinner itself.
If you choose to boil ethically, sustainably harvested chaga chunks for a weaker extraction as a tea, you can add a pinch of magnesium chloride to the solution for the magnesium ions to bind to the oxalate, helping it flush through the urine more efficiently than calcium oxalate does.
Many companies are already doing the work for you. Try finding a source near you that you can trust.
Chaga is significant in ethnomycology, forest ecology, and increasingly in pharmacognosy. Its long-term human use and cultural eastern European and Russian acceptance should awaken serious researchers to its potential as a reservoir of new medicines, and as a powerful preventive ally for protecting DNA.

Paul Stamets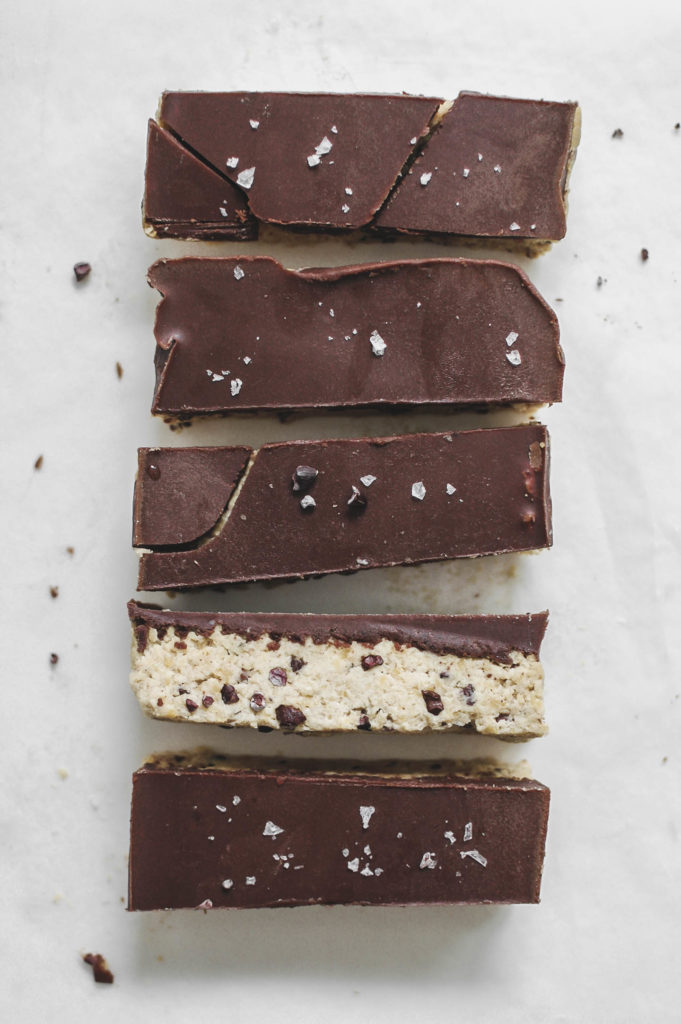 Tools I recommend to make these no bake chaga infused chocolate chickpea cookie dough bars:
No Bake Chaga Infused Chocolate Chickpea Cookie Dough Bars
Have yourself a little magnesium party with these easy-to-make, no bake chocolate chickpea cookie dough bars!
Ingredients
For the base
2.5

cups

sprouted organic chickpeas, cooked and drained

1/2

cup

organic almond meal

2

tbsp

raw organic unhulled tahini

2

tbsp

local organic maple syrup

1

pinch

organic ground cardamom

1/2

tsp

Celtic sea salt

1/3

cup

raw organic cacao nibs
For the topping
1

cup

raw organic cacao powder

1

tbsp

organic maple syrup

1/2

tsp

organic vanilla bean

1/3

cup

organic cacao butter

1/3

cup

organic coconut butter

1/4

cup

virgin cold-pressed organic coconut oil

1

dropper

wildcrafted chaga tincture

1

pinch

sea salt

flaky sea salt to garnish

optional
Instructions
In a food processor fitted with the "S" blade, pulse the chickpeas, almond meal, tahini, maple syrup, cardamom and sea salt into a smooth dough. Add in the cacao nibs and briefly pulse to combine them with the dough.

Place the dough in a baking dish or pan lined with unbleached biodegradable parchment paper, and use your hands to form a square.

Melt the chocolate ingredients in a double boiler or in a small saucepan on the stovetop. Continuously whisk to combine until it turns into a sauce. Pour 1/2 cup or more of it over the cookie dough, you can choose to make a thinner layer and save the rest for other recipes if you like.

Place the bars in the freezer for about 10-15 minutes or until the chocolate is set.

Remove, top with flaky sea salt, cut into slices, and serve.
Notes
Store bars in the fridge or for a longer period of time in the freezer.
It's highly recommended to properly sprout the chickpeas before consuming, as this will make them bioavailable and digestible. Soak them in properly filtered water until they increase in size, then add more water, cover with a towel, and wait for them to sprout over the 24-72 hours, changing the water once a day. Rinse, boil for 5 minutes, drain, and cool before using.