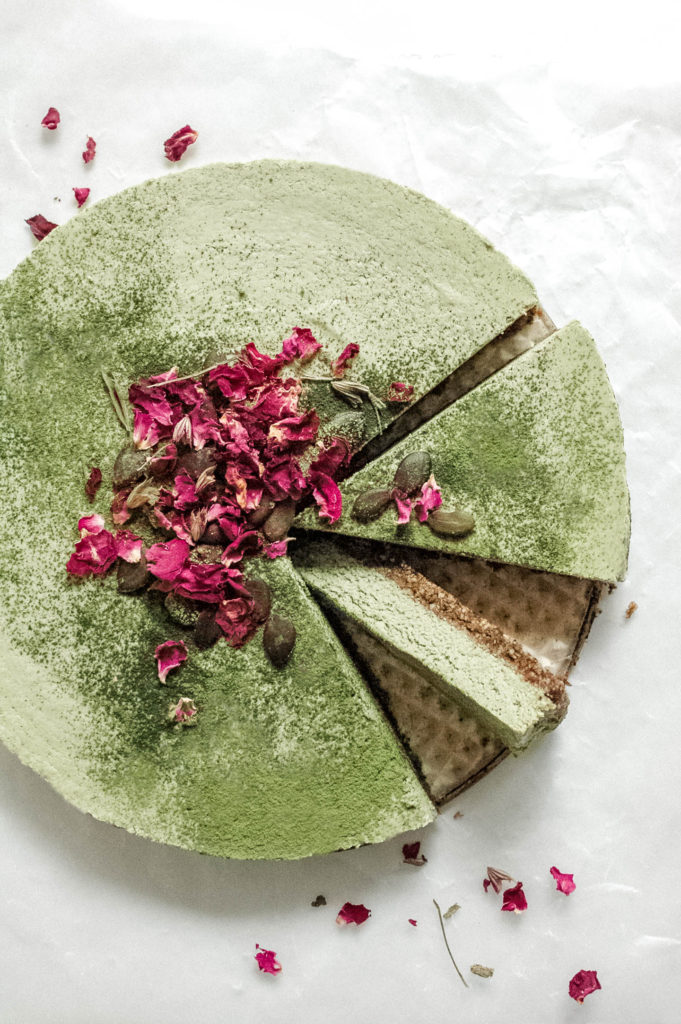 Indulge in this nourishing nootropic no bake matcha cake with a reishi infused salty and nutty crust. The ingredients are so wholesome and nutritionally beneficial that I've been eating it for breakfast, and it tastes AMAZING.
I first saw a pistachio matcha cake recipe on Krautkopf's mobile app and I just knew I had to create a variation of my own.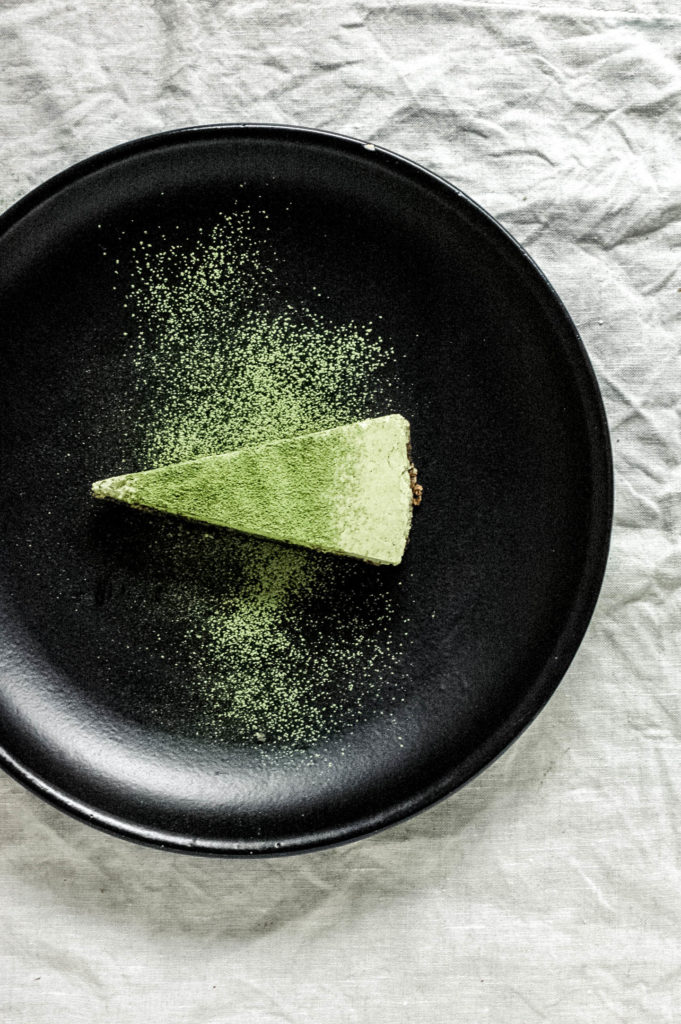 Not only does it require zero baking, it's a low fuss, delicious and energizing recipe that can be made with organic ingredients when possible. It's also naturally sweetened with dates and a hint of maple syrup, but you can adjust the levels of sweetener as much as you prefer. Just don't skip out on the dates as they help hold the crust together.
If you're into nootropic and adaptogenic herbs that support the body in the modern world and you're looking for a delicious way to integrate them into your life, this may be your kind of cake. If not, you can always leave out any ingredients you don't vibe with, or substitute with your own favourites. Go wild… really, the sky's the limit.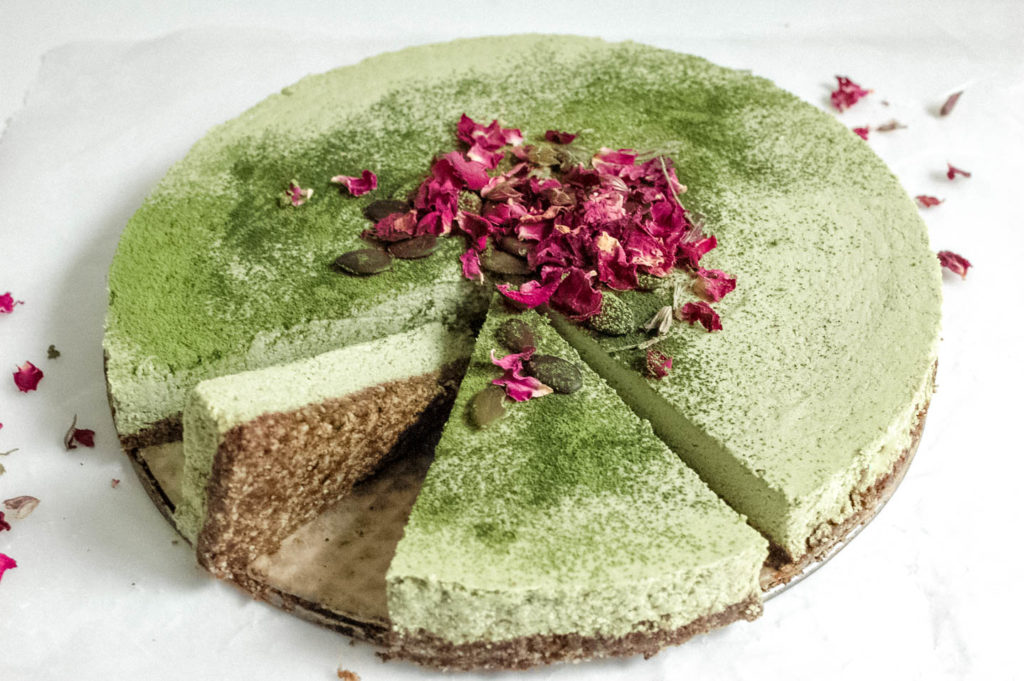 What's in this complicated no bake matcha cake:
This matcha cake is made up of two layers: a salty, nutty, pressed crust as a base and a creamy top layer made of matcha, lime and coconut milk. There's a lot of goodness packed into this secretly nourishing raw superfood cake, and the only equipment you'll need to make it is an 8-10 inch springform pan and a food processor.
Raw sunflower seeds, activated — these provide the crunch and most of the bulk for the bottom layer of the cake. You can also use any other kind of nut or seed you like. If they're raw, I recommend you activate them in preparation to neutralize anti-nutrients present within nuts, seeds, grains, beans, and legumes in general.
Shredded, unsweetened coconut — these support the bulk of the crust and are full of healthy fats. You can also use certified gluten free organic oats instead, if you like.
Medjool dates — a natural sweetener that holds the crust together. Pitted, of course. If you're serious about avoiding all sweeteners, you could also substitute with an equal amount of natural nut butter.
Virgin coconut oil — brain-boosting and helps with the texture of the crust when the cake is cooled and solidified. Pure, cold-pressed, organic virgin coconut oil (that has not been refined, keeping its high vitamin E and mineral content) is one of my favourite high smoke point cooking fats to use, and can be used in a wide variety of applications from oil pulling for oral care and a non-toxic hair and skin moisturizer. Proper sources of fat as fuel support metabolic health. (source)
Sea salt, unrefined — My unrefined salt of choice is Celtic sea salt or Peruvian mountain salt as it contains high trace mineral content and doesn't contain any additives. Health nerds love it, though you can use any other sea salt you like.
Note: it may still be popular with some parts of the health crowd, but I no longer use Himalayan salt as most brands have not been extracted without explosives in the salt mines of Pakistan and therefore have a higher chance of heavy metals in the salt. Sea salt is more ideal and even if there may be a chance of microplastic contamination from seawater, the body more easily excretes BPA through sweat as opposed to the difficulty of releasing heavy metals. Himalayan salt not only contains some important minerals, but also some toxic heavy metals, radioactive substances and even poisons (though in tiny amounts). (source) (source) So you be the judge here!
Vanilla bean — pure extract (tincture), powder, or the actual bean will do well here.
Reishi mushroom tincture — one of my favourite adaptogens. Adaptogens are a special class of tonic herbs (powerful natural food supplements) that communicate with your body to restore homeostasis. Reishi is one of my all time favourites, it supercharges the immune system, can protect against cancer, and can promote connection to your heart space. Feel free to use any sort of other adaptogen you prefer, just follow your heart.
Tonic herbs have emerged from a system that is thousands of years old (Traditional Chinese Medicine). Their ability to work with the deep and innate systems, organs and energetics of the body is truly unique and allows us to powerfully support our bodies to return to harmony. When medicinal mushrooms and tonic herbs are used, we potentiate the function of our entire being, leading us down a path of extreme well being and longevity (how sorely is this needed to thrive in today's world?). Try to go organic, wildcrafted or Di Tao sourced ("the way of the earth").
Cashews — Soak 'em for at least 4 hours in filtered water, or overnight. Refrigerator or room temperature are both fine to store them in. They'll become gluey, this is ok, so rinse them before you're ready to use them.
Lion's mane mushroom powder — the nootropic ingredient referenced in the title. Completely optional, but I felt like my brain needed a boost 🙂 Nootropics are a broad term for a variety of cognitive enhancers, but I prefer to go with nature's wisdom in the form of lion's mane mushroom – organic, wildcrafted, and/or Di Tao sourced.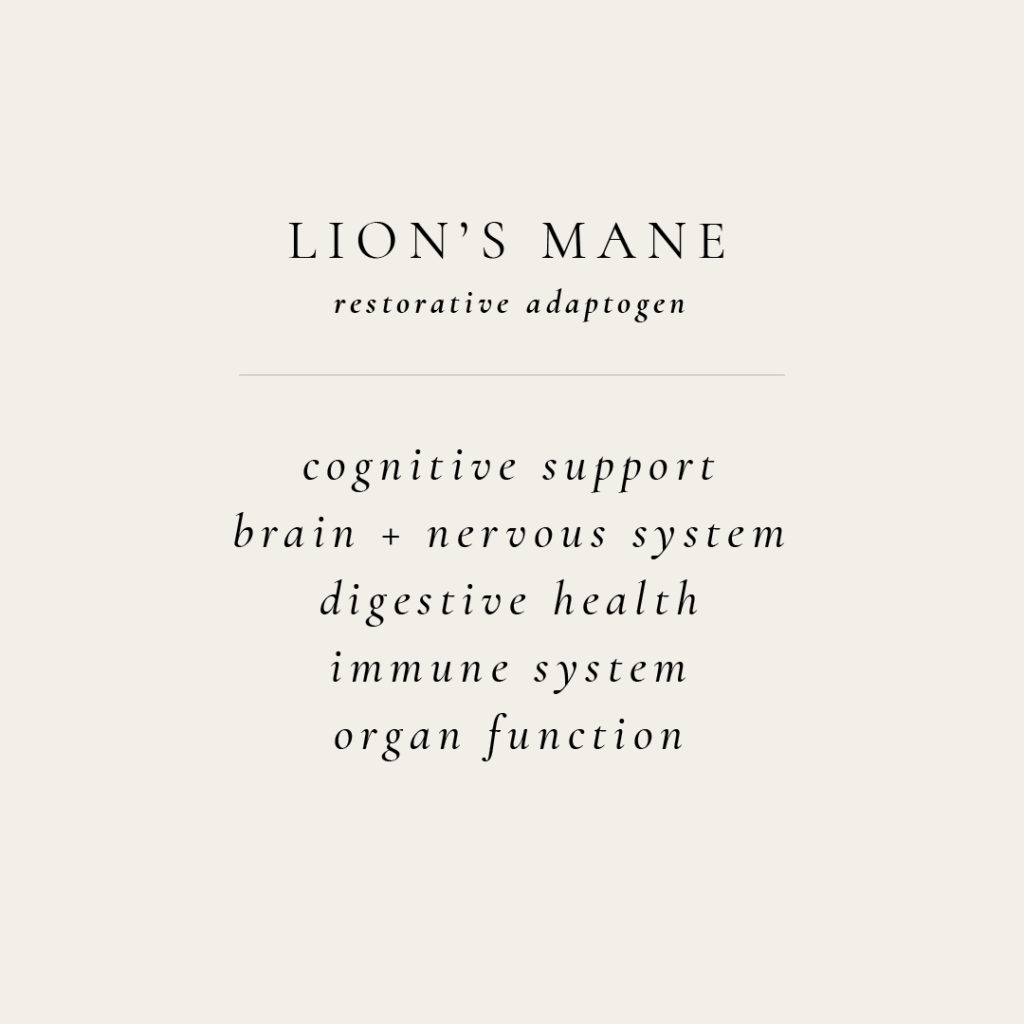 Coconut milk — a must for the creaminess of the main part of the cake. Try to use a BPA free can or use an equal amount of melted coconut butter from a glass jar.
Maple syrup — this wholesome local ingredient is a staple where I live in Canada, full of beneficial minerals. I still try to use it sparingly as too much of it spikes my blood sugar, but it's still one of my favourite natural sweeteners that isn't addictive or caustic to the body like refined sugar. You can also replace it with an equal amount of sweetener of your choice, such as monk fruit, dates, or raw local honey.
Lime juice and zest — to brighten up and highlight the creamy, earthy ingredients. Think key lime pie vibes, without the pesticide soaked conventional grains or sweetened condensed milk full of antibiotics and hormones from conventional farming practices.
Matcha powder — the star of the show! You're probably aware of its many proven health benefits, but in case you weren't in on the loop, it boasts many nutritional benefits including crazy high levels of immune boosting antioxidants that help stabilize free radicals (even more than blueberries and 10x more than regularly steeped green tea), EGCG, polyphenols, catechins, vitamins A & C, potassium, calcium, and iron. Since it's comprised of the whole ground leaf unlike regularly steeped green tea, you really benefit from the whole plant. And yes, matcha does contain a bit of caffeine, but because it naturally contains the amino acid l-theanine, the effect of the caffeine is more calming, subtle and even happens without energy crashes or anxiety (for me, at least).
My relation to matcha is quite a relaxed one, I often use it in a latte to replace coffee but usually take some days or weeks off of both as a break. (If you're waking up immediately reaching for a source of caffeine as a crutch, it's probably recommended to start to examine your sleep quality and overall lifestyle.)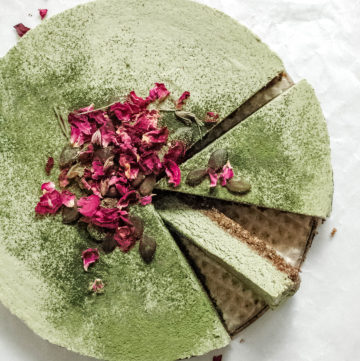 Nootropic No Bake Matcha Coconut Lime Cake with a Reishi Infused Crust
This nootropic no bake matcha coconut lime cake with reishi infused crust has a salty and nutty base and creamy coconut matcha topping. The ingredients are so wholesome and nutritionally beneficial that I've been having it for breakfast.
Ingredients
For the crust base
1

cup

raw organic sunflower seeds

activated

3/4

cup

shredded unsweetened organic coconut

or certified GF oats, quinoa flakes, or buckwheat flakes

4

organic medjool dates

pitted & roughly chopped

1

tbsp

virgin cold-pressed organic coconut oil

melted

1/4

tsp

sea salt

1

tsp

organic reishi powder or tincture

optional
For the filling
3/4

cup

+ 2 tbsp raw organic cashew nuts

soaked 4 hours or overnight

1 1/3

cup

+ 1 tbsp organic coconut milk

homemade, BPA-free or glass packaging

2

tbsp

organic maple syrup

or to taste

juice + zest of 1 organic lime

freshly squeezed

2

tsp

organic matcha powder

1/4

cup

organic cacao butter

melted and cooled

1 1/2

tsp

organic vanilla bean tincture

1

tbsp

virgin cold-pressed organic coconut oil

melted and cooled

garnishes such as unsweetened shredded organic coconut, organic Styrian pumpkin seeds, extra chopped organic nuts, organic rose petals, organic lime zest, or organic matcha powder sprinkle
Instructions
Soaking: In a bowl, soak raw cashew nuts 4 hours or overnight. Rinse thoroughly and discard soaking water (or feed your garden/compost). Soak any other raw nuts or seeds to activate them, too.

Make the crust base. In a food processor, combine all ingredients and blend to a granular crust. Line an 8-10 inch springform pan with the crust, pressing down firmly and evenly. You can also line the pan first with unbleached biodegradable parchment paper, if you like.

Make the topping. In a food processor, reduce the cashew nuts to a fine paste. Add the coconut milk, maple syrup, juice + zest of 1 lime, matcha powder, cacao butter, vanilla bean tincture, and virgin coconut oil. Blend into a smooth, evenly consistent paste.

Pour the mixture onto the crust. Place the cake in the refrigerator for 2-3 hours or overnight to allow the cake to set and solidify. When ready to serve, simply slice and devour!
Notes
Keeps 10 days in the refrigerator covered with a cloth, or up to 4 months in the freezer.