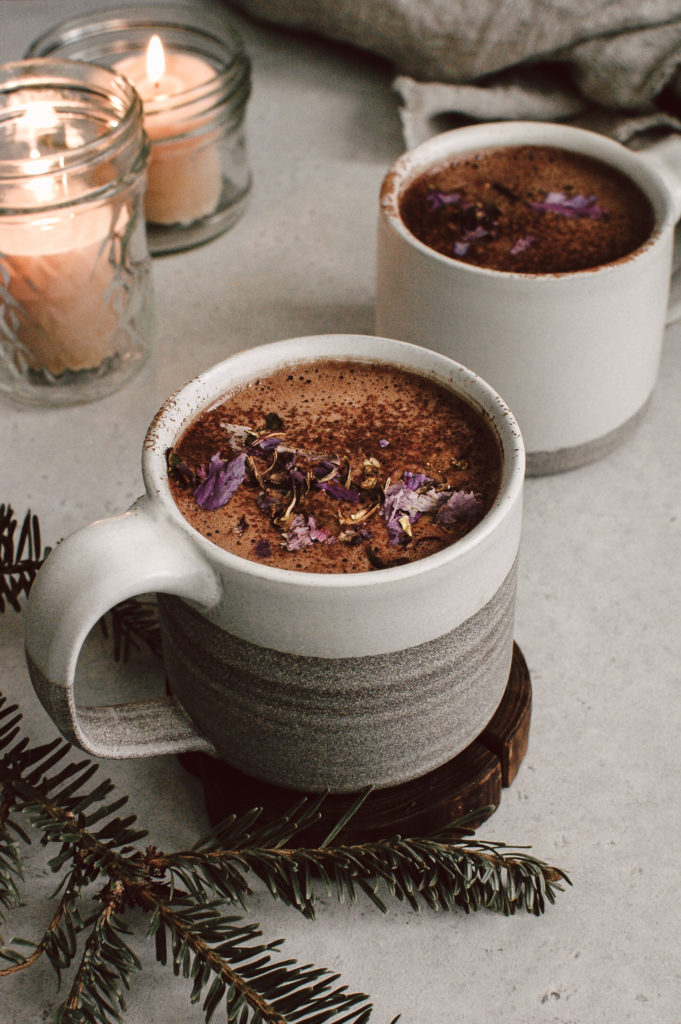 Qi Hot Chocolate Recipe
This nutrient dense, rich and creamy Qi hot chocolate has been on repeat for me this whole winter. As I've officially weaned myself off of coffee earlier last year, this recipe has been a gentle change and a breath of fresh air from the past half decade of harshness, possible mycotoxins, constricted brain blood vessels, and masked nutrient depletion induced by the coffee (even if it was organic). Caffeine addictions aside, I've found that what I was really craving all along was the ritual of slowing down and enjoying a warm, cozy, medicinal, gently energizing and tasty beverage in the morning along with the natural energy from a morning walk and sunlight exposure to set the circadian rhythm. And honestly? Life is too short on this planet to be dependent and bogged down, especially long term, by caffeine.
This certainly isn't your average hot chocolate, though. I've formulated this Qi hot chocolate recipe with high quality, organic and natural ingredients with unique medicinal properties, perfect for unfettered hygge in the colder weather. Adaptogens can be a useful addition to supercharge your herbal tonics to help your body in its quest for relative homeostasis, and you can play around and use what works best for you, or omit anything you don't get on with. What's more is that pairing adaptogens with raw cacao can actually enable better absorption for all the other ingredients. Win-win, if you ask me.
I've used nothing other than the brilliant, adaptogenic SuperFeast Qi tonic herb blend for this recipe! The SuperFeast Qi blend is a beautifully crafted and sustainably sourced formula comprised of the most revered, mystical Qi tonics of the ancient Daoist tradition. Everything is wildcrafted and sustainably and ethically Di Tao sourced with the highest respect and reverence, meaning it's beyond organic! I've been cycling the use of the SuperFeast Qi blend on and off in my winter hot cacao most mornings for an immune boost, aka cozy warm beverage heaven.
Hold up… what the heck is Qi?
Brace yourself as this is a huge topic that I've tried to condense as much as possible here. Qi (Chi) is one of the three treasures in traditional/ Chinese medicine, alongside Jing and Shen. Everything in the universe is life force energy and it's all Qi!
Qi is derived from the air, foods and sunlight we consume. The herbs in the specific SuperFeast Qi blend are prized for their ability to amplify the conversion of these elements to deliver more Qi to the body system daily. Through the tonification of Spleen Qi and Lung Qi, in particular, these herbs work deeply on the body's digestive and respiratory powers. Qi fortifies the Wei Qi (surface immunity), and works well in combination with mushrooms such as chaga particularly in the transition of fall to winter, bringing in regulation, adaptation, connectivity, working on the meridians and connecting the organs, keeping that Qi flowing. We cultivate Qi with the intention to increase the body's capacity to build and move Blood, eliminate stagnation and regulate body temperature and Fluid level. The preventative SuperFeast Qi blend can be a potent herbal ally on your travels.
My ancestors (including my grandma who lived to nearly 100) enjoyed and thrived on these herbs and traditions, and I really felt the pull towards these special tonic herbs and began really experiencing their benefits several years ago.
Modern culture makes it easy to get burnt out likely due to a lack of connection and community, so cultivating the physical foundation called Jing (along with getting off of stimulants like coffee), can often be a good place to start addressing this. Once Jing has been restored and stops leaking, Qi is the next step to cultivate as the animating force, the spark that gets you moving.
When we're Jing deficient we can be susceptible to ideology and attached to external identities, because we don't have a firm grasp or foundation of who and what we are. It's challenging work, but when you have restored Jing with strong cultivated Qi flowing, you can feel that you're able to personalise more and act according to your real needs and intuition as you've reached a place where you continually know yourself and understand yourself, having a firm grasp of what actually works for you. It helps strengthen your life force while setting boundaries, challenging ideologies, rewilding, and addressing mental fatigue. It's going to challenge all the prejudices and external identity grabs you might've had about yourself. You become more alchemical, internally.
Qi cultivation is more subtle and less extreme than the basis of Jing, it's more transformational and rewarding overall, and it takes a bit of consistency and dedication. Over time we may feel towards making small personalized changes, like we can feel that we need to do less of a certain kind of movement or tweak the seasonal foods we prepare.
The SuperFeast Qi blend is not a stimulant, it nourishes the spleen, lungs, and supports the capacity of the body to draw energy so that you can have more available. Qi brightens you up and brings further vitality to your aura and entire being. We can think more clearly, process emotions, bring vitality and clarity to our intentions, goals and function, while feeling light and energised.
The herbs in the QI blend primarily help to support the Lungs and Spleen, these are the organs that allow our bodies to adequately manufacture and disperse Qi. In the Daoist system, these are the herbs that have been traditionally used to increase the body's energy and vitality. The SuperFeast Qi blend is comprised of:
Primary and Direct Action:
Astragalus Root (Astragalus membranaceous) *dual extract
Poria Mushroom (Poria cocos)
White Atractylodes Root (Atractylodes macrocephala)
Codonopsis Root (Codonopsis pilosula)
Secondary Action:
Gynostemma Leaf (Gynostemma pentaphyllum)
Turkey Tail Mushroom (Trametes versicolor)
Supporting Action:
Jujube Fruit (Ziziphus jujuba)
Lifestyle practices along with Qi herbs long term to cultivate Qi ultimately become the foundations used to maintain balance between the Heavens (Shen, our spirit) and Earth (Jing essence). We can remain in harmony and walk with balance, efficacy, trust, and grace.
Other ways to cultivate Qi flow, nourishing your tissues and organ systems while drawing less from your Jing include nourishing yourself on multidimensional levels:
emotional work
get into parasympathetic (rest + digest) state with organic, home cooked, locally sourced, seasonal meals and enjoy food outdoors in sunlight without distractions/phone, to support spleen and kidneys
sun exposure on bare skin to tolerance, bare feet on earth
breathwork
movement practice
liver support
Ingredients you'll need for this Qi hot chocolate:
Pure spring water, or raw full fat goat milk, or whole coconut milk. Try to source deuterium depleted water if possible. Spring water is the original structured water, acts as a battery for your cells, and is superior to filtered, tap, reverse osmosis, and bottled water altogether. It is alive, fresh, and wild, the water found in streams, springs, fruits, vegetables, and our cells. Wild spring water has the molecular structure of H3O2, our fuel for healing.
Raw cacao powder
SuperFeast Qi tonic herb blend (use code ROOTTOSKY10 for 10% off any order at the SuperFeast website (whether it's the Australian or North American website)
Grass fed gelatin or collagen – not only does it improve the velvety texture of this tonic, it helps stabilize your blood sugar and prevent energy crashes. Collagen can be used in general to mimic the health effects of bone broth if you don't have access to it
Raw, pasture raised egg yolk – totally optional but so nutrient dense
Pure maple syrup, raw local honey, or birch sap (whatever natural sweetener you prefer—omit if needed)
Coconut butter or grass fed butter
Vanilla bean – try to find an alcohol-free, organic extract without added flavours or additives. I splurge and invest in whole vanilla bean—it's more than worth it
Sea salt – opens up the flavour of cacao and any sweetener used
Tips to make this Qi hot chocolate:
All you need to do is blend the ingredients in a blender, then heat it on the stovetop until hot (but not boiling).
Always use the highest quality ingredients you can procure. The taste of this Qi hot chocolate will really depend on the quality of ingredients you use.
For the SuperFeast Qi blend, take only a little bit at first (1/8-1/4 tsp) and adjust. Ease into it gradually, as over time your body will get used to running more Qi through your meridians!
To avoid destroying the nutrients and especially if you're using raw local honey rich in delicate enzymes, avoid boiling the hot chocolate, and remove from heat as soon as you see a little vapour.
Simple Qi hot chocolate substitutions:
Swap coconut butter and spring water for pure, raw, full fat goat milk or whole coconut milk from a BPA-free can (ideally fresh)
If you're attached to coffee, add in Swiss water process decaf using a 1:3 ratio of coffee to water/milk to make this more of a mocha flavour
Avoid those popular nut or seed milks containing additives including toxic industrial seed oils, flavours and sugar, and activate and blend your own using a nut milk bag whenever possible.
Instead of homemade gelatin marshmallows, garnish with your preferred herbs such as blue lotus, calendula, or rose
Instead of pure maple syrup, sweeten with birch sap or gentler raw local honey, lightly heated
Hot chocolate serving, topping and flavour ideas:
Add a few drops of peppermint extract for peppermint hot chocolate
Add in a pinch of cayenne and Ceylon cinnamon for a spicy hot chocolate
Add in 1 tsp of pumpkin spice for a pumpkin spice hot chocolate
Serve garnished with homemade grass fed gelatin marshmallows (stay tuned for a refined sugar-free recipe soon)
You might also like these recipes: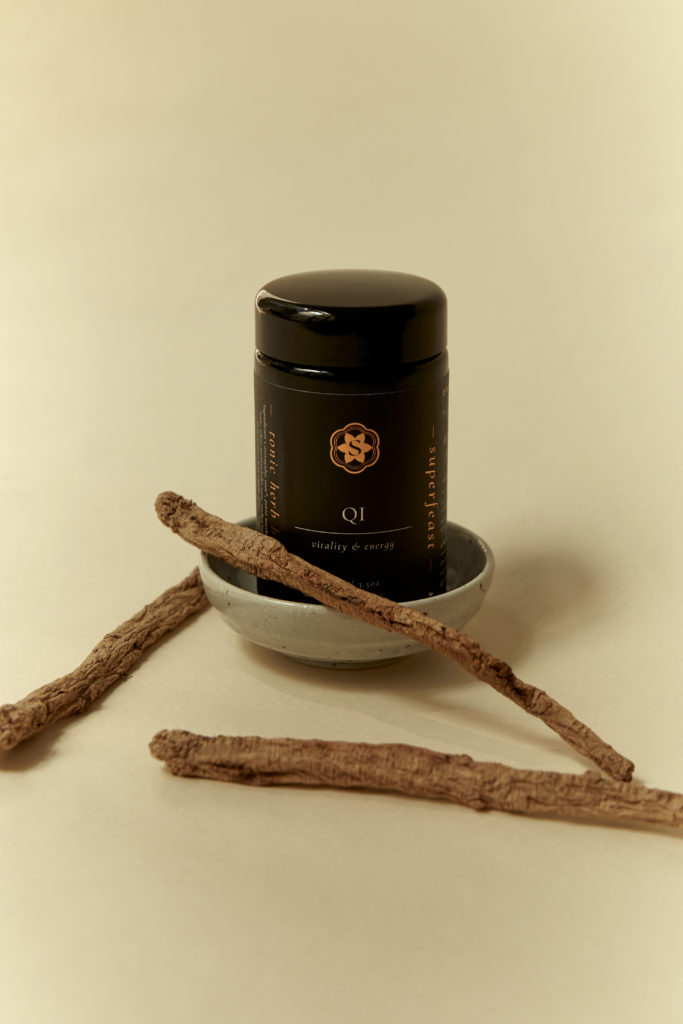 Giveaway
On my Instagram page, I'm giving away a jar of SuperFeast Qi for those who may benefit from this blend of earth medicine. To enter this contest, visit the Root to Sky Kitchen Instagram page, "like" and share the Qi Hot Chocolate post, and comment with your current favourite herb and why it speaks to you. The winner will be randomly selected to receive one free 100g miron glass jar of Qi by SuperFeast (worth $88.83 CAD… but priceless for health)!
If Qi isn't for you or contests aren't your thing, you can also use code ROOTTOSKY10 for 10% off any order at the SuperFeast website (whether it's on the Australian or North American website).
For more info on Qi, check out the brilliant and educational SuperFeast blogs and podcast:
QI Blend for Energy and Vitality
QI Blend: The Incredible Benefits – Energy, Vitality, Animation
Qi – The Transformational Force with Mason & Tahnee From SuperFeast (episode #53)
---
Special thanks to SuperFeast, truly one of the best affiliates I've been fortunate enough to connect with. All thoughts are my own.
If you tried this Qi Hot Chocolate or any other recipe on this blog, let me know how you liked it by leaving a comment below. Be sure to follow along for more inspiration at Pinterest, Instagram and Facebook.
Qi Hot Chocolate Recipe
The ultimate hot cacao recipe for cold weather coziness, made with SuperFeast's carefully crafted, sustainably sourced Qi blend from the ancient Daoist tradition. Flexible and versatile, this medicinal tonic tastes great and feels good every time.
Ingredients
3

cups

wild spring water

ideally deuterium depleted water, if you can source it, or coconut/raw goat milk

1.5

tbsp

raw organic cacao powder

1/4

tsp

SuperFeast Qi blend

use code ROOTTOSKY10 for 10% off any order at superfeast.com!

1

tsp

grass fed gelatin

or grass fed collagen powder

1

tbsp

pure maple syrup

or birch sap, or raw local honey

1

raw, pasture raised egg yolk

optional

1

tbsp

organic coconut butter

or grass fed butter

1/2

tsp

organic vanilla bean

1

tiny pinch sea salt

homemade gelatin marshmallows to garnish

optional
Instructions
Blend all ingredients in a blender, pour it in a saucepan to heat on a stovetop until you see a bit of vapour, and serve piping hot!
Notes
Use code ROOTTOSKY10 for 10% off any order at the SuperFeast website.
Whatever you do, avoid using a microwave to prepare this. Zapping the molecules of your precious natural food while exposing yourself to excess nnEMFs via a pricey, unattractive, energy guzzling gadget doesn't feel too good.
Make this and pour it over ice instead of heating it on the stovetop during the warmer months.
Contraindications for the Qi blend:
Best not use the QI blend in the acute stage of colds and flus. In these instances, the invading pathogen/s will have only penetrated at surface level. We cease the use of the QI blend at this time to avoid pushing the pathogen deeper.
If conditions are chronic, we can use the QI blend to regenerate and enliven the body in order for it to fight off deeper infection.
Constipation and stagnation; depending on the level of severity, the Qi blend can be useful to help get things moving. However, if symptoms including congestion and firmness in the abdomen prevail or worsen, there may be a hard blockage/stagnation of Qi that QI blend is unable to move through. Physical manipulation (abdominal massage/Che Nei Tsang) and herbs that have a more aggressive draining action may be necessary. In these cases it is best to seek the guidance of a trained practitioner.
A kinesiology-based technique called muscle checking can accurately determine if any foods are truly what your body needs. Visit neurologicalnetworks.com for more info.