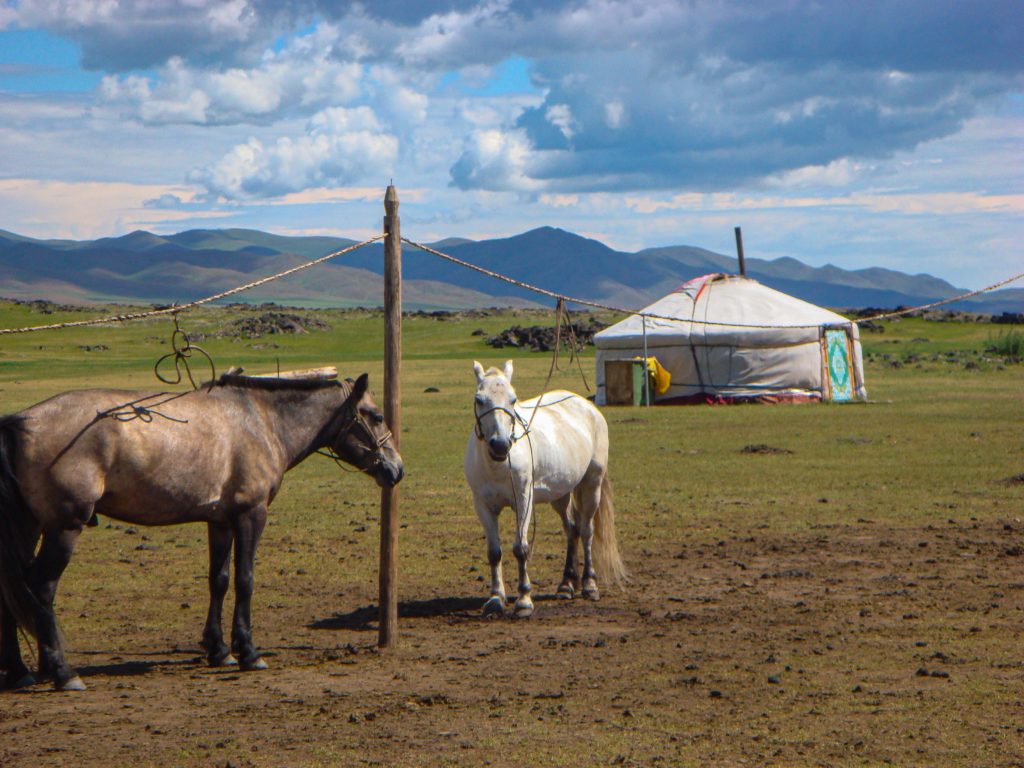 Oh, to be a nomadic herder in the Mongolian steppes where the climate is vast and cold and the majority of dishes include pasture raised animal foods, dairy, flour based doughs, and occasionally rice. Nomads make do with what they can, and Mongolian tsuivan is one such staple dish. Extreme continental climate conditions around that area have traditionally made food more of a necessity than an art, with Mongolian nomads spending most of their time looking after their animals—herding, combing, milking, and hunting with a barter economy and a deep reverence for nature, so much that Mongolian tents do not even pierce the earth. I suspect a more bare bones approach to food will become more of a thing where I live in the coming years. As I often like to say: never put all of your eggs into one basket (or in this case, the current food systems).
Since I live in southeastern Canada where the winters are harsh and cold and nothing grows in the garden but kale, it can be a wise move to stock up on seasonal vegetables and high quality, ethically raised, grass fed and finished, pasture raised broth bones and meats that are satiating and full of healthy, brain boosting fats with proper amino acid profiles that can even help ward off any seasonal depression, fear, moodiness, and anxiety.
Tsuivan/Цуйван is comfort food, traditionally prepared with diced mutton and various vegetables, and often includes fresh, handmade noodles that are steamed along with the vegetables and meat. When it comes to veggies, tsuivan purists tend to go for simple onion and maybe potatoes, and the more avant-garde crowds opt for cabbage, bell peppers, carrots, green onions, milk tea, and more. Variations of the meat include beef, lamb, and yak—every part of the animal is used and honoured.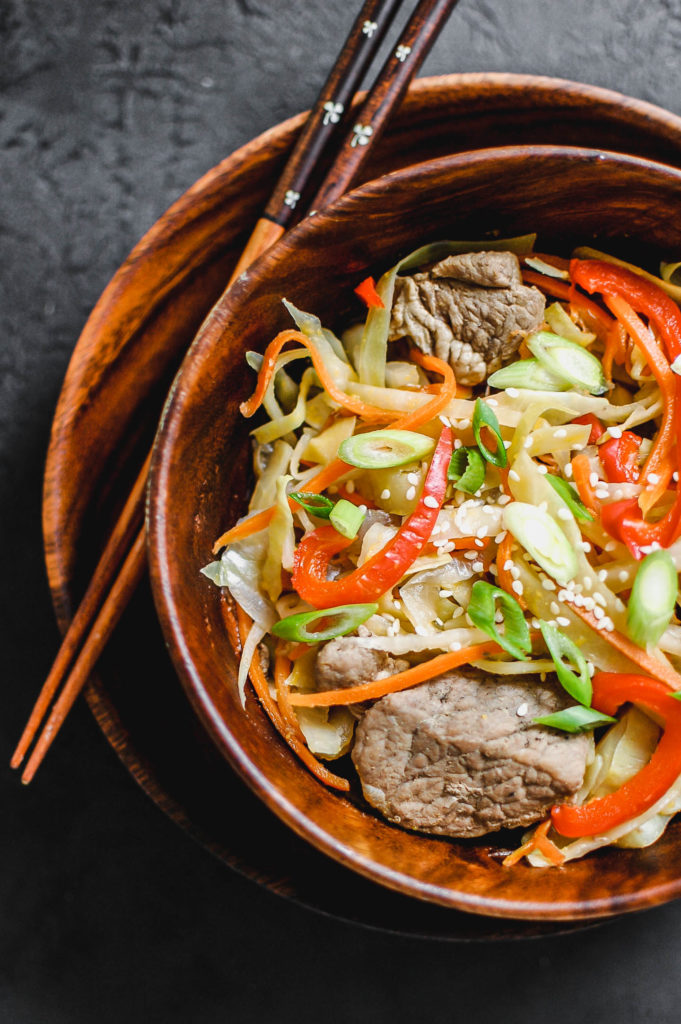 My version of mongolian tsuivan is simple, flavourful and modest, yet highly nourishing, gut healing, and completely gluten free without the hassle of needing to make any noodles (although you can certainly do so with an organic and ideally ancient grain, such as spelt. Just throw them in towards the end, cover the pot with a lid, and steam). You can use any kind of local, pasture raised, grass fed and finished meat you wish. Green cabbage, daikon, bell peppers and carrots also keep FOREVER in the refrigerator, ideal for sleepy and lazy winter months. Mongolians consider fatty meat to be of higher quality than Western lean meats as well, so don't skimp out on the quality.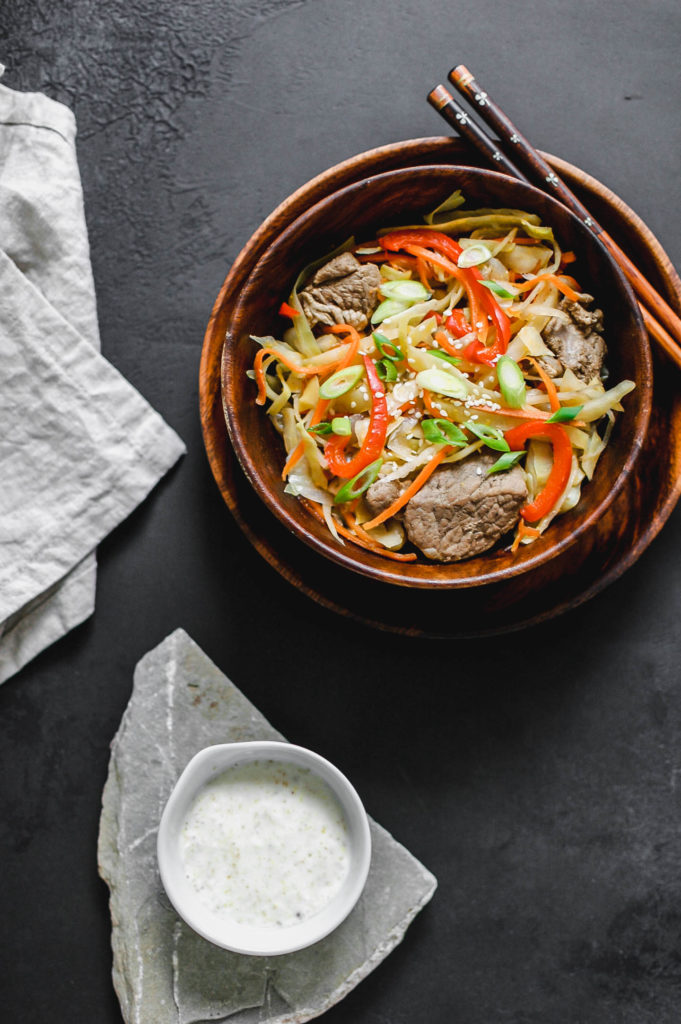 Recently I believe I've healed my gut to the point where I can consume kefir (local, organic grass fed cow or goat kefir, whole fat only) without developing pimples on my face or digestive issues like conventional dairy used to do. To celebrate, I've included a recipe for a simple kefir condiment that can be dolloped on top of the stew as a garnish.
Why whole fat kefir?
There are profound benefits to consuming kefir. Daily. Aside from being a promising, protective dietary supplementation against viral infection and an ideal counter to candida overgrowth, kefir is a fermented superfood source of probiotics and is basically liquid gold that promotes flawless digestion and elimination. Traditional raw, fermented dairy is extremely anti-inflammatory, 99% lactose free, and contains 14 probiotics compared to yogurt's 4 probiotics. Goat kefir is more nutrient dense, alkaline, easier to digest, and is more suitable to human biology than cow kefir, but both are fine options. Kefir is best whole fat, organic, plain, from grass fed and pasture raised goats or cows, and with NO added sugars or other flavours or additives. If you're new to kefir, start in small amounts to help your microbiome adjust, and eventually work your way up to larger portions. Did you know that your microbiome changes within 3 days of following a new dietary pattern? Try conducting an online search using your favourite search engine in order to find a farmer you can trust who offers proper kefir near you. You can read more about goat's milk in the link below.
I like to put ground flaxseeds in my kefir as well—I usually just add a whole bunch to the container my kefir came in, stir it in, and let it sit in the refrigerator until ready to use when needed. Flaxseeds contain lignans that bind to toxins after they get released when bad bacteria die off. They do also contain lectins, but by fermenting them at least overnight in the kefir, you allow their properties to become bioavailable to help repopulate the gut with beneficial bacteria and process excess hormonal waste, reducing the likelihood of breast and prostate cancer.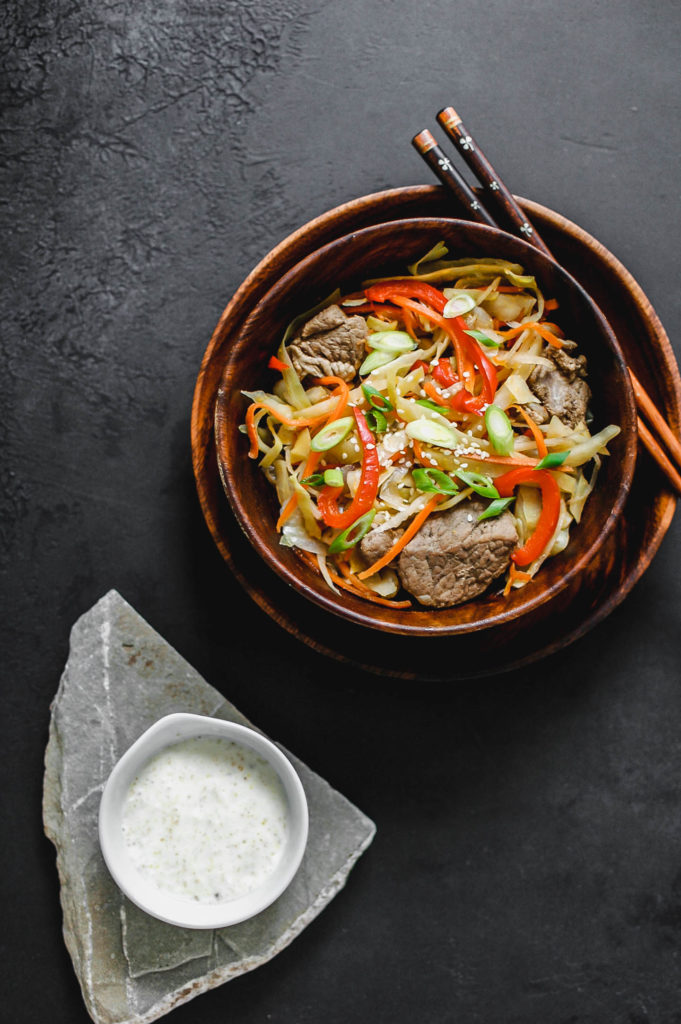 Everybody likes tsuivan irrespective of age, gender, religion, and social status.

Mongolian saying
Enjoy!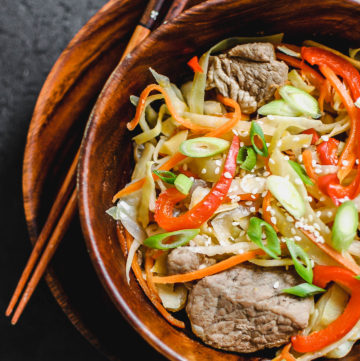 Traditional Mongolian Tsuivan
Traditional dish of Mongolian nomadic life with pasture raised, grass fed and finished lamb, nourishing, gut healing bone broth, and copious amounts of vegetables. Enjoy!
Ingredients
For the stew
1

tbsp

grass fed tallow, ghee, or virgin cold-pressed coconut oil

1

pack

grass fed and finished, pasture raised lamb, cut into chunks or strips (about 2 cups)

thawed

sea salt and black pepper to taste

1

medium organic onion, sliced into half rings

2

organic garlic cloves, minced

1

inch

organic piece of ginger, minced

1/2

organic green cabbage, finely shredded

3

organic carrots, finely shredded

1/2

organic red bell pepper, finely sliced

1

organic small daikon radish, finely shredded

1

cup

grass and finished, pasture raised bone broth (I used astragalus infused beef bone marrow broth)

organic sliced green onion, organic sesame seeds to garnish (optional)
For the kefir garnish
1/2

cup

grass fed kefir

1

tbsp

ground organic flax seeds
Instructions
Make the kefir and flax in advance. Add the flaxseeds to the kefir and let the mixture ferment at least overnight in the refrigerator.

Heat the tallow in a large pot over medium heat. Add the meat, space it out evenly on the bottom of the pot, then turn the heat up to high. Let the meat cook for 1-2 minutes on each side or until the meat is browned.

Reduce the heat back down to medium. Add only half of the onion rings, stir to combine, then sauté them with the meat until softened, about 2 minutes. Season the mixture liberally with salt and pepper.

Add a splash of the bone broth and scrape away any bits at the bottom. Season the mixture with the ginger and garlic, stir to combine, and continue to sauté for about 30 seconds until fragrant.

Add the cabbage, carrots, bell pepper and daikon radish. Cover the pot with a lid to steam the mixture and reduce its volume. Stir to combine the mixture, then add the remaining bone broth. Bring to a boil, then back down to a simmer for about 15 minutes.

Serve hot and garnish with green onion, sesame seeds, and kefir.