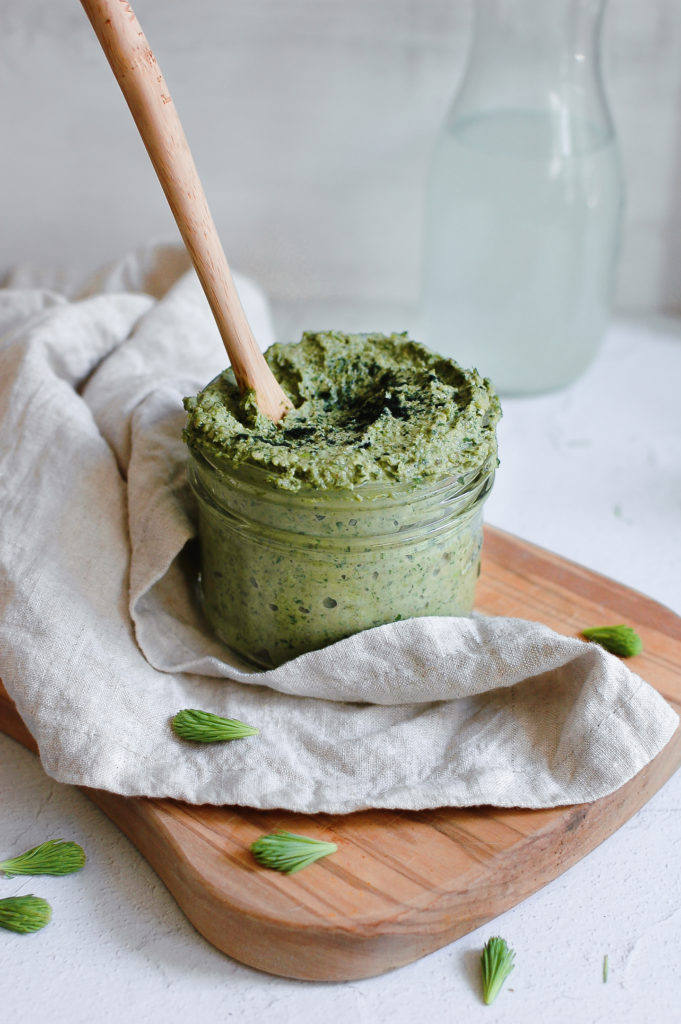 Today I've teamed up with Wild Bloom Botanicals to bring you this simple pesto recipe made with wild foraged local spruce tips. Pesto is the easiest thing to make and has become such a staple in my everyday life. Pre-made pesto usually contains factory farmed dairy or has been sitting stagnant on the shelf for months and can get expensive. Not this recipe, though! I regularly douse it on nearly everything I make, from zucchini pasta to wild salmon, to grass fed/finished meats, pasture raised eggs, salads, as a dip for sweet potato fries, and even directly off of the spoon. It's that good.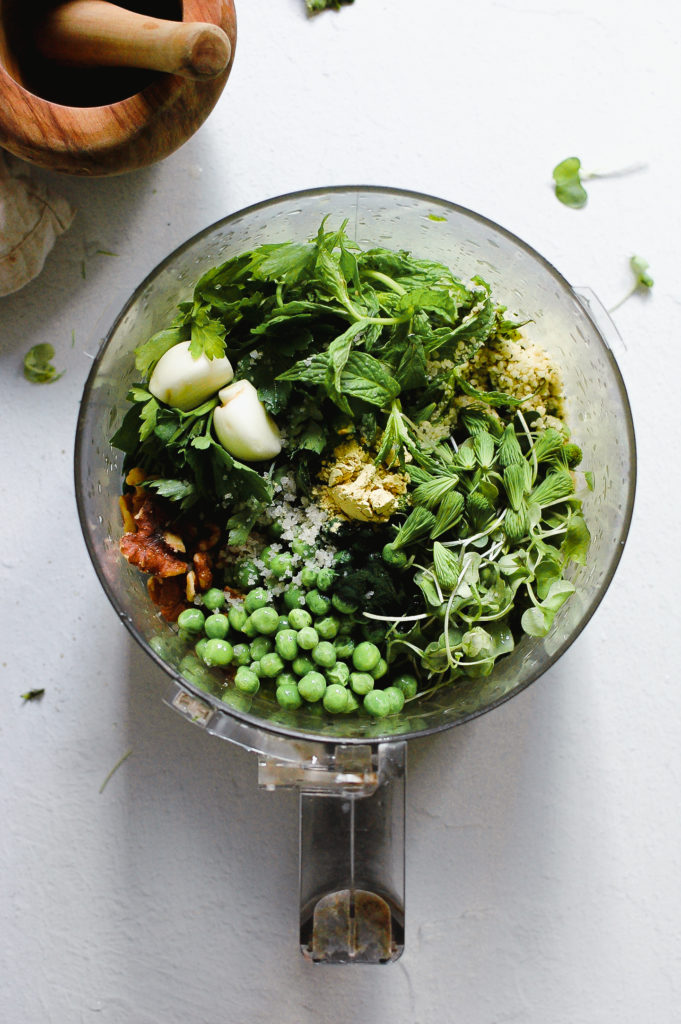 Spring Forest Pesto with Spruce Tips
This spring forest pesto is made with seasonal goodies including parsley, mint, peas, microgreens, hemp seeds, walnuts, lemon, garlic, wild pine pollen, freshly foraged spruce tips, and the Wild Bloom Botanicals green superfood detox powder. Simply throw all of the ingredients into a blender and scrape the mixture out into a mason jar.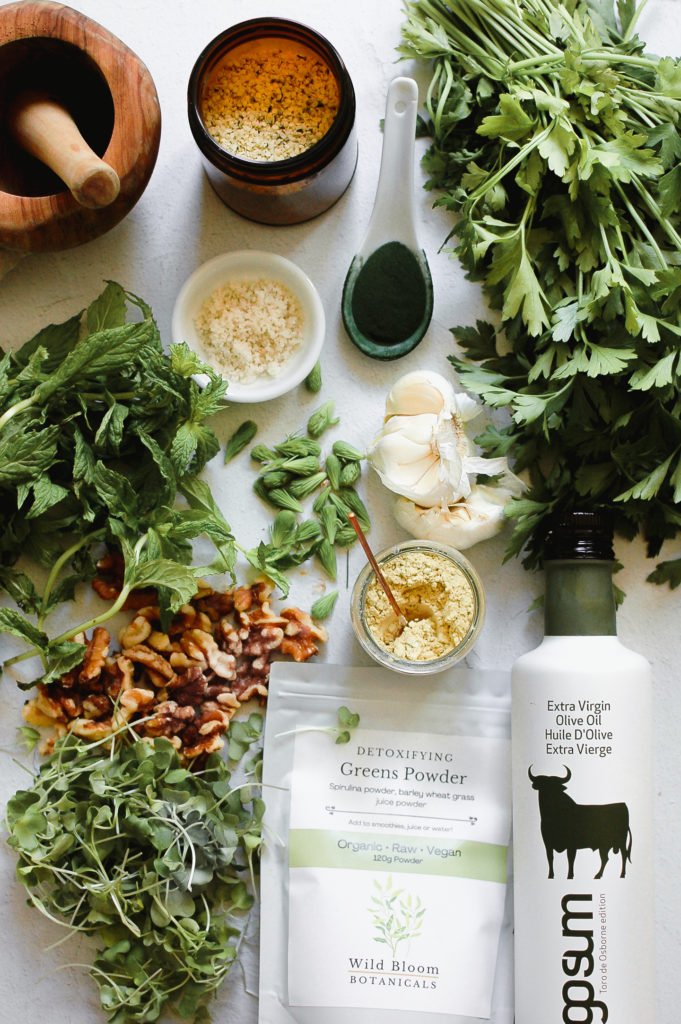 Spruce Tips
Imagine my excitement when I discovered that I had a young spruce growing right in my backyard to carefully and sustainably forage a few tips from. The window for gathering spruce tips is pretty much over where I live, but you may still be able to find some near you. If you do, that's your sign to make this pesto.
Collect tips in early May for just a few weeks, and preserve in salt or freeze them for long term use. You'll be able to notice the new growth: soft, vibrant and feathery, with a citrusy flavour. Spruce tips are packed with vitamin A and C, loaded with antimicrobial and antibacterial properties. No species of spruce are poisonous, but some taste more bitter than others. Fir tips and pine shoots are also edible. Avoid the yew tree as it's toxic! Do not over harvest from one tree, especially if the tree is younger. Spruce tips make for great trail nibbling food, and you could also make a tea with them, place them on a cake or in a big salad, or use as a garnish.
Nature's general rules for foraging spruce tips are as follows:
always pick from elder, mature trees, young trees need time to grow
never pick more than 10-20% of the tips from a single tree
never pick tips from the apical meristem, or top of a young tree, which would stunt its growth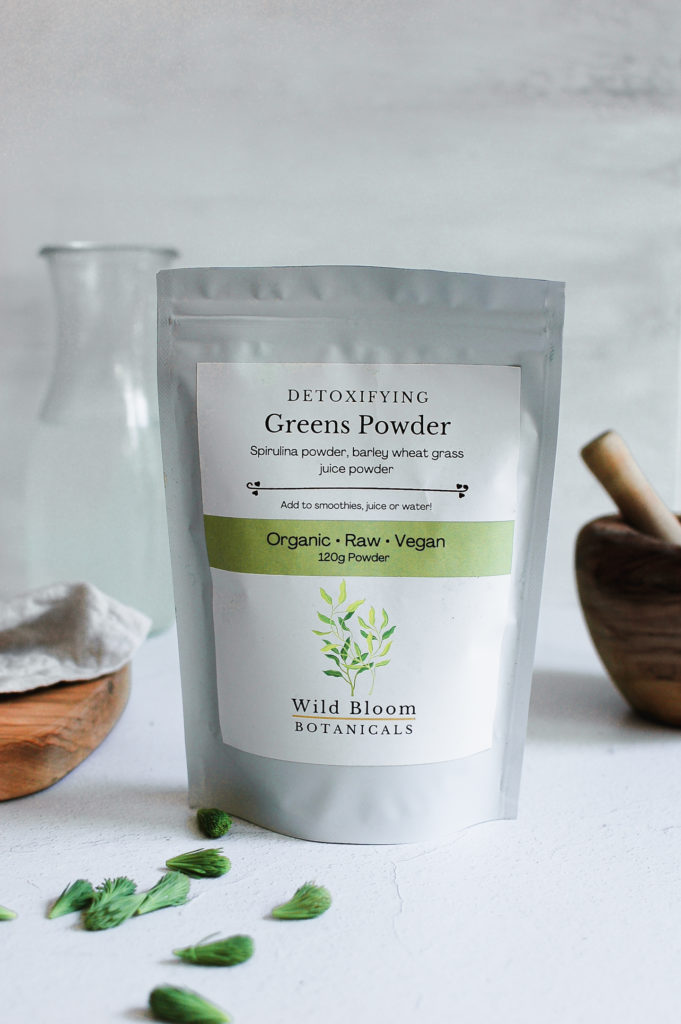 Wild Bloom Botanicals Green Superfood Detox Powder
Spirulina is a popular supplement rich in chorophyll, fatty nucleic acids and lipids, consumed by the ancient Aztecs and may be the most nutritious food on the planet. It contains a large supply of nutrients and antioxidants including protein, complex carbohydrates, iron, and vitamins A and K, and the B complex. Spirulina is useful for removing heavy metals such as mercury, aluminum, lead, cadmium and copper toxicity from the liver, reproductive system, intestinal tract, thyroid, and brain. It increases stamina levels and its rich nutrient content and bioavailable protein help build strength and can also help curb misguided cravings for a quick, rancid seed oil, pesticide filled take out meal from your local cafe after stressful overtime hours at the office. Its magnetic attraction makes it effective at purging toxins from the body that otherwise build up due to environmental pollution. When it comes to detoxification, I'm not really drawn to harsh or invasive protocols and personally prefer more gentle/laissez-faire methods, such as slipping some raw spirulina into my meals while getting into parasympathetic state and consciously feeling safer in my body, letting it do its brilliant detoxification, naturally.
Multiple studies on spirulina have been performed and a few randomized controlled trials and systematic reviews suggest that this alga may improve several symptoms and may even provide anticancer, antiviral and antiallergic effects.
Barley grass juice powder comes from the tender young grass grown from barley seed. Similar to microgreens, it's harvested at the peak of chlorophyll, protein and vitamin concentration before it produces any grain, making it completely gluten free! Barley grass juice powder is rich in vitamins A, C, B and minerals iron, calcium, potassium, magnesium and phosphorous, all in perfect ratios for the body. It's also very high in bioavailable protein and contains 20 amino acids, including 8 that the body cannot produce itself. Barley grass juice powder can stabilize blood sugar and cholesterol levels, support heart health, support your unique optimal weight, and makes for a great source of daily greens! Not to be confused with barley grass powder, barley grass juice powder has been used since ancient times for medicinal and healing purposes and is one of the best ways to consume this food as it concentrates the nutritional properties and is readily bioavailable for the body's digestion, assimilation and utilization of its nutrients.
Together you'll be getting a potent supply of many nutrients and antioxidants, including protein, iron, vitamins A and K, as well as the B complex. Some magical benefits of this blend include:
restoring brain tissue, growing fresh neurons and strengthening neurotransmitters, rebuilding the central nervous system
stabilizing glucose levels in the blood
providing critical micronutrients for the thyroid and bolstering the endocrine system
removing heavy metals and toxins from the liver, intestinal tract, brain, nervous system and thyroid
containing high levels of Superoxide Dismutase (SOD) and chromium, reinforcing adrenal strength
offering a great source of iodine, effective at nourishing the thyroid and is a nutrient that most modern people are deficient in (complement your iodine rich foods with a source of selenium such as tasty Brazil nuts – about 1-2 a day will suffice, no more than that as too much selenium can be toxic!)
can prevent and reduce the growth of nodules, tumors and cysts, both cancerous and benign
stops viral and bacterial growth inside the liver
Visit the Wild Bloom Botanicals website for more powerful herbal medicines that can transform your life.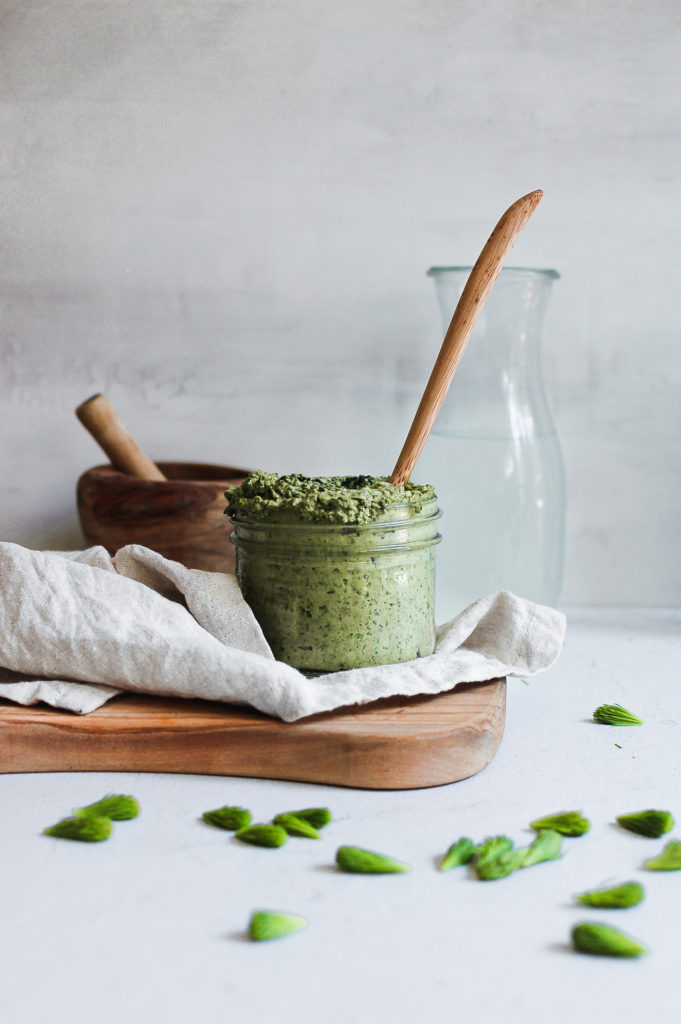 Thanks to Wild Bloom Botanicals for collaborating with me on this post. All opinions and thoughts are my own. Click here for the Wild Bloom Botanicals green superfood detox powder!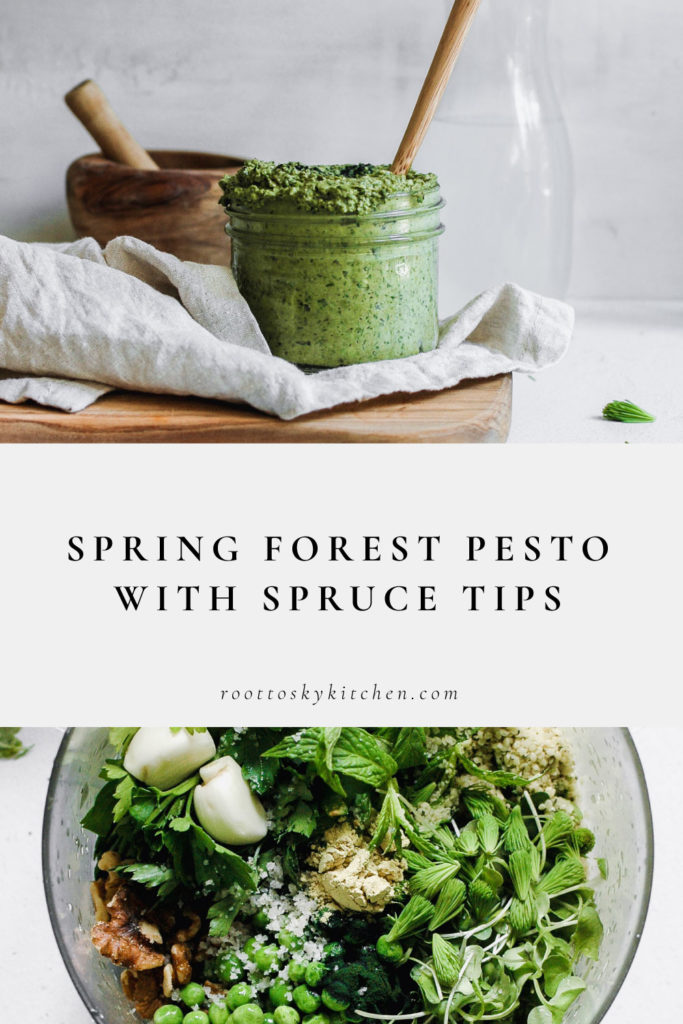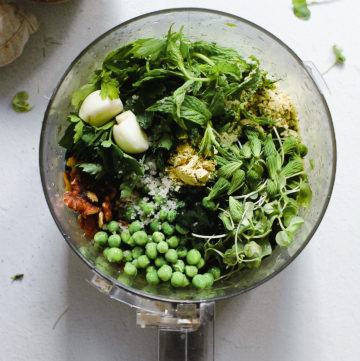 Spring Forest Pesto with Spruce Tips
Spring forest pesto with spruce tips, made with the Wild Bloom Botanicals green superfood detox blend containing energizing organic spirulina and barley grass juice powder. Visit wildbloombotanicals.com for more organic herbal medicines and transformative supplements. Yum!
Ingredients
3-4

cups

fresh organic parsley or sustainably foraged wild ramps or wild garlic mustard

3-4

cups

fresh organic mint

1

cup

fresh organic broccoli microgreens

1/2

cup

organic green peas

1/3

cup

high quality biodynamic or organic extra virgin olive oil

1/3

cup

organic hemp seeds

1/3

cup

organic activated walnuts

juice + zest of 1/2 organic lemon

1

tsp

sea salt

organic black pepper, to taste

1-2

cloves

organic garlic

or more, depending on how you like your garlic

2

tsp

Wild Bloom Botanicals green superfood detox powder

1

tbsp

wild pine pollen

1/3

cup

wild spruce tips
Instructions
Place all ingredients into a blender or food processor except for the olive oil. Blend until reduced into a fine paste with an even texture. Add in the olive oil a little bit at a time, and continue to blend until well combined. Scrape into a mason jar, and serve!
Notes
Pesto keeps for about a week in a glass mason jar with an airtight lid.
Freeze the pesto for longer term storage and use, it'll keep about 3 months in the freezer. Transfer the fresh pesto into silicone ice cube containers to make frozen pesto cubes.
Activate the nuts (stimulating the early germination and sprouting process and reducing antinutrients that cause mineral deficiencies and health issues) by placing them in a bowl of filtered water with a pinch of sea salt, and leave overnight or up to 24 hours. Overnight will suffice. Drain and rinse, then use immediately.
The quality of your olive oil will make or break your pesto. Opt for biodynamically grown or organic and authentic.