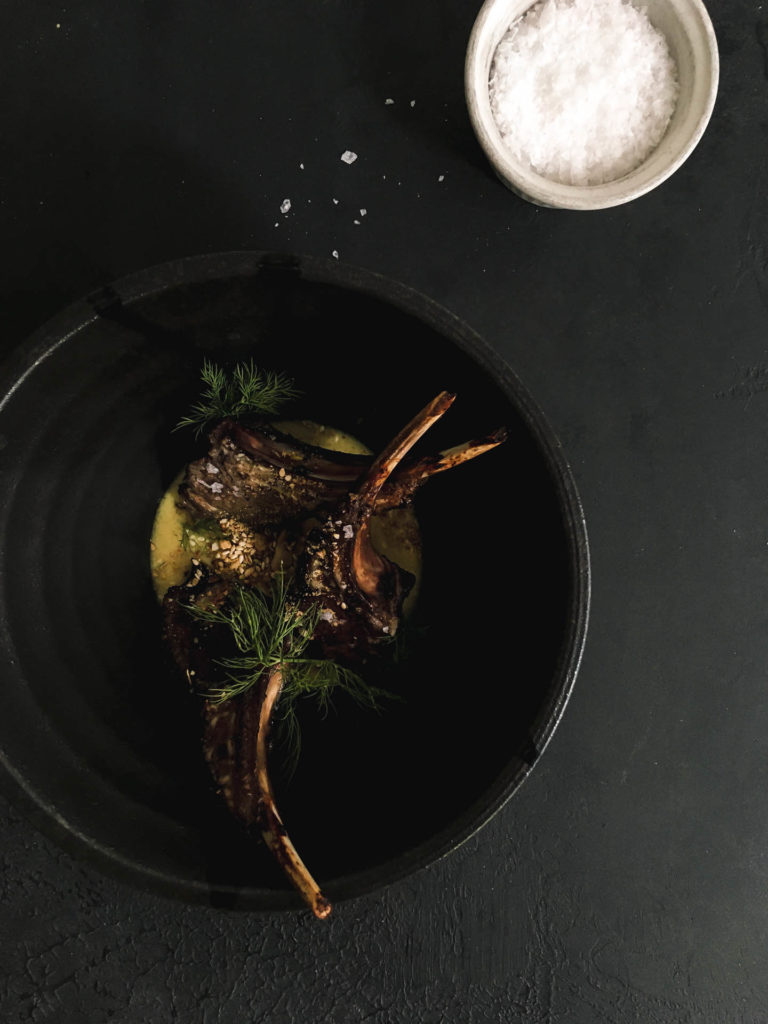 I'm just going to be real with you, this shawarma rack of lamb was probably one of the best things I've ever made. Nourishing, nutrient dense, all organic, with a fragrant, balanced flavour and texture interplay, and the local and ethically pasture raised, sustainably grass fed and finished rack of lamb as the star of the show! YES!
Ethically pasture raised (read: sunlight exposure), grass/hay fed and finished lamb has quickly become one of my favourite muscle meats. It's tender and full of proteins, bioavailable iron, immune-boosting zinc, cancer-fighting CLA, the essential B complex vitamins and vitamin b12 that all benefit the nervous system, healthy fats for the brain and hormone balance, and micronutrients as one of the most nutritious animal foods available. The flavour of lamb tends to be quite mild, and really sets the tone for your favourite organic spices and herbs to impart their flavours upon.
Not only does this shawarma rack of lamb recipe taste epic with its metabolism boosting, anti-inflammatory, immune-supporting spices, it'll leave your body feeling great. Real food, 100% organic, as local as possible, grown and raised with the highest ethical practices and deepest reverence for the earth, can it get any better?
Ingredients for the shawarma rack of lamb:
Approx. 1 kg rack of ethically pasture raised, grass fed and finished lamb
Organic extra virgin olive oil
Juice of 1 organic lemon
Dried garden oregano
Shawarma spice (click here for my organic, homemade recipe) – if you opt for a pre-made blend, ensure it contains sea salt rather than table salt, and no added fillers, "natural" or artificial flavours, colours, nitrates, preservatives, or other nasty funk that did not come straight from the earth.
Sea salt (I prefer Celtic sea salt or Mayan sea salt, but any sea salt will work)
Tips for roasting the rack of lamb
The first rule of making lamb, or really any type of meat, is to KEEP THE FAT ON. It's full of anti-inflammatory, omega-3 fatty acids! Seriously—even though I've seen a lot of recipes suggesting to remove the fat, this fat fearing has become so ingrained in Western culture in general and can actually be detrimental to our health in the long run. Not only are most of the nutrients stored in the healthy, natural fat that our ancestors consumed, your body will probably know exactly how to use it without any resulting imbalances or unnecessary inflammation. Fattier cuts are a great thing when you're consuming ethically raised, grass fed and finished, or wild caught animal foods.
Consuming sustainably and ethically raised, grass/hay fed and finished, or ideally wild caught, nose-to-tail animal food is a special, and even sacred experience. Right before eating, try giving thanks to the lamb and everyone involved in the process, including the plants, for transferring their energy and life force to you (and eventually back into the earth).
Avoid typical, non-organic, grocery store meat that has been factory farmed and/or fed pesticide sprayed GMO grains, which affects every cell of the lamb, and will make its way to you. Believe it or not, it's possible to know firsthand whether the animal has been indeed consuming inflammatory pesticide sprayed grains, antibiotics, hormones, or lived an unnatural lifestyle, as the hormones in the meat can make you emotionally unstable and irritable through a bodily inflammatory response. I've personally experienced this recently with a batch of so-called 'pasture raised', conventional, and not properly certified brand of Albertan bison that was raised without antibiotics, growth promotants or hormones, but was likely fed GMO and/or pesticide sprayed grains. It was disappointing because bison is much higher in quality, sustainable, and tastier than beef in general, so I personally expect to be more careful with my sourcing in the future – always grass/hay fed and finished. The quality of meat is paramount, and the energy of the animal makes its way to you. As I currently consume a 100% (knowingly) organic, whole foods diet AND am currently extending an entire moon cycle's streak of zero organic coffee, my body has become much more intuitive and better able to discern how specific foods and substances make me feel. Click here for more tips on how to reduce inflammation through lifestyle practices.
I like to thaw the lamb by placing it in the refrigerator overnight, then allowing it to marinate with the seasonings for 1 hour at room temperature or in the refrigerator, covered with a lid and sitting in the oven safe roasting tray, ready to pop right into the oven for roasting!
Ingredients for the tahini mustard sauce
Tahini, obviously
Extra virgin olive oil
Apple cider vinegar (raw, with the 'mother')
Local maple syrup
Filtered water
Homemade or pre-made organic mustard of your choice
Raw garlic
Celtic or Mayan sea salt
Ingredients for the toasted Egyptian inspired dukkah
The crunchy dukkah sprinkle I made was inspired by the original recipe by Suzy at The Mediterranean Dish. Visit for quality, nourishing recipe inspiration!
Macadamia nuts
Activated almonds
White sesame seeds
Pistachios
Fennel seeds
Cumin
Coriander
Cayenne
Sea salt
Promo code alert! Use code ROOTTOSKY15 for $15 off your order at Wild Meadows Farm Ontario. If you care about what you eat and subsequently the health of yourself, your loved ones, other creatures, and the earth, I highly recommend looking into their offerings. I wholeheartedly trust their ethical approach to providing sustainable, grass fed and grass finished local animal foods (and other nourishing goodies)! It may just be the single best investment you ever make.
Enjoy and stay wild.
Shawarma Rack of Lamb with Tahini Mustard Sauce, Toasted Dukkah, and Lemon Infused Olive Oil
Rich, nutrient dense rack of grass fed and finished, pasture raised lamb seasoned with shawarma spices, served with a creamy, tangy tahini mustard sauce, toasted crunchy Egyptian inspired dukkah, and lemon infused olive oil. YES.
Ingredients
Toasted dukkah
1/2

cup

organic macadamia nuts

3

tbsp

organic activated almonds

4

tbsp

organic white sesame seeds

3

tbsp

organic shelled pistachios

1

tbsp

organic fennel seeds

1

tsp

organic ground cumin

1

tsp

organic ground coriander

1/2

organic cayenne pepper

1/2

tsp

sea salt
Homemade mustard
1/4

cup

organic mustard seeds

1/2

cup

organic apple cider vinegar

with the 'mother'

3

tbsp

biodynamic extra virgin olive oil

2

tsp

organic ground sage

1

tsp

organic maple syrup

1 1/4

cups

filtered water

1/2

tsp

organic ground turmeric

1/2

tsp

sea salt
Tahini mustard sauce (makes extra)
1/2

cup

organic tahini

1/2

cup

biodynamic extra virgin olive oil

1/3

cup

organic apple cider vinegar

with the 'mother'

1/4

cup

organic maple syrup

1

tbsp

organic mustard (I used homemade, you can also opt for pre-made organic mustard without any additives, fillers or preservatives)

1

clove

organic raw garlic

finely chopped or grated with a microplane

2

tsp

sea salt
Roasted shawarma rack of lamb
1

rack of ethically pasture raised, grass fed and finished local lamb, thawed

1

tbsp

organic homemade shawarma spice

1

tsp

dried organic garden oregano

juice of 1 organic lemon, freshly squeezed

1

tbsp

extra biodynamic virgin olive oil, plus extra for garnishing

sea salt, to taste
Instructions
Toasted dukkah (makes extra)
In a dry skillet (no oil added), toast the mac nuts and almonds briefly over medium-high heat, stirring regularly until they turn fragrant and a nice, golden colour. Transfer to a side dish for now.

Place the sesame seeds in the same skillet. Toast briefly over medium heat, stirring regularly. Keep a close eye on them, as they burn easily. Remove and add them to the side dish with the toasted nuts. Allow them all to cool to room temperature.

Add the toasted nut and seed mixture to a food processor. Add in the rest of the ingredients: pistachios, fennel, cumin, coriander, cayenne, and a generous dash of sea salt. Blend to reduce into a coarse mixture – do not over process, the mixture should not be too fine. Store the dukkah in a glass mason jar for up to 2 weeks, and sprinkle on all of your meals!
Homemade mustard (makes extra)
In a bowl, combine mustard seeds and a little filtered water and soak for 30 minutes. Strain seeds to remove water. Discard soaking water.

In a food processor, combine the seeds, apple cider vinegar, olive oil, sage, maple syrup, ground turmeric, and sea salt. Blend to reduce to a smooth mustard of even consistency, this can take several minutes. Keeps for at least 6 months in the refrigerator in an airtight glass mason jar.
Tahini mustard sauce
In a small bowl, combine the tahini, olive oil, apple cider vinegar, maple syrup, mustard, garlic and sea salt. Whisk or stir with a fork to combine. Set some aside for serving, and store the rest in the refrigerator for up to 2 weeks in an airtight glass jar.
Roasted shawarma rack of lamb
In a medium oven-friendly pan or tray, place the lamb fat side up. Drizzle the lamb with the lemon and ample olive oil. Use your hands to evenly coat the lamb with the shawarma spices, sea salt, and dried oregano. Use as much or as little as you like – I'm very generous with the sea salt, and I used enough herbs and spices to coat the whole surface of the lamb. Cover the tray and set aside for about an hour to marinate.

Preheat the oven to 400F (HOT!). Once the lamb is ready, slide the tray into the oven (middle or top rack) and roast for 15 minutes for medium-rare, or 20 minutes for more well done. Adjust the cooking time to your preference, I did 20 minutes.

Remove the tray from the oven and let rest for 10 minutes before slicing into separate 'drumsticks' as shown in the photo, and serving with the tahini mustard sauce and toasted dukkah. I also used a few sprigs of organic local dill, an extra splash of cold lemon infused olive oil, and extra sea salt.
Notes
If you do one thing, please keep the fat on the lamb.
Serve with your favourite roasted vegetables, boiled greens/horta vrasta (I'm partial to the wild dandelion that grows in my yard), or roasted potatoes!