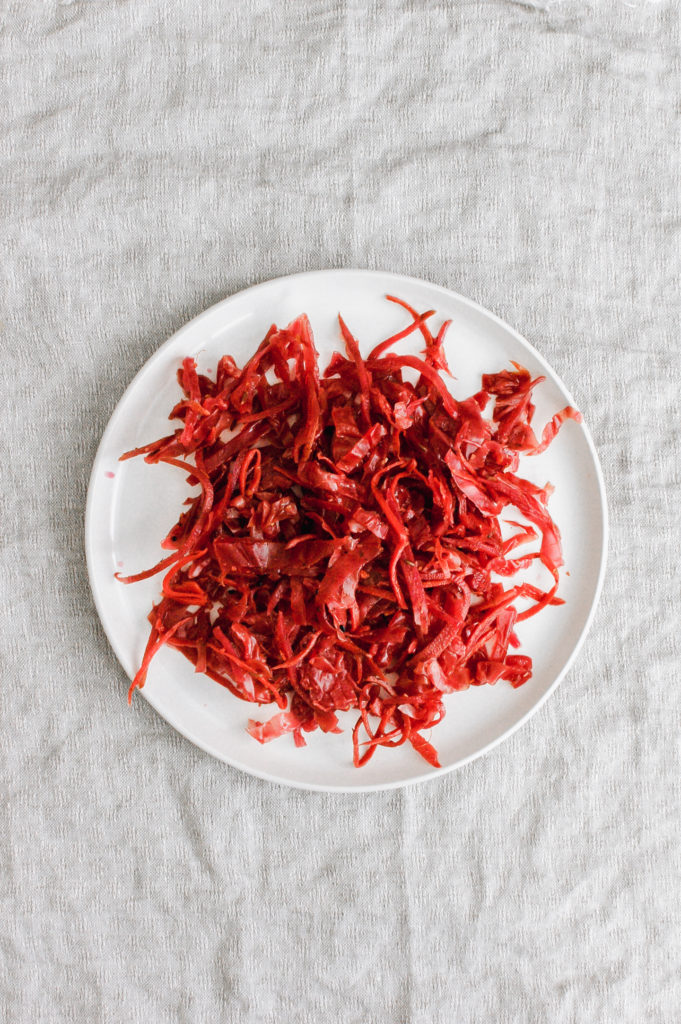 It's colourful. It's tangy. It's delicious. It's earth warrior food at its finest. So easy to make, cleansing to the liver and blood, and teeming with billions of vital live biotics and a multitude of vitamins and minerals, this beet ginger superkraut with native herbs makes a quick everyday condiment with most any meal to support vibrant health.
"There are more beneficial bacteria in a spoonful of raw sauerkraut than there are in the whole bottle of probiotic pills."

Sally Fallon Morell, definitely referring to my probiotic beet ginger superkraut with native herbs
For thousands of years, traditional cultures around the globe have long used small amounts of lacto-fermented foods and beverages with their meals and relied on the helpful enzymes and probiotics to aid digestion and gut health. Basically, in today's over sanitized world (especially in cities and urban areas), magical, fresh fermented foods like sauerkraut are VITAL and should be consumed on a daily basis for optimal health. Sauerkraut has a history of saving lives by providing nutrients during harsh winters and long journeys, and it's an ideal homemade food for long term storage because it actually increases in nutrient value as it ages due to the fermentation. Even Hippocrates himself wrote about the benefits of sauerkraut!
With this recipe, you, too, can create the finest organic fermented vegetables in all the land at a fraction of the price of industrial probiotic powders, capsules, tablets and supplements while populating your gut biome with full-spectrum beneficial bacteria, alleviating sugar cravings, and stimulating digestive fire, particularly important for breaking down the average modern day, terrible Western diet (and even the foods that actually do benefit your body).
What's so great about fermented foods is that when consumed over time, they can actually improve the health and efficiency of your gut by creating an environment where proper digestion and nutrient absorption can take place. They accomplish this by stimulating the gut to produce hydrochloric acid which is essential for both processes and can eliminate acid reflux naturally. Consuming fermented foods such as kimchi, olives, capers, sauerkraut, kefir, kvass, or just about anything pickled can reduce or eliminate the need for digestive aids, and work to increase the population of healthy flora throughout your intestines and inner terrain. They produce a range of positive effects on health, including the improvement of various intestinal inflammatory conditions, positive impacts on the immune system, and can even alter the composition of the gut microbiome.
"What is lacto-fermentation? Friendly bacteria and/or yeasts consume the starches and sugars in foods, giving off carbon dioxide and beneficial lactic acid. They proliferate throughout the food (making it probiotic), and they boost vitamin and enzyme levels. Lacto-fermentation can be done with fruits, vegetables, grains, beans, meats, dairy, beverages, condiments and more"

Traditional Cooking School
When first introducing sauerkraut into your world, start with 1/2-1 tsp and increase as much as you feel comfortable with (I've personally been doing about 1-2 tbsp on most days for 5-6 years so far). It can cause a bit of gas the first handful of times eating it, but this is actually a good thing! The good bacteria will help clear out any nasties and once you begin consuming it frequently, it will actually balance things out, prevent gas and other digestive issues, and can even help with food intolerances and skin problems, too.
Proper fermentation with adequate salt levels and temperature rids food of toxic components and plant anti-nutrients, enhances the nutritional quality of food by contributing beneficial compounds such as vitamins and increasing the bioavailability of minerals, and has a low pH that makes it incredibly difficult for bad bacteria, yeasts and molds to survive. Fermenting may even be safer than many other means of food prep, and there are also studies that support this notion and the benefits of fermentation in general. Click here to read more about fermentation, and here for an analysis on ferments.
The more you make cultured foods, the better your ferments will work because they'll infuse your home with powerful, good bacteria. Your living space is an expression of you, and so are your fermented foods. The same phenomenon happens inside of you, it gets better and better the more you pay attention to what you're eating, its impact on how you're feeling, how you're living, and the emotions you feel. You signal your body to create imbalance or wellness with everything that you do. When you're full of the good bacteria that you carry around, you can literally spread wellness to others in your vicinity, so make these foods often and consume them daily. They'll change and get better with time, just like you. Happy gut = happy life.
I've found that I feel best when I include fresh sauerkraut (or another fermented food I made) with my meals at least a few times a week, and it's become a cornerstone in my daily life. When I first tried sauerkraut, I would buy jars and jars (always glass) of the organic, unpasteurized, fresh, pre-made stuff, and this can get expensive and most brands are often not properly fermented, so I'd suggest making it yourself (always organic, no toxic chemicals or fillers, with filtered water, and no table salt, added sugars, nor vinegars) and see how your intelligent body and taste buds respond. Nowadays I actually prefer making it myself as I can control the fermentation to be as potent as I like.
Remember that everything is relative and there is nothing of greater value than vibrant health in mind, body, and spirit! Be sure not to heat up the beet ginger superkraut with native herbs (unless it's for a particular recipe) or you'll damage the live biotics that make sauerkraut such a powerful food in the first place.
Probiotic Beet Ginger Superkraut with Native Herbs
Earth warrior food at its finest. Colourful, delicious, so easy to make, and teeming with essential live biotics, this beet ginger superkraut with native herbs makes an amazing everyday condiment with most any meal to support vibrant health.
Ingredients
1

head

medium-large organic green cabbage, quartered, cored, and finely sliced (save a flexible outer leaf for covering the mixture)

2

medium organic red beets, shredded

6

medium organic carrots, shredded

1

4-inch piece

organic Atlantic wakame, ripped into fine shreds (or other organic sea vegetable closest to your bioregion)

1/4

cup

wild purslane or nettle leaves, finely chopped (or other wild, unsprayed herb growing in your bioregion)

2

nubs

fresh organic turmeric root, peeled and finely grated with a Microplane grater

1-inch

nub

fresh organic ginger, peeled and finely grated with a Microplane grater

2

tsp

organic caraway seeds

2

tsp

organic juniper berries

1

tbsp

sea salt (I used Celtic sea salt)

note – use generous sea salt, you'll want to use the equivalent of at least 2% of the sauerkraut's volume. I find 1 tbsp covers all the bases and works for me. Table salt has additives that mess everything up. Don't go there!

2

tbsp

old organic sauerkraut juice to speed up fermentation (optional)
Instructions
Sterilize your mason jar(s) and work bowl by pouring a bit of hot, boiled water into each of them, rinsing out the inner surface for a few seconds, and emptying the jars.

Rinse all ingredients with filtered water before preparation.

To a large bowl, add the cabbage, beets, carrots, wakame, purslane, turmeric, ginger, caraway seeds, and chili flakes. Season everything liberally with sea salt. Massage the vegetables for a good 5 minutes or until a small amount of liquid collects at the bottom of the bowl. Use gloves if you prefer to avoid staining.

Pack the vegetable mixture with their liquid into 1 or 2 large glass jars with tight-fitting lids. Press down with your hands or a spatula so that the vegetables become submerged in their own liquid. Leave at least 1 inch (2.5 cm) empty at the top of the jar. Press a cabbage leaf onto the surface of the mixture in each jar, and press down to secure the mixture. Secure the lid on each jar.

Since the liquid in this can stain, I like to open the lids over the kitchen sink once they're done fermenting to prevent the juice from spraying everywhere due to the pent up gases. Make a note to check the jars in 3 weeks. The sauerkraut should taste lightly sour and tangy, and should have some texture when you bite into it.

Once the vegetables are fermented to your preference, remove the cabbage leaf covers, and store the jars in the refrigerator indefinitely.
Notes
True sauerkraut is earth medicine; the result of wild fermentation. Making your own ensures you'd be reaping all of the benefits!
The beets and turmeric will absolutely stain your hands. You can use gloves if you like, but I usually just don't bother, it eventually fades away, like most things.
3 weeks typically works for me, but depending on the temp of your living space, this may be shorter or longer. Adjust according to where you're at and give it a taste test every few days. Longer fermentation time is not necessarily better. Don't let it go for too long or it will diminish the probiotics as the bacteria run out of food to eat and start to die. One exception to this is placing fruit or other foods such as flax seeds in kefir, when you add them they will create more food for the bacteria to consume!
I included the caraway seeds as they contain antimicrobial properties and can further support the development of beneficial intestinal flora when consumed while supporting the circulation of blood and intestinal mucus through the stomach, and improving overall digestion. The oil in caraway seeds is antihelmintic and antiseptic, so they effectively expel worms and infections from the body. 
Never use tap water, as it's full of toxic chemicals that will disturb the fermentation process, not to mention your precious and diversified gut flora.
Never use processed table salt, as it will affect proper fermentation and your gut flora. Always use whole sea salt or mountain salt.
Mason jars are easiest for me to find, but traditional ceramic or clay fermentation crocks are more interesting if you can find them.
Plastic lids are generally more recommended than the metal lids with the bands. I use the metal lids, but I just ensure the vegetables do not make any contact with the lid, and leave extra room near the top as the metal can rust over time.
Lacto-fermentation is an anaerobic process which many people say requires an airtight lid, but I've found that I could really use any type of jar, including reusable ones that once held other foods as long as they're clean. The lid doesn't have to be screwed on tightly, and only needs to be gently closed – the ferment will turn out just fine. You don't need an expensive, fancy jar!
Always use an uncoated wooden or plastic or silicone utensil to stir or scoop out probiotics. Metal can react negatively with probiotics and can break them down, so avoid probiotic food contact with metals. If you've accidentally used a metal spoon like I have a couple times, it should be fine. One exception for this is kefir, using metal to prepare or eat kefir is actually okay.
If you have a glass fermentation weight, feel free to use it too, though I don't find it necessary.
If any Kahm yeast (thin white film) appears on the surface during or even after fermentation, don't worry, this is not harmful, simply scrape it off and you're good to go. Kahm yeast will persist once it occurs, and though it is harmless, it will affect the flavour of the sauerkraut, so consume quickly before more grows, and keep the mixture packed down in the jar.
Prevent Kahm yeast by using airtight jars and not letting your ferment stay exposed to the air for too long. Use thoroughly cleaned equipment (I like to briefly run the utensils, jars and bowls involved through hot, boiled filtered water before use). Use enough salt equivalent to at least 2% of the sauerkraut's volume, and keep everything submerged in its liquid as much as possible throughout the entire process.
Kahm yeast is different from mould. Mould is easy to identify, it will be green, blue or white in appearance, fuzzy or hairy rather than smooth, and can grow above or below the surface of the ferment. When mould occurs, discontinue the ferment and do not consume, discard the mould and place the rest in the compost.