Ancestral organ meats are undoubtedly some of the most nutrient dense, healing foods on this earth, provided they are properly sourced from ethically raised and grass fed animals. In fact, in some traditional cultures, organ meats are actually the main parts consumed. They're between 10 and 100 times higher in nutrients than conventional Western style cuts of muscle meats! Just like your grandma knew that chicken bone broth is good for what ails you, she also likely knew that liver and other organ meats have superpowers. Grass fed beef liver pâté with rosemary and nutmeg is so easy to make, and versatile with many meals and snacks!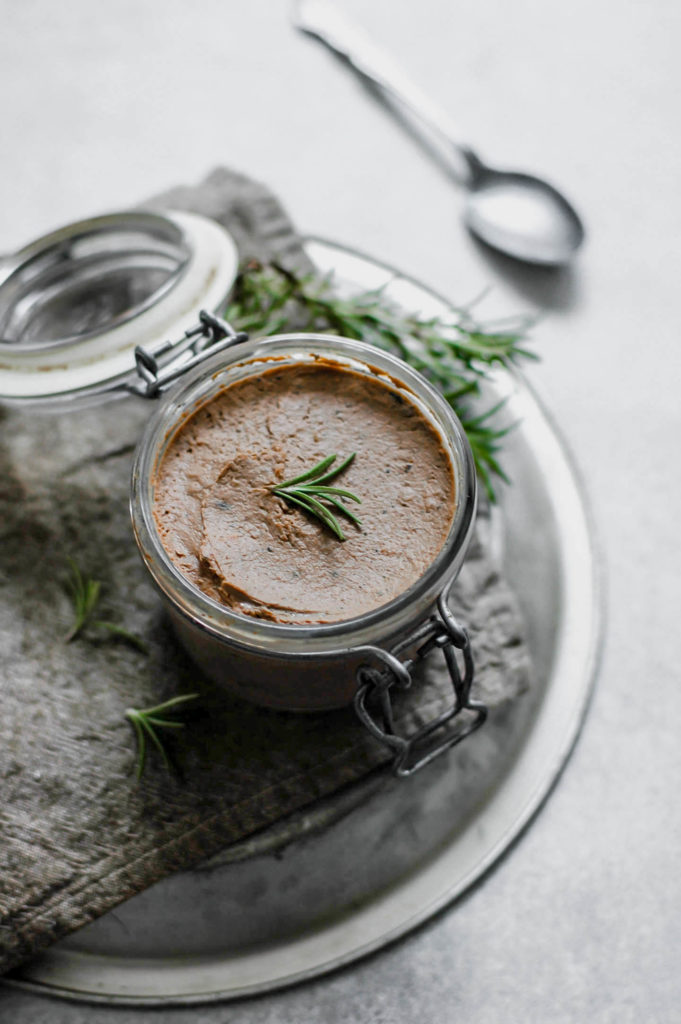 Beef liver nutrition and sourcing
If you're familiar with modern cultural conditioning (as I was while growing up), the mere thought of consuming liver may make you squeamish, but hear me out: liver is an incredible source of nutrients, including highly bioavailable iron, choline, all C vitamins, essential fatty acids EPA, DHA, and AA, vitamin A, and the powerful antioxidant COQ10. It also contains many trace elements such as copper, zinc, chromium, phosphorus, and selenium. In fact, it is SO nutrient dense that only about 3 oz (or 85 g) is generally recommended per week (eating too much liver regularly could lead to an excess of vitamin A.) After trying it for the first time, I found that it has quite a distinct taste and I prefer to add it into various recipes to go with other flavours. Tastebuds have a way of adapting, too! It's my kind of full-spectrum multivitamin:
A popular objection to eating liver is the belief that the liver is a storage organ for toxins in the body. While it is true that one of the liver's role is to neutralize toxins (such as drugs, chemical agents and poisons), it does not store these toxins. Toxins the body cannot eliminate are likely to accumulate in the body's fatty tissues and nervous systems. On the other hand, the liver is a is a storage organ for many important nutrients (vitamins A, D, E, K, B12 and folic acid, and minerals such as copper and iron). These nutrients provide the body with some of the tools it needs to get rid of toxins.

—Chris Kresser
When sourcing, know that it is imperative to invest in the highest quality, ethically pasture raised, organic, pesticide free, free of added hormones and antibiotics, grass/hay fed (especially if you're gluten sensitive) and grass/hay finished meat and organ meats from the kinds of animals that haven't been living a sad and toxic life in commercial feedlots, especially when it comes to organ meats. The nutrient density and energetics of animal foods are directly rooted in the lifestyle the animal has led, and this will make its way to your body, mind and spirit—so ask your farmer to ensure they have been moving around with fresh air in proper sunlight, consuming organic, natural feed, and not living a toxic, unnatural lifestyle.
Animals can be kept and tortured in small quarters without sunlight and live in their own feces and still be considered "free range." They can also be jacked up with antibiotics and still considered "organic", so getting to know (or become) your farmer is critical. Yes, it can be more expensive and time consuming, but it is necessary if you want the nutrients and full benefits. For these reasons and out of personal preference, I actually don't consume large amounts of animal foods right now… find what works best for you. Your health and that of your loved ones is not a game. No one deserves to spend their life picking up the pieces to messes that could easily have been prevented.
In addition to the boost in omega-3s from properly fatty grass fed animal foods in general, you'll also get 4 times more vitamin E and higher levels of CLA, a nutrient that wards off cancer, than typical store bought meats and other animal foods.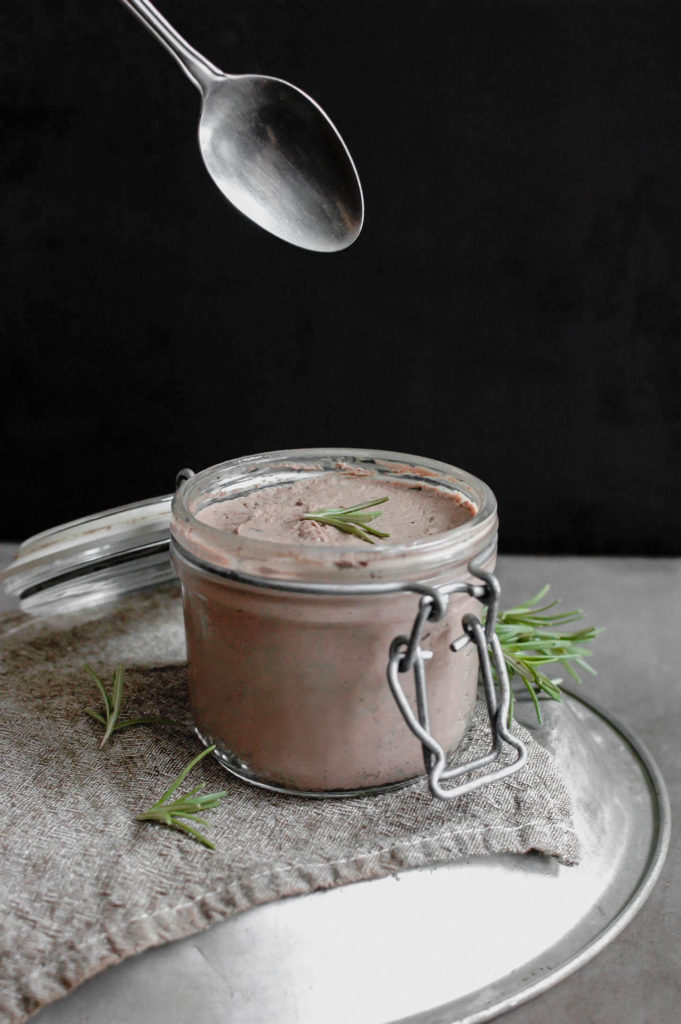 Chicken livers tend to be more of an easier gateway into the offal world, so you could use them in lieu of the beef liver for a more mild taste… though even as an ex-lifelong veggie who's still easing into the world of nose-to-tail foods, I immediately made a beeline for the beef liver for the first time as it has the most benefits and nutrients, especially to support myself in a world with ubiquitous environmental toxicants and increasingly nutrient depleted soils from modern conventional agriculture.
Ingredients for grass fed beef liver pâté with rosemary and nutmeg:
Grass fed and finished, pasture raised, organic beef liver, obviously.
Organic red onion
Grass fed and finished, pasture raised beef tallow – I made my own from a 48 hour bone marrow broth. You can use any cooking fat of your choice, such as virgin cold pressed coconut oil, grass fed butter, ghee, or lard!
Organic rosemary
Organic sage
Organic thyme
Organic garlic
Organic nutmeg
Organic balsamic vinegar
Sea salt and organic black pepper
Optional: plain, full fat goat yogurt OR kefir (fermented milk made of a variety of millions of microbes) for its probiotics and enzymes, the way it has been made for thousands of years – full fat goat's milk has smaller fat and protein globules and is more nutritious and easier to digest than full fat cow's milk. Raw, full fat milk, teeming with life can be difficult to find (at least where I live). If any milk is pasteurized, ensure you find another source of probiotics and enzymes such as kefir to consume along with it. Microbes are life giving.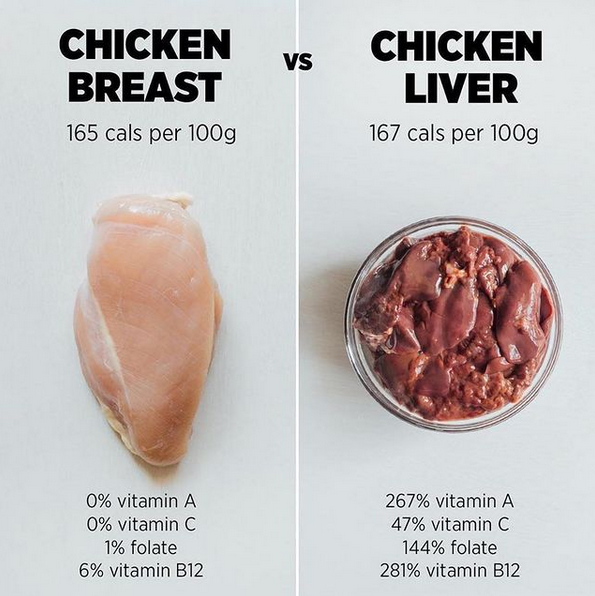 So without further ado, here is a simple, easy recipe for the best ever liver pâté! I've jazzed it up with plenty of herbs and nutmeg for good measure. Get creative and go wild: spread it on fresh organic sourdough (possibly with a bit of grass fed organic butter or cold pressed coconut oil, raw local honey and a bit of sea salt… yum), or sneak into stews, sauces, and soups, or use it with charcuterie boards.
Grass Fed Beef Liver Pâté with Rosemary and Nutmeg
A simple, easy recipe for the best ever liver pâté! Highly nutrient dense and versatile to sneak into most dishes. Spread it on fresh organic sourdough (possibly with a bit of grass fed organic butter, raw local honey and a bit of sea salt), or sneak into stews, sauces, and soups, with charcuterie boards… or even in a morning smoothie.
Ingredients
1

tbsp

+ 1/3 cup grass fed beef tallow OR grass fed butter OR virgin cold pressed organic coconut oil OR grass fed ghee, divided

1

small organic onion, finely diced (I used red)

1

clove

organic garlic, minced

1

lb

organic, pasture raised, grass fed beef liver, thawed

1

tbsp

fresh or dried organic rosemary, chopped

1

tsp

fresh or dried organic sage, chopped

1

tsp

fresh or dried organic thyme, chopped

1

tsp

organic balsamic vinegar

1

tsp

organic ground nutmeg

Celtic sea salt and freshly cracked organic black pepper, to taste

2

tbsp

filtered water

2

tbsp

grass fed goat yogurt or organic coconut kefir
Instructions
Heat 1 tablespoon of the tallow in a large sauté pan over medium heat. Drop in the onions and sauté until soft and translucent. Turn the heat down to medium-low and stir until onions are browned to your liking, about 10-15 minutes.

Turn the heat back up to medium. Add the garlic, stir, and let it sit for 30 seconds until fragrant. Add in the liver pieces, rosemary, sage, thyme, nutmeg, and balsamic vinegar. Let the liver pieces sit for a few minutes on each side.

Once the liver is cooked through (this should be pretty quick, about 5-7 minutes or until the inside is a little rosy in colour), remove from heat and allow the mixture to cool down enough for blending.

Transfer all ingredients to a food processor or blender. Add in the remaining 1/3 cup of fat with the goat yogurt and filtered water, and blend to reduce into a smooth paste. You may need to blend smaller portions at a time, add an extra splash of filtered water, or stop once in a while to scrape down the sides, as the liver is quite thick.

Transfer the pâté to a mason jar or serving dish. I like to garnish this with a nice drizzle of balsamic reduction and some herbs 🙂
Notes
I like to divide the paste into smaller mason jars, freeze them, and place one in the fridge the night to defrost before I'm ready to eat it/sneak it into something 😉
You can store your pâté in the fridge for about a week, or in the freezer for about 3 months.
I used grass fed beef liver, but feel free to use an equal amount of chicken livers or another variety of organ meat instead.
I also used homemade grass fed beef tallow from 48 hour beef bone broth as my cooking fat, along with some grass fed butter for vitamins D3 and K2, and teeth remineralization properties. Feel free to use any cooking fat you prefer, such as virgin cold-pressed coconut oil, grass fed ghee or lard, or another kind of grass fed tallow.
Don't overcook the liver unless that's what you prefer! When cut open, it should still be a little rosy in colour. The liver must be cooled after cooked, or else it'll turn into soup when blended. The liver when blended should end up like butter.