You might watch what you eat, but do you also watch what you put on your skin and into your bloodstream?
Beauty is something that truly emanates and begins from within, not emulated or plastered over one's self in an unsustainable band-aid fashion that's washed off in the evening. This is a value I've embodied in my earlier years, but today we continue to be bombarded and conditioned with messaging from countless ads, influencers, billboards, companies, estheticians and society itself to "cover up" or "enhance" our features from a place of self-loathing, rather than address the origins of the issues.
What's more is that the majority of these personal care products are loaded with toxicants and chemicals that can bog us down on all levels. This has been something that has especially targeted humans such as myself and those around me who tend to live overly domesticated, stagnant indoor lifestyles.
Even if a lot of companies have started to catch on to the evolving mainstream paradigm where people are starting to demand safer, natural/non-toxic products, they still perpetuate insidious greenwashing, advertising low vibrational, plastic encased products with hidden or mislabeled ingredients. You throw your money down the drain for a quick fix while the companies profit off your insecurities, exhaustion, and fears, no matter what roles you may feel pressured to play in this world. I briefly used to play into this too, unaware that what I put on my skin has just as much of an impact as what I feed myself. I had already lived a relatively clean lifestyle for many years, but eventually I hit a point where I was burdened with stagnant relationships that no longer served me, decided it all felt wrong, and underwent a complete overhaul of how I lived my life, cleansing and renewing (and this in turn, improved my relationships towards everything).
If you live on the surface, you're materialistic. If you touch a deeper core, you're spiritual.

Sadhguru
Now I've been fortunate to reach a place of self-respect and harmony where I require nothing more than full spectrum sunlight on bare skin, proper nutrition, fresh spring water, castile and charcoal soap, and maybe some peppermint shampoo by Carina Organics or spirulina shampoo by Living Libations. I always go bare faced because I have nothing to hide (and it's easier as I have no more acne), but if you still want to explore and go down the safer, eco-friendly, non-toxic personal care route, read on!
Find the strength, use your intuition, embody vigilance, do what you can with what you have, and don't believe the noise. It comes down to self-education, empowered self-awareness, self love, and intuition. What's inside is reflected on the outside, and as your relationship with yourself evolves, inevitably so will your surroundings. Consider this article a warning, if you will.
Are you greenwashing yourself?
Greenwashing is a massive problem that runs rampant in pretty much every industry these days, and the last time I checked, it keeps on getting more insidious as the general public continues to gain awareness and begins to embody more "healthy" and "environmentally friendly" practices as a whole. The effects of climate change are broadcasted everywhere through news outlets, social media and scientific studies while cosmetic companies' deceptive marketing language and PR is used to manipulate the unsuspecting consumer into believing a product or company is "ethical", "environmentally friendly" and "non-toxic". This extends to all products in general including skincare: house cleaning products, laundry detergents, air fresheners, you name it: it's coated with a sketchy, sleazy green sheen, covering up what is in reality detrimental toxicants and other ingredients that can undermine health in various ways and accumulate in our bodies over time.
Not to mention that the majority of these products are in plastic packaging that leach toxicants, endocrine disruptors and BPA, affecting our hormones. Be very careful, especially if you see words like "natural", "eco", "vegan", "green", or other claims on a product's packaging, and don't hesitate to avoid entire companies even if they have a "green" option (why even have the option when you're funded or supplied by the same industrial chemical companies that feed you toxicants, test on animals, and destroy the ecosystem? Oh: profit). We even see personal care products marketed as "anti-pollution" while pumping us full of other toxic chemicals. We're being straight up assaulted and hypnotized from every angle with products we really don't even need to cover up pathological problems that don't even need to exist, for the end purpose of profit.
Think all of your personal care products are safe? Think again.
The skincare and beauty industry, greenwashed or otherwise, is particularly insidious as these products get slathered on and in our skin (which, by the way, is our largest organ, and quite permeable with every pore acting as a mini portal into your body), creating an immune response with an average of 60% of the cosmetics used on your skin becoming absorbed directly into the bloodstream. The body feels like it's literally under attack by these toxicants while you essentially poison yourself by your own hand. The immune system is burdened and won't have the optimal resources to kill other things like cancer cells, viruses, bacteria, and pathogens.
When these products go through the skin, the chemicals don't even have the opportunity to be filtered through our detoxification organs like ingestion would allow. The industry is constantly expounding countless marketing techniques to try and pull us in and pay to be poisoned, and those who fall for it may be paying the true price down the line (their health, and this even includes wealthy celebrities and influencers that these companies sponsor to promote).
Even if an ingredient is "naturally occurring" or "naturally derived", how do you know it wasn't derived using a chemical process that can wreak havoc on your body or any existing conditions, or contaminated with potentially carcinogenic toxicants such as petroleum based fragrances, or advertised with slippery wording on the side of the bottle like "fragrance with essential oils" that can actually really be "petroleum derived fragrance created from 300 undisclosed chemicals with concentrated essential oils from genetically modified, pesticide sprayed, monocropped plants"? Not only that, but so many larger companies own many of these smaller companies (for example, the L'Oreal giant owns the Kiehl's brand, notorious for decades for testing their toxic ingredients on needlessly suffering, artificially inseminated animals), and it's so easy to get lost and overwhelmed.
Luckily, there are a growing number of sources to turn to that help eliminate all the confusion. Aside from straight up going cold turkey and wearing nothing like I do, you could check out the Environmental Working Group (EWG)'s databases to really get to know what's in your products, including skincare, and to thoroughly vet any products you've got your eye on. When in doubt, do some research, and make sure you're comfortable with an ingredient before using it. It's quick and easy to find eco-friendly, non-toxic personal care.

Brands everywhere know that the health industry is popular, and so they employ slogans, product styling, and designs to entice you to slather yourself in their poisons, and specifically target health-conscious consumers with the image of "health" as a shady marketing tactic. The beauty industry is largely unregulated, and it's a common misconception that ingredients are proven safe and effective before they're allowed on the market. Here's one example among many: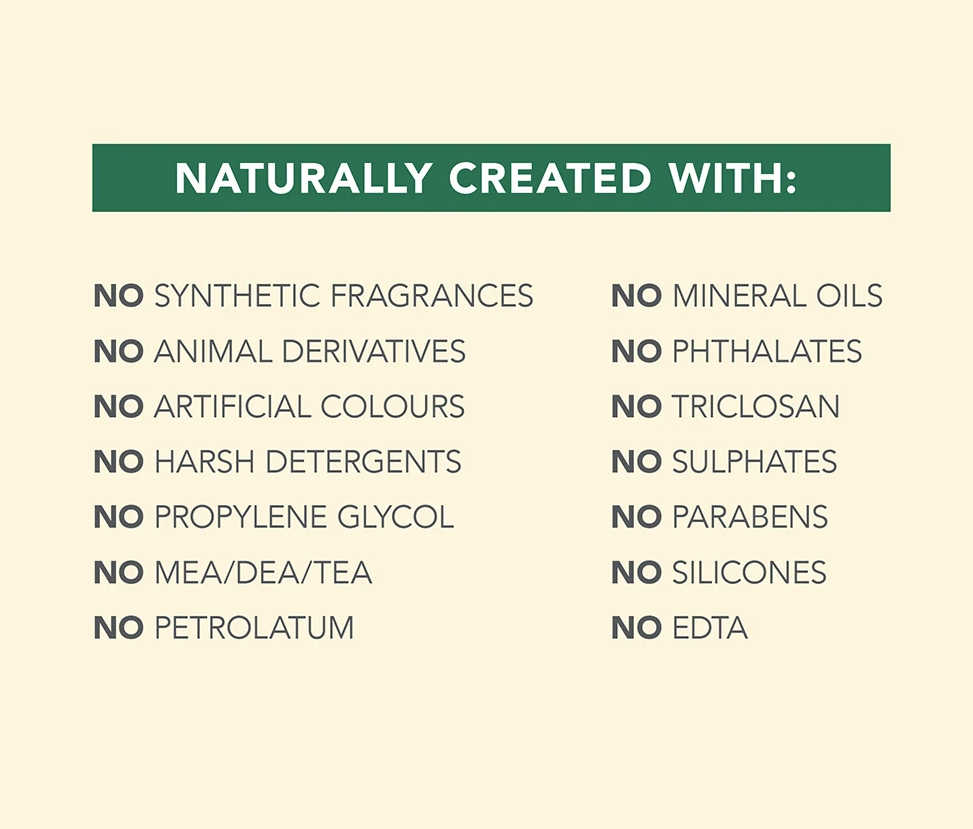 Investigate the ingredient list above pulled from their website as of July 2020: the presence of phenoxyethanol alone is enough to deter me. Phenoxyethanol is a common synthetic preservative and stabilizer that can go by many names that often seem safer or more natural like "rose ether", and it's created using a complex process where phenol is treated with ethylene oxide, also known as carbolic acid which is considered carcinogenic. The end result is claimed by some as a "safe, non-toxic synthetic" preservative (1). Phenoxyethanol exposure has been linked to reactions ranging from eczema (2) to severe, life-threatening allergic reactions that can be enhanced by parabens, especially in ultrasound gel (3). In infants, oral exposure can acutely affect the nervous system (4). It's used in many purportedly natural or organic brands, and it's entirely reasonable for one to be skeptical about its long term safety given the many issues with its use, not to mention unstudied potential bioaccumulation in our body fat and bloodstreams, air, soil, water, and food. I don't know about you, but I'm trusting my intuition and staying far away from it as much as I can.
Phenoxyethanol (as per data from Environmental Working Group, July 2020)


And that's only the tip of the iceberg. Notice how none of the plant-based ingredients are certified organic (thus almost inevitably monocropped, genetically modified, and sprayed with neurotoxins, pesticides and herbicides), and even the organic claim itself can be dubious alone. How is each ingredient extracted, and are there any byproducts that result? So many questions. There is nothing to indicate that the water has been distilled or filtered either, let alone any indication of the water's source. We're all probably aware of the insane amount of issues with unfiltered public tap water, which is a whole other can of worms that I'll dive into another time. It might seem silly to nitpick, but these products are absorbed into the skin and build up over a lifetime of use, not to mention expensive.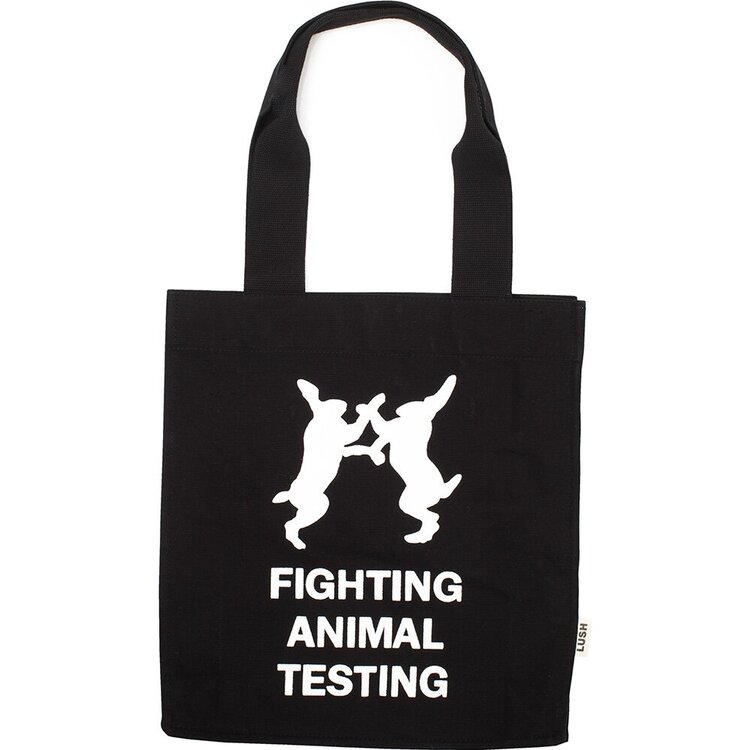 Lush is another company I feel the need to call out. You may have seen its ad campaigns proudly boasting its dedication to not test on animals, and while this is a very well-intentioned virtue signal catering to concerned, impressionable folks, many of their products themselves contain irritants, colours, fragrances, and other problematic ingredients that have no place in our bloodstreams, or mountain streams for that matter. I find it so sketchy how on their site as of June 2020, they provide links to another part of their site explaining why an ingredient is used, probably in an effort to appear transparent to concerned consumers, but provide no further information on how each ingredient is manufactured or supplied. They designate many of the ingredients "safe synthetics" with zero disclosure or transparency, and which happen to be on many research-backed toxic ingredient lists. Should we really be taking their word for it? Big red flags over here.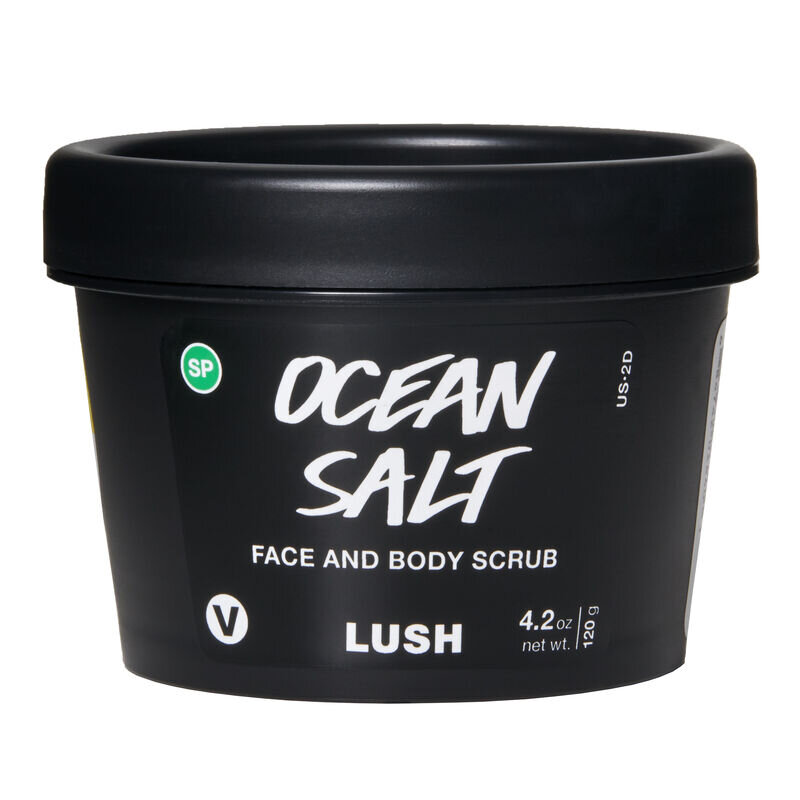 ---
Get the Facts: Top 10 Concerning Ingredients in Personal Care Products to Consider
So, is self regulation the only regulation? Here's a laundry list of some of the most problematic, common and highly toxic ingredients we can avoid, greenwashed or otherwise, and non-exhaustive by any means. The FDA and government oversight agencies often don't pull the plug on things like this, so it's truly up to us to choose safer products and modalities, and to avoid what we don't want to put on and in our bodies. Even starting with these 10 can make a world of difference, and the good news is, once you stop using these harmful chemicals, they leave your body fairly quickly.
If a product has one of these ingredients or more, it's a good indication to avoid it.
Others to avoid include (but certainly aren't limited to):
1,4-Dioxane – found in Sodium Laureth Sulfate (SLES), a chemical found in products that lather, like shampoo, body wash, and conventional toothpaste. Skin irritant and possible carcinogen linked with breast cancer, and tumours in the liver, gallbladder, nose, lungs, and skin.
Coal tar derived colours – P-Phenylenediamine (PPD) – found in hair dye. Allergens, neurotoxins and possible carcinogens.
BHA & BHT – Butylated Hydroxyanisole/Butylated Hydroxytoluene – found in moisturizers, makeup, and some fragrances. Allergens, developmental toxicants, and endocrine disruptors.
Formaldehyde releasing agents – Quaternium-15, DMDM hydantoin, Diazolidinyl Urea, Imidazolidinyl Urea, Methenamine, and Sodium Hydroxymethylglycinate – found in various hair products, moisturizers, and cosmetics. Immune system toxicants and endocrine disruptors.
Silicone chemicals – Cyclomethicone, Cyclotetrasiloxane, Cyclopentasiloxane, Cyclohexasiloxane – found in various hair products, moisturizers, cosmetics. Skin irritants and environmental contaminants due to bioaccumulation.
Visit Environmental Defence to find out more and detoxify your life.
Check out Chris Kresser's invaluable guide to reducing toxin exposure, too.

The majority of the products that most people use influence not only the skin microbiome, but the gut microbiome as well (and in turn, the entire body) through active diffusion via antibacterial and antimicrobial properties. These ingredients get absorbed through the skin membrane, then carried through the bloodstream to the liver to be metabolized, creating hormonal biowaste accumulation. Even "natural" products can influence your liver detox pathways via accumulation, occupation or direct inhibition, overburdening the liver and creating hormonal imbalances such as contributing to estrogen dominance and negatively influencing the gut microbiome. Toxic products literally create an immune response by the body, and it's unsurprising that autoimmune issues are at an all time high due to our constant exposure to these toxicants and food-like products.
Your body is a living, breathing being, and your skin is alive, including your face, and has its own microbiome. Your skin is a mirror that reflects what's going on internally under the surface. Check in often, and tap into your "why". Explore the ways in which you shape your daily practice. What kind of experience are you giving your body? What sort of information are you feeding your body? Are you working for or against your body?
Invest in brands you can trust (if at all) for eco-friendly, non-toxic personal care
Luckily, there are many safer and much more effective alternatives that will benefit both your whole body health and bank account. Even if all of the studies on different toxicants and ingredients aren't convincing enough, I believe it's fully reasonable to steer clear of the majority of hazardous ingredients because despite all the scientific research that may be promoting the efficacy of some ingredients, there's so much we still don't know.
Personally, I went cold turkey many years ago when it comes to unnecessary, disposable makeup, skincare and personal products, and now I get to invest mostly in organic foods from the farmers' market and focus my life energy towards growing them myself in a reciprocal fashion, full circle. I don't find it worth the trouble or energy bandwidth to research every ingredient now, and my relationship with myself has evolved to the point where I no longer need all these products that do more harm than good. The minimal alternatives I use might not be a total panacea in and of themselves, but they're currently what serve me on my path, and who knows, I might even end up letting go of them once they've served their purpose (but not my copper tongue scraper, that's for sure!).
Currently my daily routine with eco-friendly, non-toxic personal care is dead simple and works wonders for me. On the topical side of things, I avoid leaving anything on my skin that I wouldn't eat. I use Dr. Bronner's castile soap in a refillable travel sized bottle that I take with me everywhere for hand washing, organic activated charcoal soap that harmonises with my oily skin, filtered shower water when possible, and sometimes a Living Libations organic frankincense oil or hand cream as a moisturiser during dry winter nights where I currently live in the north, or for post-sunshine soothing. That's everything, and I no longer use makeup of any kind. None of this is sponsored; I whole-heartedly enjoy and use everything below.
A few eco-friendly, non-toxic personal care products that can be helpful in the quest for whole-body healing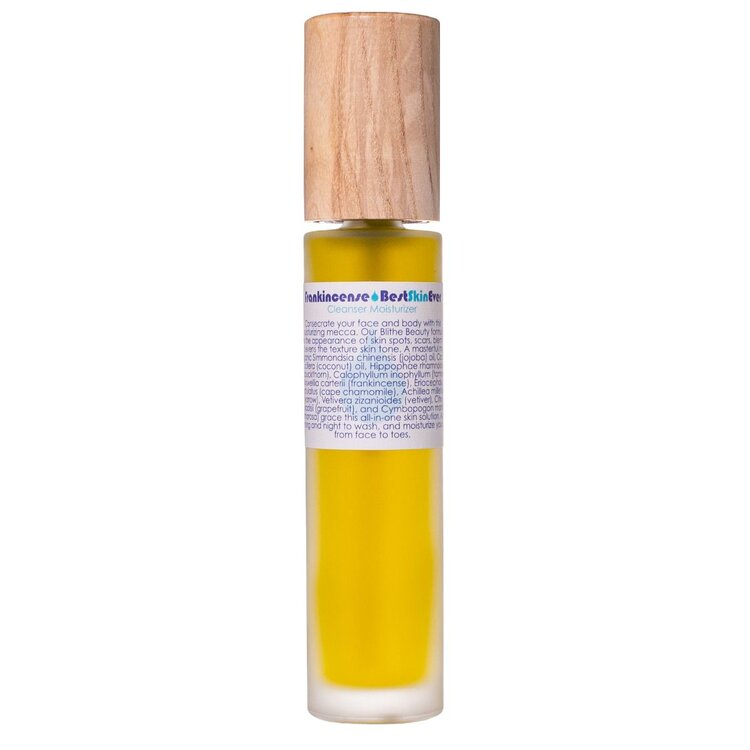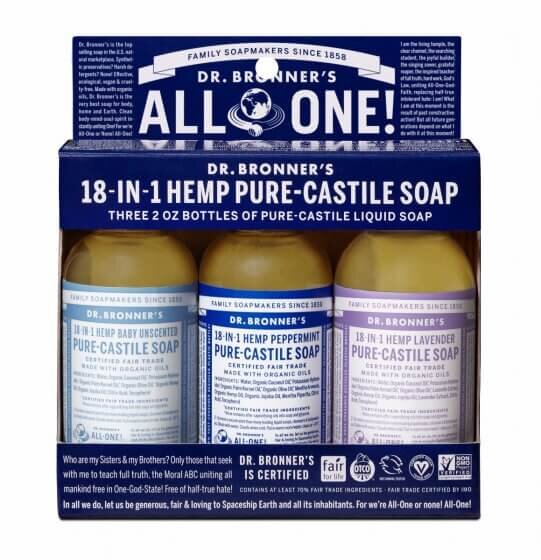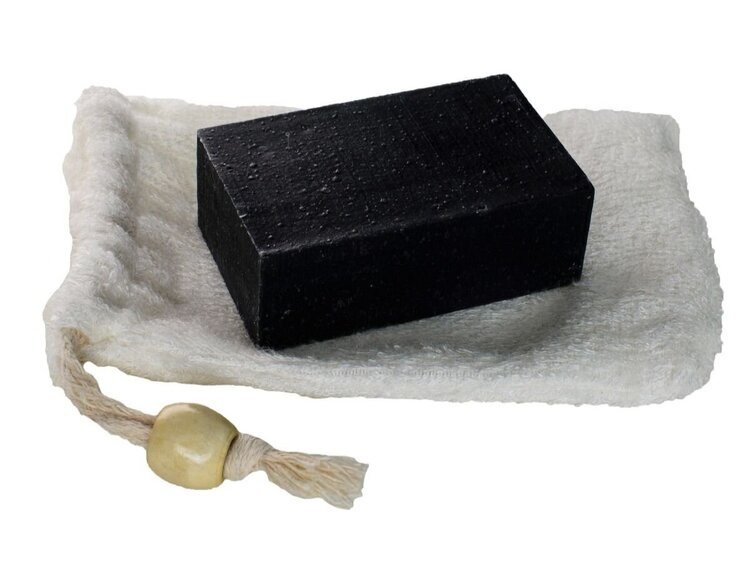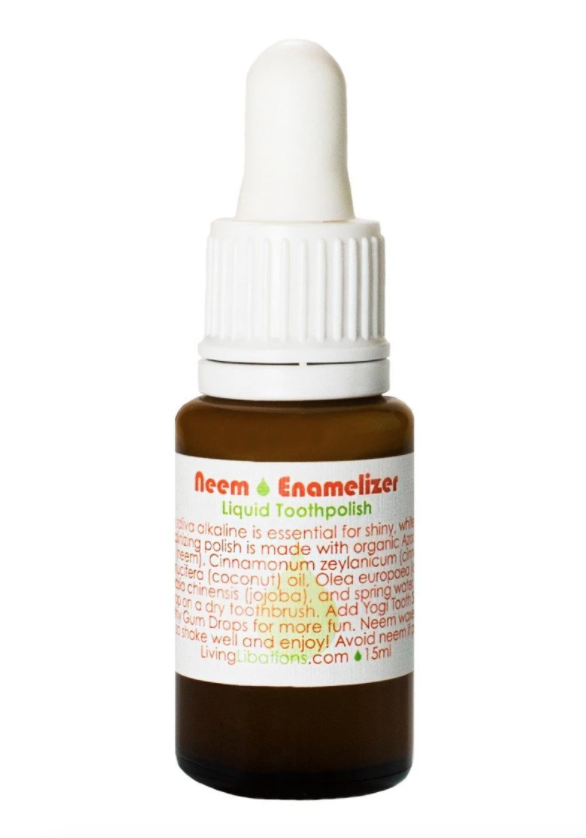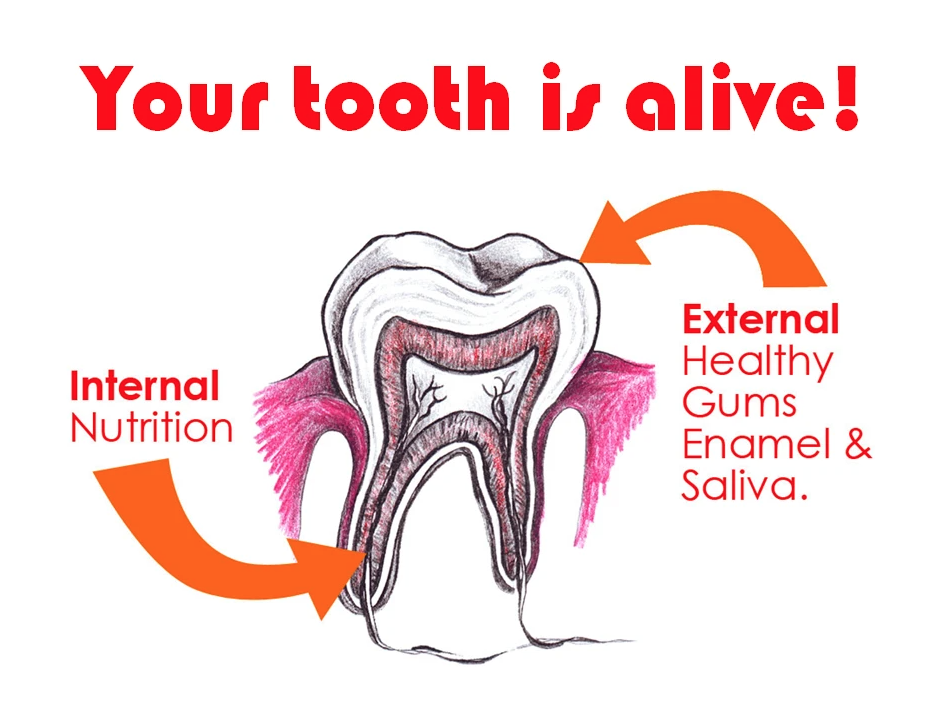 A copper tongue scraper was a surprising addition to my arsenal as the concept was so new to me, but in fact has been used to support oral ecology and well-being for thousands of years in Ayurvedic medicine, with benefits backed by numerous studies. I might be lazy when it comes to personal care, but this has become a non-negotiable first thing in the morning, and it feels so satisfying to get the morning built up gunk off my tongue to support my digestion throughout the day! Note this is not a substitute for brushing your teeth, by any means.
Tongue scraping stimulates the taste buds so that food tastes better. It kickstarts and supports the digestive process, engaging the lower intestines to initiate a complete bowel elimination first thing in the morning. Tongue scraping balances oral bacteria and promotes a healthy oral microbiome. If the tongue scraper is made out of copper, it resists bacterial accumulation when not in use, although silver and stainless steel are also adequate options. There is no gag effect if you only scrape as far back as you're comfortable with. Amazing for everyday use. Low cost (literally $5, and I've been using one daily since 2018.)
The skin is the largest eliminative organ and plays a vital role in the body's efforts towards ongoing detoxification. The ever-evolving landscape of different wellness products and practices might be overwhelming, but this one's a non-negotiable for me as it's one of the simplest and most effective when it comes to supporting the whole body by boosting and supporting its innate cleansing processes on a cellular level.
Dry brushing promotes softer, smoother skin by rejuvenating the cells and restoring the skin's innate vitality. It stimulates lymphatic drainage (bye bye, toxin buildup!) while breaking down stored waste, releasing buildup in stagnant tissues. Dry brushing stimulates blood circulation in organs and tissues, especially small blood capillaries, removes dead skin, unclogs pores which leads to higher nutrient absorption and clearer skin, and allows you to sweat (detox) better. It can help break down cellulite by redistributing fat deposits responsible for uneven skin texture (along with the consumption of grass finished tallow, coconut oil, and other animal fats rather than consuming industrial seed and vegetable oils).
Negatively-charged oxygen ions are an elixir of life that connects us with the earth, and levels of these ions are increased with air friction that occurs with dry-brushing the skin. Some variations contain copper and zinc in the bristles where the ionically charged molecular structure allows oxygen ions to be captured by the skin and brings electromagnetic energies in the body into harmony. Dry brushing is for all skin types, every day. It also feels amazing.
Before a shower or upon waking, simply brush your skin anywhere you can reach (without using water) in a direction from your limbs to your heart. After the shower, your pores will be particularly ready to absorb natural skincare blends such as organic oils. Avoid plastic or synthetic bristles! Click here for more detailed instructions.
Jade gua sha, known as the natural face lift, an ancient facial healing and massage tool used to encourage lymphatic drainage, boost circulation, and naturally contour the face. The technique has been used for thousands of years in Traditional Chinese Medicine (and also by my grandma). Traditionally used with a ceramic Chinese soup spoon, coins, jade stone, old animal bones, or horns. Today they're made with jade, wood, rose quartz or other materials (avoid plastic). You could even use your own hands!
Facial scraping or sculpting helps release toxins while stimulating blood flow and skin cell regeneration for radiant skin, releasing energy blockages and stagnation. I use it on occasion and I like how it eases any morning puffiness, redness, and face/jaw/neck tension from stress.
You can scrape as heavily as you want without leaving redness or bruising, but gentle pressure (about as thick as a nickel) is recommended if you're only targeting lymph movement. Lymph is very much on the top layer and its movement will benefit the most from gentle pressure. More heavy pressure will target the muscles, which has its own set of benefits. Personally I like doing one gentle movement set for the lymph first before repeating once more with heavier handed movements for the muscles.
I recommend using it first thing upon waking up at least 2x a week to de-puff and lift after a full night of energy stagnation. Click here or here to see how the movements are done.
Stimulates the immune system
Encourages the body towards a parasympathetic state, allowing the body to heal
Encourages micro-circulation and detoxification via lymphatic and blood flow towards drainage points, transporting immune cells to tissues in need
Promotes radiant, hydrated and tightened (muscle toned) skin through cellular renewal, reducing sagging
Helps skin recover from trauma such as blemishes and scars (hello, acne moon crater scars that have faded away for me)
Anti-inflammatory and can treat chronic pain
Less invasive than acupuncture with similar results
Can use a few drops of facial oil or serum on your face before scraping to amplify the skin penetration and its hydrating and nourishing effects
Intentionally creates transitory therapeutic petechiae called "sha" representing extravasation of blood in the subcutis
Cultivates self-love and self-care, and helps get you closer to yourself on strangely deep new levels
Good for all skin types
Transdermal therapies have been used since ancient times through mineral baths, herbal compresses, steam and sweat lodges, and mud packs. Magnesium is particularly vital on a cellular level with today's magnesium depleted lifestyle, especially if you regularly drink coffee, and deficiency is linked to many imbalances such as heart disease, metabolic syndrome, stroke, osteoporosis, asthma, headaches, inflammation, and more.
Present in every organ, magnesium is also found in vegetables, grains, grass fed, pasture raised dairy, fruit and nuts, though it isn't optimally absorbed through ingestion and on average, we don't get enough from diet alone. Magnesium oil is easy to regularly supplement transdermally (absorbed through the skin), though depletes with stress, so be sure to cultivate a surplus! The recommended amount is about 300-420 mg daily or enough so that you don't experience loose stools. Try to go for glass containers instead of plastic that leaches chemicals. I like to use a bit on the back of my neck, chest, and shoulders before falling into a deep, restorative sleep, relieving anxious thoughts. Sweet dreams!
Other benefits:
Relieves anxiety and stress as it gets absorbed through the skin
Has been known to relieve epilepsy
Increases life force/energy
Promotes a sense of well-being
Improves sleep quality by relaxing GABA receptors in the brain and nervous system
Boosts athletic performance levels and workout recovery; muscle relaxer
Improves skin quality
Can support those living with hypertension and diabetes
Transdermal application works safely, quickly and effectively. A slight tingly feeling is normal, especially during first few uses
Reduces PMS symptoms (a godsend for my cramps)
Helps prevent osteoporosis
Balances hormones
Helps with morning sickness during pregnancy
Migraine relief
Click here for my magnesium article.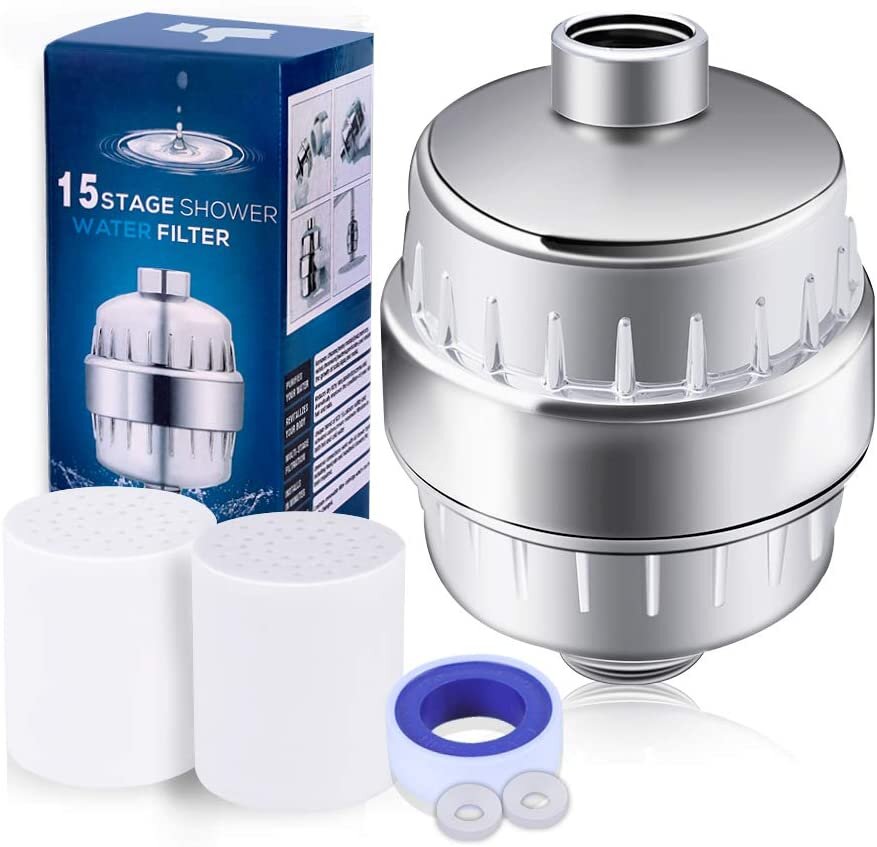 Shower filters are a non-negotiable around these parts. I like the Santevia brand, but any affordable kind should work wonders. This is, without a doubt, one of the most important investments in the bathroom when it comes to supporting your whole body health. After installing mine, my skin became effortlessly hydrated and smooth without doing anything else but dry brushing to it. My skin's microbiome rebalanced from the lack of chlorine and other nasty chemicals found in unfiltered tap water that were seeping into my skin, bloodstream and organs.
Much of the water in modern civilization is treated with chlorine that kills not only the bad, but the good bacteria in our skin microbiomes necessary to protect our inner body from the outside world, destroying our immune system and opening the gateway to dis-ease, autoimmunity, etc. Tap (and shower) water is also known to contain neurotoxic heavy metals, pharmaceutical drugs, birth control, Glyphosate, pesticides, herbicides, BPA, chloramines, medications, lead, arsenic, iron, mercury, and fluoride, none of which are filtered out at processing plants. (Ps. for drinking water, Brita and similar filters actually fail to filter these harmful substances, so it's recommended to go with reverse osmosis filtered, distilled, or preferably spring water.)
Glow from the inside out
It's no secret that going natural and organic can be incredibly expensive or outright inaccessible compared to the average chemical toxicant soup from popular, "luxury", heavily advertised brands, especially with finding the time and dedication towards researching every ingredient, but I believe that knowledge can empower, and small steps are better than none when it comes to caring for your body, mind and soul while protecting your health.
Imagine not only the personal care, but the laundry detergents, dish soaps, dryer sheets, toxic nail polish, hair products, perfumes, air fresheners, incense, bath bombs, paraffin candles… imagine what it's doing to our bodies?
If you're in a position to do so, take a step back: which products in your arsenal can you drop? In what ways are you willing to reallocate your budget? What are your priorities? What is your pain rooted in? Thankfully, there are lots of options, and when beginning to approach them out of a mindset of abundance, profound transformations can occur. Remember that expensive and "high quality"/"luxury" doesn't necessarily mean safe, either. The powerful thing about investing in personal care or switching your rituals up is that while it can be more expensive at first, you genuinely need less, especially if you address the deeper roots that manifest in skin-centric imbalances with nutrition, spring water, and balancing the mind, body and spirit as a whole.
3 easy swaps
I wouldn't be able to prescribe what truly works for you, but if you're totally new to this and would like to start anywhere with an overhaul, I'd suggest investing in your 3 bare necessities. For me, this is tooth care, face wash, and shampoo. For others, this may be tooth care, deodorant, and face cream. It's perfectly ok to start off small and do what you can, and if you've got the necessities down, this shouldn't cost more than all the toxic ones combined. As you adjust to natural self-care, it can get uncomfortable: you might be missing the squeaky clean feel of formaldehyde and SLS (sodium laureth sulfate) riddled conventional shampoos on your hair, or you might be missing the sickly sweet, floral scent of your favourite petroleum-based high-end perfume. But, know this: your understanding of body care is ever-evolving, and the journey of supporting your body has the potential to expand.
Some examples may include:
Tooth care/toothpaste: Nelson Naturals works well for me. Other options (found in Canada) include a homemade remineralizing formula or homemade tooth and gum powder using remineralizing ingredients. Toothpaste is tricky since the ingredients get absorbed through the porous surface of the mouth, so ensure you use the safest ingredients possible.
Deodorant: I currently don't need to use any, but I'd recommend Primally Pure as my first choice. The charcoal deo is actually made with grass-fed tallow, fair trade coconut oil, arrowroot powder, beeswax, and essential oils. Um, HELLO.
Body cream: I find that I don't need it after switching to a shower filter, but organic shea butter, cacao butter, or pure coconut oil (if your skin works with it) are all fine options.
Face wash: in my experience, plain filtered shower water works fine for me, but if you really need something, I'd recommend anything by Living Libations, as their stuff is top of the line when it comes to personal care. Natural soap created without artificial dyes, preservatives, additives, parabens, and fragrances has also been great for me, personally. A little goes a loooong way.

Shampoo:
Other brands to consider
The truth is, not a single product, natural or otherwise, is capable of healing the entire body. The body will take the nutrition you give it and use it to make new compounds, delivering them to where they need to go, and creates its own medicines according to its wisdom. This is most effectively done by full-spectrum, unaltered real food including fresh air, spring water, full spectrum sunlight, and prana filled phytonutrients, grass fed and finished, nose-to-tail, sun raised animal based nutrients, and soil-based minerals; there's generally no need to micromanage chemical reactions with supplements, capsules or other products when it comes to DIY. All we need to do is provide the body with an abundance of real food that it innately knows how to process. The body innately wants to heal; so give it all you've got.
If you're still really invested in the world of personal care, here are some other brands I've used products from in the past and can trust to support my body. As always, I highly suggest researching the ingredients of every product thoroughly before you put it on and in your body, and get a feel for the energetics and intentions of the brand. Of course, heed the advice of your accredited dermatologist or healthcare practitioner if it feels right for you, but know there are other options that can also support the skin. Your intuition is a powerful thing, tap into it! Does the brand give you a good feeling intuitively, or might they be missing a level of acuity or cutting corners? Many products that use labels like "natural" or "clean" are still mostly unregulated, so be vigilant! Keep in mind that there can be abundance with less, and none of these are sponsored.
Odacité was created after its founder Valerie Grandury developed breast cancer. Many of the ingredients are organic and wildcrafted which = yes.
Cap Beauty simply embodies it. The vast selection is a little overwhelming and unnecessary for me, and I'm more inclined to go for the food (begin within), but you're bound to find some goodies.
Living Libations is THE real deal, and Nadine's resources on holistic dental care are something I've integrated into my daily practice as I've suffered from tooth decay in the past. From my graphic designer lens, the branding may appear kind of subpar, but I assure you this stuff is top of the line in terms of quality (which is what really matters). All ingredients are organic and ethically wildcrafted (hell. yes). The toothpaste and neem enamelizer are particularly amazing, my teeth have seriously never felt so fresh and plaque free. I just love not having to nitpick and research the safety of every ingredient from this brand. Many products are packed in miron glass which also = hell yes.
Nelson Naturals' #lowtox, #zerowaste tooth care is packed in glass (hell yes), and the paste is formulated with tooth enamel remineralizing supportive ingredients such as fulvic humic concentrate, calcium carbonate, and other vital minerals. It seems to work well for me so far along with tooth and bone supportive sunlight/vitamin D, magnesium, and nose-to-tail nutrition.
The Detox Market has a lot of goodies I generally trust, too.
Kinsfolk Shop is a local stockist near me that offers zero waste, low-tox home and personal care items. Most are completely biodegradable, beautiful, durable, and feel good to use on a purely tactile level. After living so long with sterile, fake plastic home maintenance products, Kinsfolk is a breath of fresh air. I've been using the wooden Redecker dish brush for years, and the heads can be replaced!
Province Apothecary is based near me, and I'll always remember using one of their incredibly effective lip balms for the first time from the Detox Market nearly a decade ago! -30 degree winters in the north are demanding like that.
Herb Market Botanicals has a booth at the Village Market at Waldorf (organic farmers' market near me). I found my dry brush and gua sha there, which I use nearly every day.
Other Tools
Aside from the basics such as diet and nutrition, light/nnEMF environment, community/purpose, and the gut/skin microbiome, these are just a few options when considering the whole body picture. Every piece of advice (whether from a doctor, naturopath, functional practitioner, specialist, a book, online, or this blog) serves as something for you to filter, understand, and then decide to pursue if it truly feels right for you. What you do isn't as important as why you do it for yourself. Once in a while, step back and examine your relationship to your practices: if anything starts to become excessive or damaging, you'll know it's time to re-evaluate. Avoid doing something just because it might've been helpful for someone else.
Bamboo toothbrushes: feel much nicer than plastic, and usually available with different bristle types to suit your needs. I like using charcoal with soft, BPA-free biodegradable bristles. I don't currently use them, but I hear that ionic toothbrushes are also a thing. I use retired toothbrushes as garden markers by simply sticking them bristle down in the soil, and I write with a marker what kind of seed I've planted.
Toothpaste: Opt for a fluoride and SLS-free formula. Every substance you use in your mouth gets absorbed to some capacity. I like mineral-rich formulas that contain FHC and calcium carbonate that help remineralize the teeth. Lately I'm all about Living Libations clay based toothpastes and tooth polishes.
Clay baths: Used in ancient times for centuries to draw out toxins from the body. Most mammals on earth eat clay, and using it in a bath with filtered water helps draw out toxins from the skin. Recommended especially if you're serious about the detox life.
Bentonite clay, activated charcoal, raw local honey: homemade face mask essentials.
Massages: relieve stress, increase blood circulation, lymphatic flow, and ultimately detoxification of the body.
Herbal Cleansing: Usually I prefer the simplicity of a daily cup or two of tea, but a potent herbal infusion with specific herbs geared towards your needs can go a long way.
Meditation: an emotional tool that can be used to calm the mind and detoxify the body from all the junky, inflammation promoting mental chatter we've got going on in our heads. Tend to the part of the garden you can touch.
Sweating: Studies have found heavy metals in peoples' sweat produced post-sauna, which are linked to cancer, Alzheimer's and dementia. Hello, hot yoga and infrared saunas.
Rebounding: Using a trampoline is the only way to help detox the lymphatic system completely. Jumping jacks or using a skipping rope can work, too. There's no innate pump for the lymphatic system where most toxins, chemicals and poisons get stored, and there are millions of one way valves that open and close when the lymph system goes up and down. That's why movement/rebounding along with dry brushing every day is so incredibly beneficial.
Walking: improve blood circulation and bring red and white blood cells to all areas of your body, get fresh air and full spectrum sunlight, relieve stress, and increase endorphins for free? Hell yes. Improve your walking experience by going barefoot or setting up your feet with Earth Runners that connect your body with the electrons and frequency of the earth, or use zero drop shoes like Altras to support your feet on mountain hikes. If you're unable to walk, even simple stretching can be transformative.
Yoga: if you've done it, you know it feels INCREDIBLE. Especially when it's hot yoga and you emerge feeling like a fresh flower bud.
Lifting weights: Bro, do you even lift? Increases muscle mass and transforms fat cells that store toxins.
Edibles
Glutathione: often called the master antioxidant that our bodies can make. In modern life, our levels can be depleted due to stress, lack of sleep, and crappy diet and lifestyle habits. Can be found in many foods.
Tons of water: this is a no-brainer. We're 70% water, so make sure it's distilled, spring water, or reverse osmosis filtered (then restructured). I love waking up to a warm mug of lemon or lime water followed by a quick water rinse to protect my teeth's enamel from the acidity. Eating lots of raw, living fruits and vegetables can allow you to also #eatyourwater and it feels amazing, too.
Ingesting clay: I haven't tried it myself yet, but hey, whatever floats your boat. Apparently it can release blocked energy flows in the body, magnetically pull out toxins, and you can add it to smoothies and even your baths. Bentonite clay is one such clay.
Whole foods: another no-brainer that can transform your life. Check out my recipes for some inspiration.
Sunlight: yes, this is technically an edible, your bare skin needs sunlight exposure and your body needs circadian alignment for health. Click here for my sunlight article, complete with research.
---
So, hopefully that helped expand or fortify your awareness with empowered decision making when it comes to the wild world of personal care! Making better choices with eco-friendly, non-toxic personal care to create balance can open your heart and elevate your mood with ease and grace. What are some of your favourite product swaps, creators, tips, or holistic rituals? Have you noticed any changes with yourself like I have? Leave a comment below!