Cashew butter cups infused with reishi mushroom and sweetened with maple syrup, made with If You Care's zero waste, unbleached parchment paper baking cups. Nutrient dense, medicinal raw cacao is the food of the gods and a regular non-negotiable in my kitchen apothecary, full of bioavailable magnesium and feel good plant magic that dilates your cells to deliver micronutrients into your body. You can make so many things with it!
Chocolate. 👏 Every. 👏 Day. 👏
The challenge here was to make the best ever chocolate cherry cashew butter cups with If You Care paper baking cups. The original recipe called for using the mini cups, but I already had a stash of the large baking cups, and TBH, go big or go home… they're seriously a game changer.
Parchment paper is such a staple in everyday kitchen alchemy, and these 100% unbleached, chlorine-free, biodegradable and backyard compostable, greaseproof If You Care baking cups won't leach any toxins into the food you create as the FSC, BPI, USDA, Ok Compost, and GOTS certified paper is coated with heat resistant food safe silicone, packaged in 100% recyclable paperboard.
Cherries aren't in season where I live, so I opted for a tart boiled cranberry jam sweetened with maple syrup. It turned out to be a surprisingly nice and bright contrast to the nuttiness of the chocolate and cashew butter.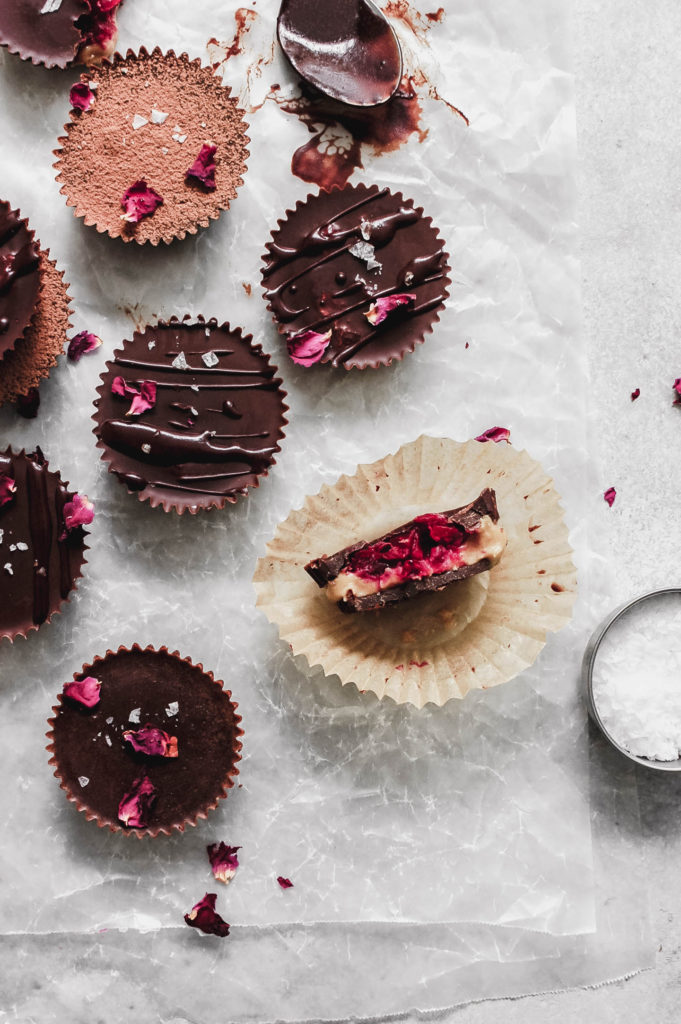 I used 100% organic or permaculturally grown ingredients for these chocolate cranberry cashew butter cups:
raw local honey from Backed by Bees. Raw honey is nature's most potent antifungal and antibacterial. Don't buy pasteurized honey, it loses the beneficial enzymes. Local is best, as it delivers microdoses of local pollen to your system and can help reduce seasonal allergies. Spring honey for spring allergies, and fall harvested honey for fall allergies!
maple syrup from Forbes Wild Foods (either this and/or honey will work fine as the natural sweetener)
cranberry jam (I used local, seasonal cranberries boiled in maple syrup)
extra melted chocolate swirl as a garnish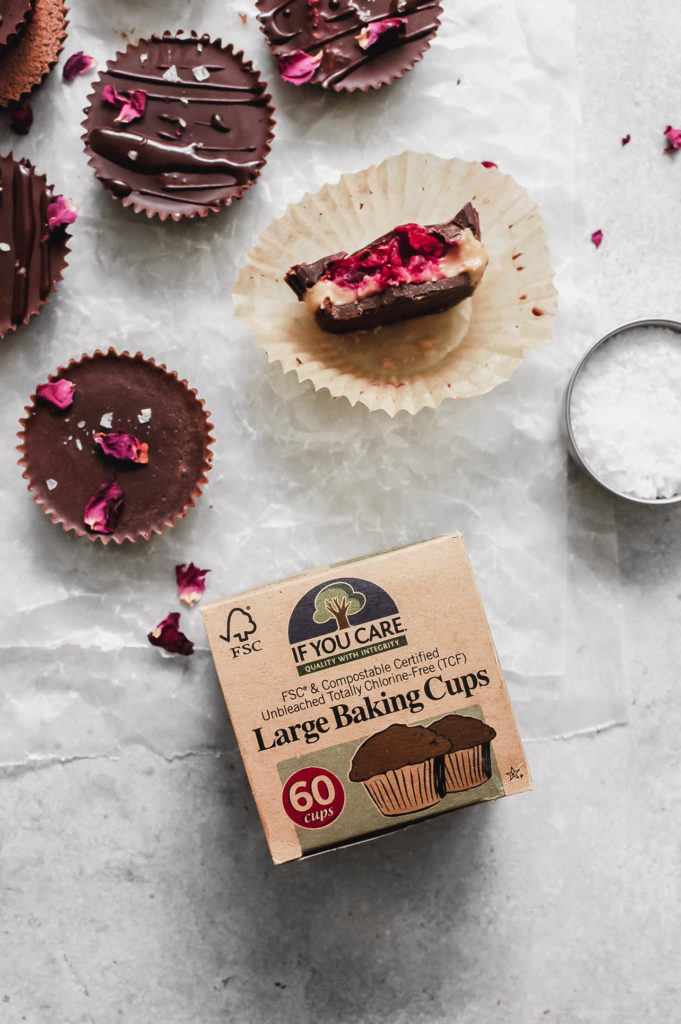 10/10, would make again!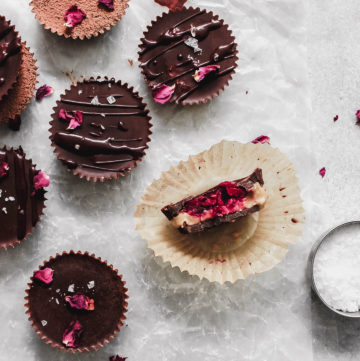 Chocolate Cranberry Cashew Butter Cups with Reishi and Maple
Reishi infused chocolate cranberry cashew butter cups, just in time for Valentine's day. Naturally sweetened with local maple syrup or raw local honey, this is the kind of chocolate snack you can enjoy at any time of day.
Ingredients
Chocolate from scratch (makes about 1 cup)
1

cup

organic cacao butter, chopped

2/3

cup

organic coconut butter

1/4

cup

organic virgin cold-pressed coconut oil

1/2

cup

raw, unsweetened organic cacao powder

2

tbsp

raw local honey or organic maple syrup

to taste

1

dropper

organic reishi tincture (optional)

1

scoop

grass fed collagen peptides (optional)

1

tsp

organic vanilla bean

1

pinch

sea salt
Cashew butter cup filling
1/2

cup

organic cashew butter

1

tbsp

raw local honey or organic maple syrup

to taste

flaky sea salt and rose petals to garnish

3/4

cup

organic cranberry jam

or berry jam of your choice
Magic chocolate sauce (makes extra)
3

tbsp

organic virgin cold-pressed coconut oil

1/4

cup

raw local honey or organic maple syrup

1/4

cup

raw organic cacao powder

1/4

tsp

sea salt
Instructions
Prepare the muffin tins. Place parchment paper baking cups into 2 medium sized muffin tins to make about 12 chocolate cups. Set aside, and make sure you have room for them in the freezer.

Make the chocolate from scratch. In a double boiler or a regular saucepan, place the cacao butter, coconut butter, coconut oil, cacao powder, honey, reishi tincture, collagen (if using), vanilla, and sea salt. Gently melt over medium-low heat and stir to combine. Remove from heat and set aside to cool slightly.

Make the chocolate cup base. Scoop 1 tablespoon of the chocolate into the bottom of each baking cup in the muffin tins. Transfer the muffin tins to the freezer to solidify.

Make the cashew butter filling. Stir the cashew butter with the honey to combine thoroughly. Make the cranberry jam by boiling the cranberries with a splash of maple syrup and set aside to cool.

Remove the muffin tins from the freezer and fill the center of each baking cup with 2 tsp of the cashew butter, leaving a bit of empty space around the cashew butter for the top layer of the chocolate to fill in and secure the cup, if you like.

Place 1.5 tsp of the cranberry jam on top of the cashew butter to create another layer.

Stir to combine the remaining chocolate, and use a spoon to fill in the baking cups with the chocolate to cover the cashew butter and cranberry jam. Place the muffin tins back into the freezer to solidify the chocolate cups for at least 15 minutes.

Make the magic chocolate sauce. In a small saucepan over low heat, whisk or stir the coconut oil, honey, cacao powder, and sea salt until you have a smooth sauce.

Remove the muffin tins from the freezer, and remove the chocolate cups from the parchment paper baking cups. Swirl the magic chocolate sauce over the tops of the chocolate cups. The sauce should harden. Sprinkle with flaky sea salt and rose petals, and devour!
Notes
Since these chocolate cups aren't tempered, they'll melt at room temperature. Store in the refrigerator or freezer for best results. Remove and thaw for about 10 minutes to room temperature before serving.
Use the leftover magic chocolate sauce in all of your favourite dessert and snack recipes such as ice cream, baked goods, bliss balls, and smoothies. It will harden into a magic shell that will crack when poured onto colder foods. Dip your favourite fruit into it for a healthy and delicious snack, or just eat it from a spoon like me… I won't judge. Store leftover magic chocolate sauce at room temperature for up to 5 days, or in the refrigerator for a week. Heat it up on low in a small saucepan for each use.