Chocolate cake with beetroot rose frosting
Today I've teamed up with Wild Bloom Botanicals to bring you this decadent and delicious rustic cake made with wholesome, nutritious ingredients like gluten-free buckwheat, coconut flour and the Wild Bloom Botanicals rose tincture. It has a tender and fudgey base with a generously thick beetroot rose cashew frosting, naturally sweetened with just maple syrup!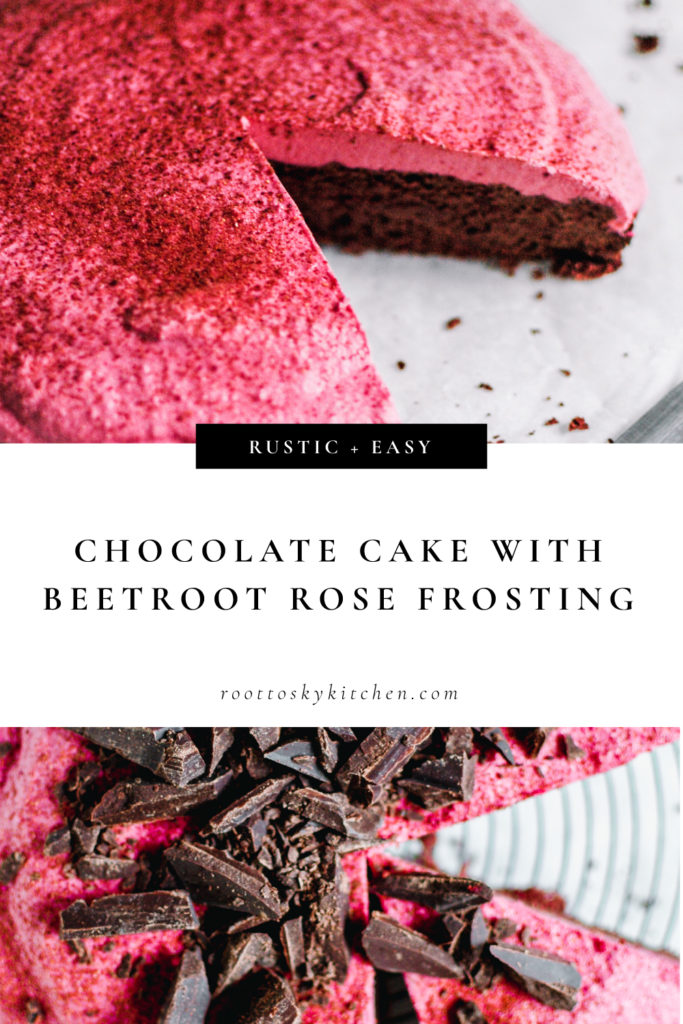 WILD BLOOM BOTANICALS ROSE TINCTURE OPENS THE HEART
This delicious Rose Extract is not to be underestimated. A few drops on the tongue of this alcohol-free tincture is a magically floral, heart-opening experience. You can add it to your drinks for some rose flair, or use it when you just want that relaxing, pure rose experience.
Pure, Organic, Non Gmo
Alcohol-Free, No Hidden Fillers
Concentrated Liquid Herb
Sweet Rose Flavour
Rosa centifolia can bring us a deeper level of healing that work on more subtle aspects of our Being. Not only do they heal the physical body, but they extend into our energetic auras and resonate at a healing frequency that work on our emotional and spiritual body.
Like all of the Wild Bloom offerings, this blend is 100% organic, ethically sourced, unprocessed, unsprayed, non-irradiated, raw, and without any added flavours, colours, additives, excipients, or preservatives. I really couldn't ask for more!
Rose teaches us to maintain an open, full, and strong heart – just like the soft, delicate, heart-shaped flowers – yet to maintain proper boundaries, like her sharp thorns. Ruled by Venus, Rose helps us to stay open-hearted in all of our relationships; including our relationship to ourselves, to others, and to nature.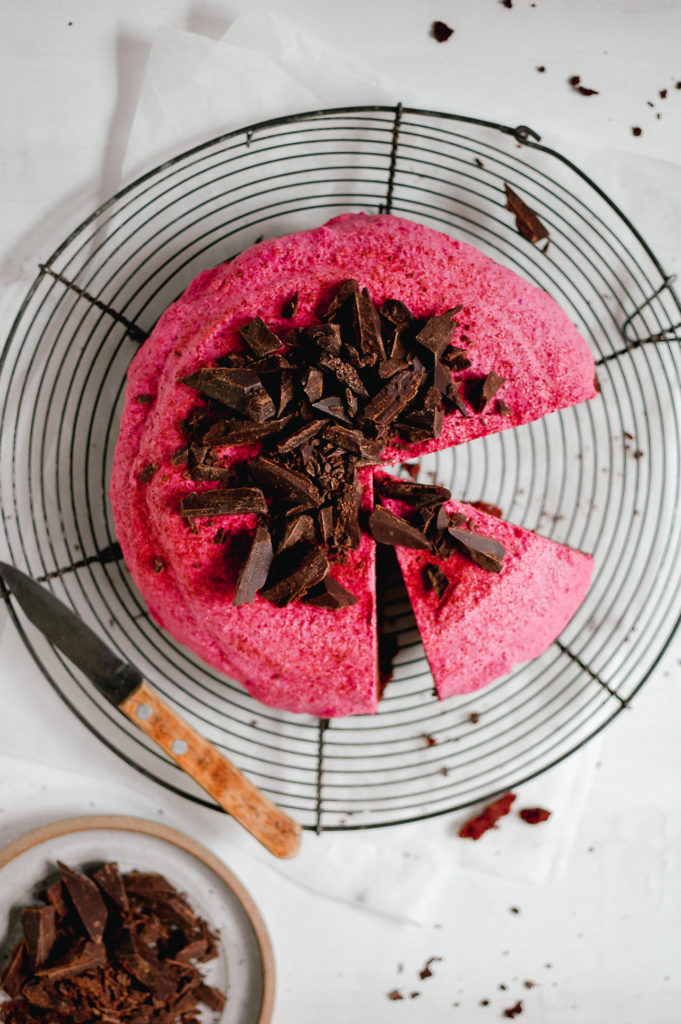 BENEFITS OF ROSE
helps soothe skin irritation
opens and softens the emotional heart, extending into our energetic auras
eases the pain associated with trauma, restoring integrity
cools the pitta dosha, relaxing fiery emotions such as anger and frustration
helps one to connect to love more freely
soothes sore throats
reduces skin redness
prevents and treats infections
contains antioxidants
heals cuts, scars and burns
enhances mood
relieves headaches
potent anti-inflammatory properties
formidable natural beauty ally
naturally caffeine-free
may help alleviate menstrual pain
reduces severity of allergic reactions
antibacterial properties
improves insulin resistance and heart health
loaded with vitamins C, A and E, the B-complex, as well as calcium, magnesium, and potassium
INGREDIENTS YOU'LL NEED FOR THIS CHOCOLATE CAKE WITH BEETROOT ROSE FROSTING:
Wild Bloom Botanicals chaga reishi powder (dual extracted)
Fresh beets (I used homegrown organic) – beets are excellent for many reasons, notably for liver support most crucial in the modern industrialized world, hormone balance, birth control detox, PMS reduction, thyroid balance, blood sugar balance, digestive support and gut health, and general detox if you're exposed from the air, food, water, home and/or workplace
Coconut oil, or grass fed butter (glass packaging is best)
Raw goat milk, or milk of your choice (even kefir will suffice, though its probiotic benefits will cease when baked)
Vanilla
Raw cashews – important to be raw so you can activate (soak) them
Lemon juice
Schizandra, dried edible flowers, chopped chocolate, fresh berries, or dried goji berries to garnish
How to make this chocolate cake with beetroot rose frosting:
If you have beets growing in the garden, pick them, cut the stems off, and rinse.
Blend the batter ingredients in a food processor, then transfer it to a cake pan lined with unbleached parchment paper.
Bake the chocolate cake for 20-23 minutes at 350 F. Remove and let the cake cool.
Blend the beetroot rose frosting in the food processor, then spread the frosting onto the surface of the cake.
Chill in the refrigerator, garnish with toppings of your choice, and devour.
YOU MIGHT ALSO LIKE THESE RECIPES
Thanks to Wild Bloom Botanicals for collaborating with me on this post. All thoughts and opinions are my own.
If you tried this chocolate cake with beetroot rose frosting or any other recipe on this blog, let me know how you liked it by leaving a comment below. Be sure to follow along for more inspiration at Pinterest, Instagram and Facebook.
Click here for the Wild Bloom Botanicals rose tincture!
Chocolate Cake with Beetroot Rose Frosting
A simple, rustic chocolate cake with a thick layer of beetroot rose frosting, infused with the Wild Bloom Botanicals rose tincture! Visit wildbloombotanicals.com for more organic herbal goodness.
Equipment
cake pan

unbleached parchment paper

food processor
Ingredients
Chocolate cake batter
1 1/4

cups

buckwheat flour

1/2

cup

activated almond flour

or activated nuts/seeds of your choice

3/4

cup

Wild Bloom Botanicals raw cacao powder

2

tsp

Wild Bloom Botanicals chaga & reishi powder

1

tsp

non-aluminum bicarb soda

1/4

tsp

sea salt

1/4

cup

roughly chopped beets

1

cup

raw grass fed goat yogurt

or milk/yogurt of your choice

1

tsp

raw apple cider vinegar

3/4

cup

maple syrup

more or less, to taste

1/3

cup

virgin cold-pressed coconut oil

or raw grass fed butter

1

tsp

vanilla bean

1/2

cup

spring or filtered water
Beetroot rose cashew frosting
3/4

cup

raw activated cashews, soaked and drained

soaked overnight or at least 2 hours

2

tbsp

virgin cold pressed coconut oil

or raw grass fed butter

1

full dropper

Wild Bloom Botanicals rose tincture

3

tbsp

maple syrup

more or less, to taste

1

tsp

vanilla bean

1

tsp

freshly squeezed lemon juice

1/4

cup

roughly chopped beets

1/4

tsp

sea salt

2-4

tbsp

spring or filtered water

or more, as needed

schizandra powder and/or dried flowers, chopped chocolate, fresh berries or goji berries to garnish
Instructions
Chocolate cake batter
Make the chocolate cake batter. Preheat the oven to 350 F. Place parchment paper into the bottom of an 8×8 inch cake pan, folding the edges over to secure the paper. Set aside.

In a large bowl, combine the dry ingredients: buckwheat and almond flour, Wild Bloom Botanicals cacao powder and chaga reishi powder, bicarb soda, and sea salt. Whisk to combine. To a food processor, add the wet ingredients: beets, yogurt, apple cider vinegar, maple syrup, coconut oil, vanilla bean, and water. Blend to reduce into an even paste. Add the dry ingredients and blend to a batter, making sure not to overmix.

Scrape out the batter into the cake pan and slide the pan into the oven. Bake for 20-23 minutes, or until a toothpick emerges clean when inserted into the center. Let the cake cool completely while you make the frosting.
Beetroot rose cashew frosting
Rinse out the food processor. Place the cashews, coconut oil, rose tincture, maple syrup, vanilla bean, lemon juice, beets, salt, and water, and blend for several minutes until the mixture is reduced into a fine paste, stopping to scrape down the sides or redistribute bits of cashew if necessary. Add some more water to thin out as needed.

Scrape the mixture out into a small bowl, then spread it over the cooled chocolate cake. The frosting will be nice and thick, so let it drip over the sides of the cake as you spread it. Place the cake in the freezer for about 20 minutes to harden off the frosting. Remove, slice, serve and devour!
Notes
If you don't want to use almond flour, feel free to use an equal amount of any other activated nut or seed you can find that can easily be blended up in the food processor. You could even use cassava flour, coconut flour, or another gluten free flour, if you like. Use the ingredients that make you feel best.
If you're watching your blood sugar or don't like to use sweeteners, reduce or completely omit the maple syrup if you like. The cacao, vanilla and even cashews have a natural sweetness that's great on their own, and if you use coconut flour instead of almond flour, that will also enhance the natural sweetness. I've even tried this with 2 pitted Medjool dates blended evenly into the batter and the resulting sweetness was good enough for me. Do not use straight up sugar, though—that's foul.
Store unused portions for up to 3-4 days in the refrigerator.
For longer term storage, place in a sealed glass or silicone container in the freezer for 3-6 months.
Click here for the Wild Bloom Botanicals rose tincture!