I usually like to keep my snacks simple… but sometimes, when the mood strikes, I like to go all out with the "superfoods" and other bits and bobs hanging out in my pantry, aka modern kitchen apothecary. These cookie dough balls aka nutrient bombs are an easy way to pack them all in and they're definitely an upgrade from those nutrient-void, diabetes inducing Pillsbury industrial cookie dough mixes full of addictive refined sugars and other strange funk.
These easy, naturally sweetened homemade energy bites will give you a burst of energy with their nutrient dense, delicious, satiating ingredients, all without the blood sugar rollercoaster or guilt. They're basically nature's multivitamin. Hello, micronutrients, healthy fats, and adaptogens.
This recipe is also totally adaptable to meet your needs and preferences. Just swap in an equal amount of your preferred nuts or seeds and keep the ratios so they can stick and combine properly with the dates or nut butter. I used 2 medjool dates for baseline stickiness, but if you can metabolize sugar well without getting jittery, feel free to add in more dates or even some maple syrup. The tonic herb powders and tinctures are also completely optional, but I used them for an added boost, plus they're fun.
Tips to make Cacao Cookie Dough Energy Bites:
Make sure to blend only the dry ingredients to a crumble first BEFORE stopping and adding in the wet ingredients or you may end up with a hot mess that can't be blended properly. By adding in the cacao nibs at the end of the blending process, you keep them intact for a crunchy and doughy textural contrast. Then you can roll them into balls of any size you like!
But wait, there's a bit more to it.
It's not totally necessary, but try to use only raw nuts so they can be activated. This requires a little preparation on your part, but it's worth it. Activating the nuts is highly recommended to make them more bioavailable and easier to digest, and your body will be able to absorb more of the vitamins and minerals within them. This is less taxing on the body and digestive system as it requires less energy to break down the nut. Soaking and activating grains, nuts, legumes and seeds was an ancient practice done over thousands of years and has thankfully experienced a resurgence in popularity throughout the 2010s in this fast paced, disconnected, industrialized modern culture.
How to activate nuts and seeds
To activate the raw nuts and seeds and turn them into nature's multivitamins, simply place the batch into a bowl and cover it with filtered water, a pinch of sea salt, and a splash of organic apple cider vinegar (ensure it is 100% raw, created with 'the mother'. Bragg's is one brand I like to use for all sorts of recipes—affiliate link). Sea salt and apple cider vinegar act to awaken the enzymes that can then break down and neutralize enzyme inhibitors present within each nut and seed. Let sit 12-24 hours in the water before dehydrating and using.
Chances are, you don't have a dehydrator, so an oven will work just fine instead. If they don't dry properly and you don't use them right away, they may get moldy. Just make sure when you dehydrate them, they're on a low temperature from about 150-170 F/65-75 C and stir them occasionally throughout their drying time. Sometimes I just let them air dry on a mesh sieve overnight, and usually they become dry enough for this recipe.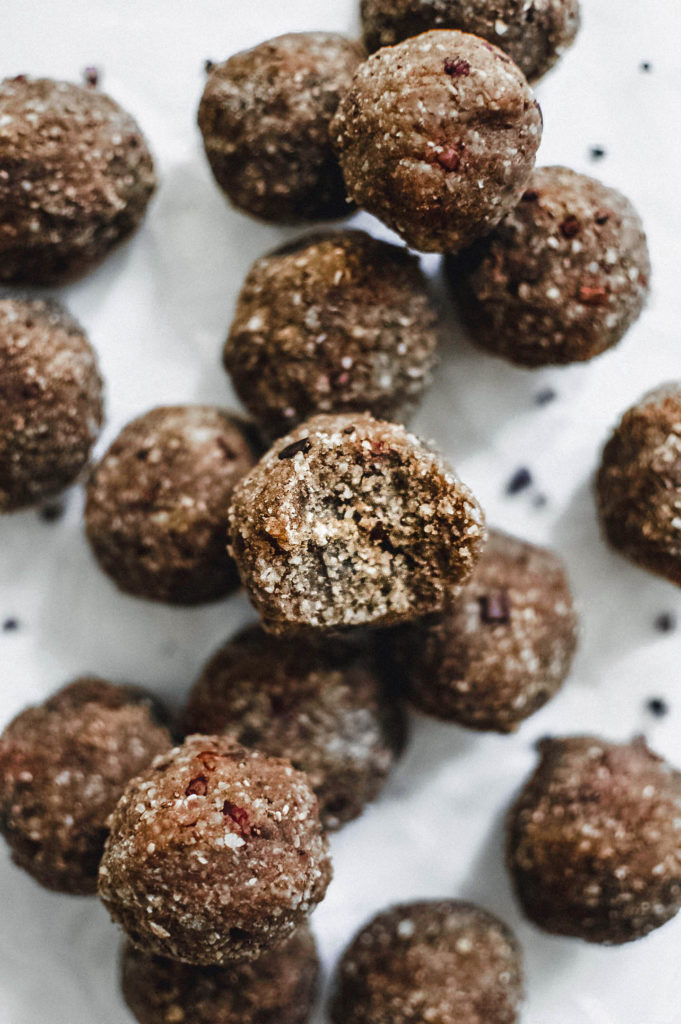 How to store these cookie dough balls:
Due to the coconut oil in the cookie dough balls, they may easily melt in warmer weather. Keep them in a sealed glass container in the refrigerator for up to 2-3 weeks.
These cookie dough balls are also freezer friendly. For longer term storage, place in a freezer friendly glass container for up to 6 months, and remove to thaw once ready to eat.
Cacao Cookie Dough Energy Bites
These easy homemade energy bites will give you a burst of energy with their nutrient dense, delicious, satiating ingredients, all without the blood sugar rollercoaster. Enjoy!
Ingredients
For the dry ingredients
3/4

cup

activated organic Brazil nuts

1/2

cup

activated organic walnuts

1/4

cup

activated organic Styrian pumpkin seeds

1/4

cup

activated organic cashews

2

tsp

organic chia seeds

1

cup

unsweetened shredded organic coconut

2

tbsp

organic cacao nibs

2

tbap

organic maca root powder

1

tsp

organic Ceylon cinnamon

1

tbsp

organic lion's mane mushroom powder

1/2

tsp

organic vanilla bean or extract

1 1/2

tsp

organic mucuna pruriens

1/4

tsp

Celtic sea salt
For the wet ingredients
1/2

cup

organic coconut butter, melted

1/4

cup

organic coconut oil, melted

1

full dropper wildcrafted chaga tincture

2-3

large

organic medjool dates

1/4

cup

filtered water or organic coconut milk without added fillers, sweeteners or preservatives, non-BPA can

as needed
Instructions
Using a food processor fitted with the "S" blade, add all dry ingredients except cacao nibs and blend to reduce into a crumbly paste, as crunchy or as smooth as you prefer.

Add the wet ingredients to the food processor and continue to blend and reduce to a doughy texture.

Add in the cacao nibs and pule the food processor only a few times to distribute them throughout the dough while keeping them mostly intact.

Roll the dough into balls of whatever size you like.
Notes
By adding in the cacao nibs at the end, you keep them intact for a doughy and crunchy textural contrast.
I highly recommend activating the nuts and seeds for 12-24 hours in a bowl of filtered water with a pinch of sea salt and a splash of apple cider vinegar. This allows you to get the most out of nature's multivitamins and aids in easier digestion.
You may not need the splash of water or nut milk at all, try blending and see how the consistency is like first. Add a splash or two as needed, then combine.
Adaptogens, powders and tinctures are completely optional, feel free to switch them up with your personal favourites or whatever you feel you need at the moment.
If even natural sugar is not your thing, feel free to omit the dates and use 1/4 cup natural nut butter of your choice, such as almond butter.
Store in the fridge for 2-3 weeks or in the freezer up to 6 months (thaw 5-10 minutes before eating).