Today I've teamed up with Wild Bloom Botanicals to bring you this classic Ayurvedic kitchari recipe, infused with the silky coconut milk powder by Wild Bloom Botanicals!
This recipe is simmered with basmati rice and yellow split mung beans with anti-inflammatory, metabolism boosting spices in gut and digestion healing bone broth. It's cozy, delicious, medicinal and nourishing, not only for winters, but for any time of year.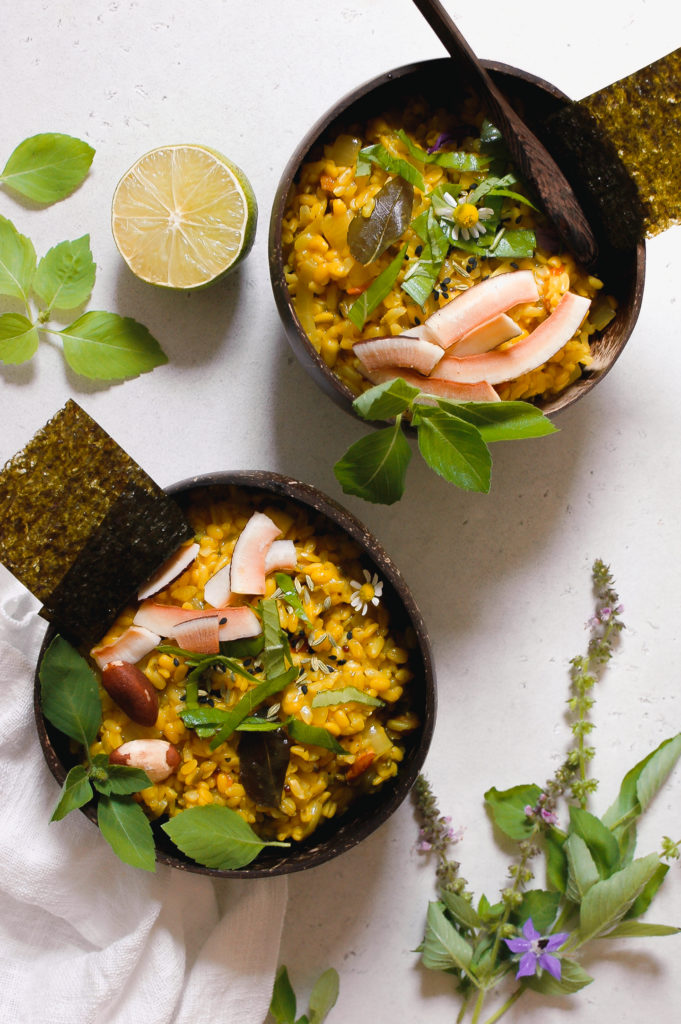 Ayurvedic kitchari with coconut and grass fed bone broth
Kitchari (Kich-uh-ree)—also known as Khichdi—is a classic Ayurvedic dish, a simple comfort and health food that is easy to digest and great for detoxification and healing. It's the Indian version of congee or chicken noodle soup, a powerful reset for the body and spirit in a simple, porridge-like, mild tasting blend of healing, anti-inflammatory herbs and digestive spices. It's traditionally made with a blend of inexpensive rice, mung beans and spices, commonly served on ashrams.
Whether you feel something is up with your digestion or if you feel you just need a cleanse, kitchari is the perfect dish that's meant to be easy to digest. It has long been used to nourish babies, the elderly, the unwell and well alike.
Cleanses help your body detox heavy metals, preservatives, chemicals, pesticides and environmental toxins which are stored in your fat cells. A kitchari mono-cleanse is something that is often done for a really potent reset for the mind, body and spirit. Detoxification is all about rest and repair, and so a typical kitchari mono-cleanse involves making the same kitchari dish for each meal – along with herbal teas and filtered/spring water, epsom salt/magnesium baths, cultivating deep restorative sleep, and minimizing the use of technology. This often lasts for 3, 7 or even 10 days. Monk life? I'm into it.
95% of our serotonin is produced in the gut. Chronic stress irritates the intestinal wall through which we process our stress, it compromises digestion and the ability to detoxify through the gut. Even just a single day of a kitchari cleanse can be incredibly restorative as it gives the digestive system a rest while providing the nutrition needed to heal the gut and nourish the body. It enhances mood stability, good sleep, cognitive function, promotes less cravings, balances acidity, and helps you maintain stable and calm energy levels throughout the day.
Kitchari is often used during special times of detox, cleansing and deep spiritual practice, but it's so simple, medicinal and easy to make that I actually make it almost every week as a part of my regular meal rotations. Along with my organic, whole foods lifestyle, kitchari helps protect me from seasonal colds, flus and other ailments that most other people tend to catch in the fall/winter.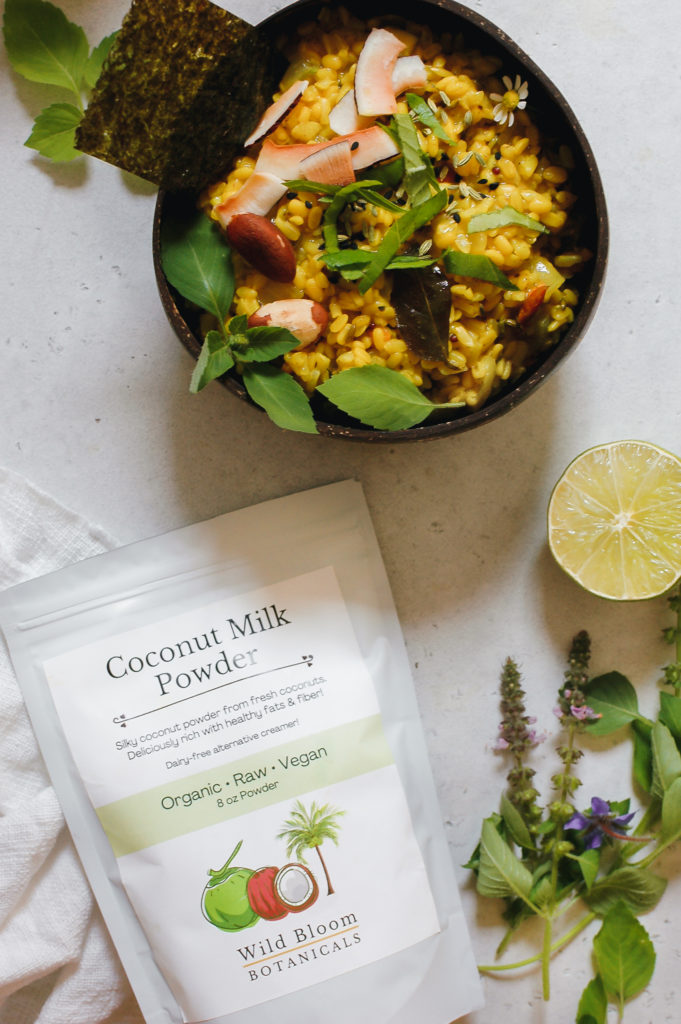 Wild Bloom Botanicals Coconut Milk Powder
The Wild Bloom Botanicals coconut milk powder is one of the best coconut sources I've come across in my life, as its delicious, silky, powdered goodness goes perfectly with so many recipes.
All Wild Bloom Botanicals offerings are 100% organic or wildcrafted without fillers, additives, or any other ingredients. This coconut milk powder makes an incredible replacement for conventional dairy and tastes just as amazing, with its own set of unique health benefits.
Coconut milk powder is rich in healthy fat and fibre. This soothes digestion and is known to aid in maintaining a weight that's right for you. It is a great replacement for someone with a dairy intolerance or if you just need more healthy fats in your diet. Coconut milk powder is also rich in electrolytes and antioxidants, making it a super healthy and great for the body. Coconut is also amazing for skin and hair health due to its moisture retention and antibacterial properties.
Blend coconut milk powder into coffee, teas, snacks, desserts, curries, stews and tonics to make them creamy, comforting and wholesome. Add it to filtered or spring water for an instant coconut milk. We recommend using this for any dairy replacement needs!
Ingredients: Organic Coconut Powder
Origin: Ethically sourced coconuts from Thailand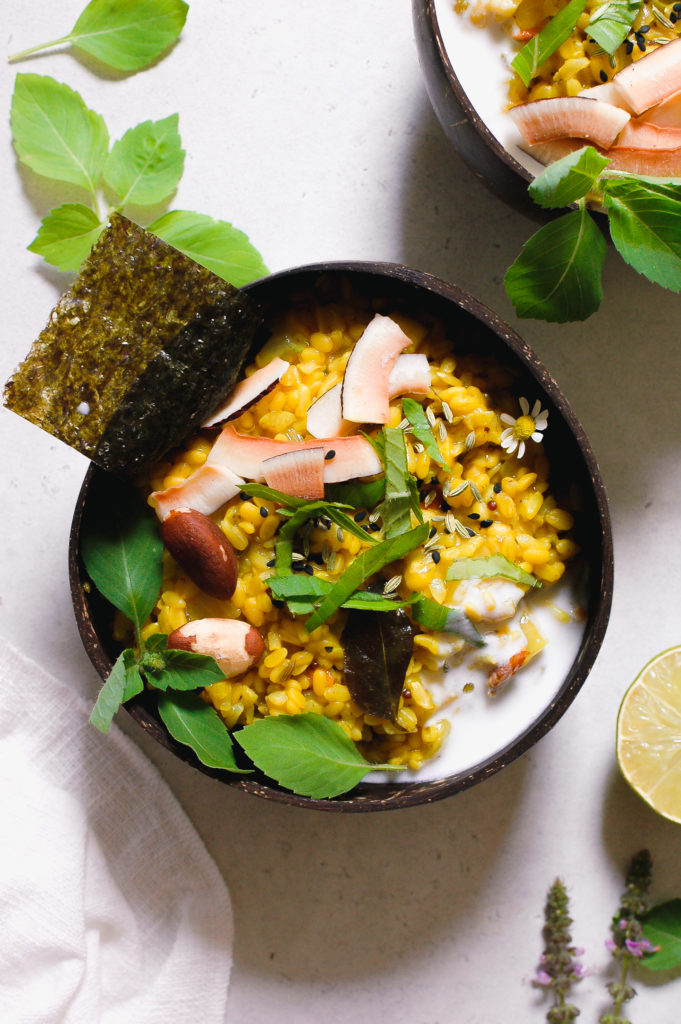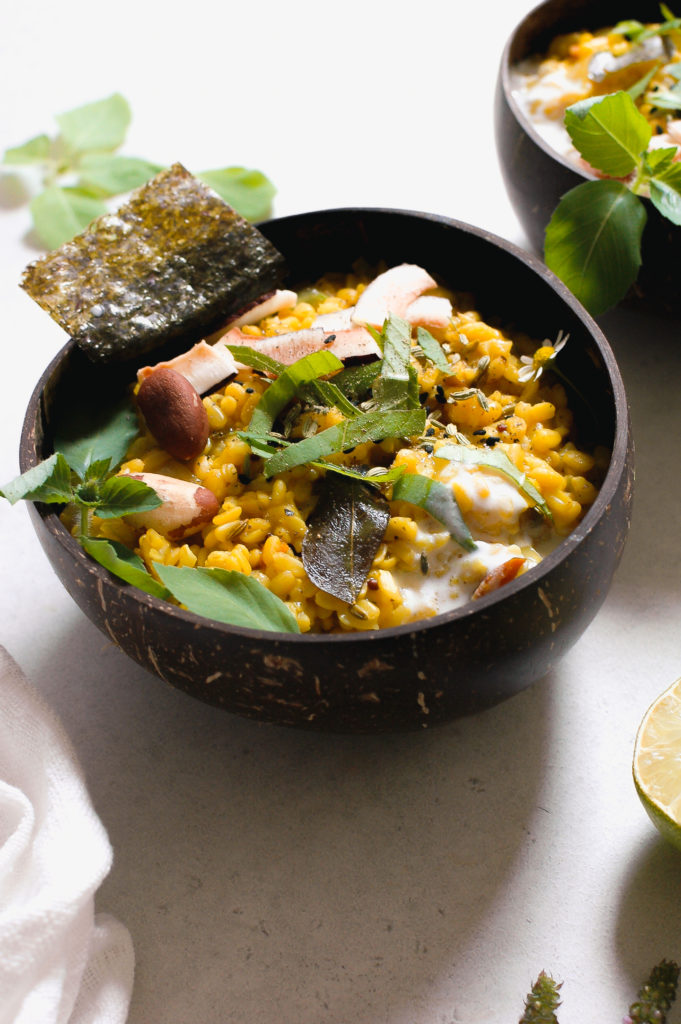 How to make this Ayurvedic kitchari with coconut and grass fed bone broth
Always soak your beans and rice in water overnight (or 12-24 hours) in order to neutralize the anti-nutrients (lectins, phytic acid) that naturally occur in the beans and rice and make them more digestible.
First, wash and drain them 3-5 times. Cover the beans and rice in filtered water in a bowl, and add a splash of goat kefir or grass fed whey and a pinch of magnesium chloride flakes for best results. Trust me, it's worth it.
When ready to cook, rinse and drain the beans and rice. Place them in a large cooking pot with bone broth or water, cover, bring to a boil, and simmer the beans and rice for about 20 minutes.
While the rice and beans are cooking, sauté the onion with the seeds and curry leaves until soft and translucent, then add the garlic, ginger, and spices briefly. Transfer the spiced onion mixture to the beans and rice and finish cooking everything in the pot. You should end up with a stew-like mixture.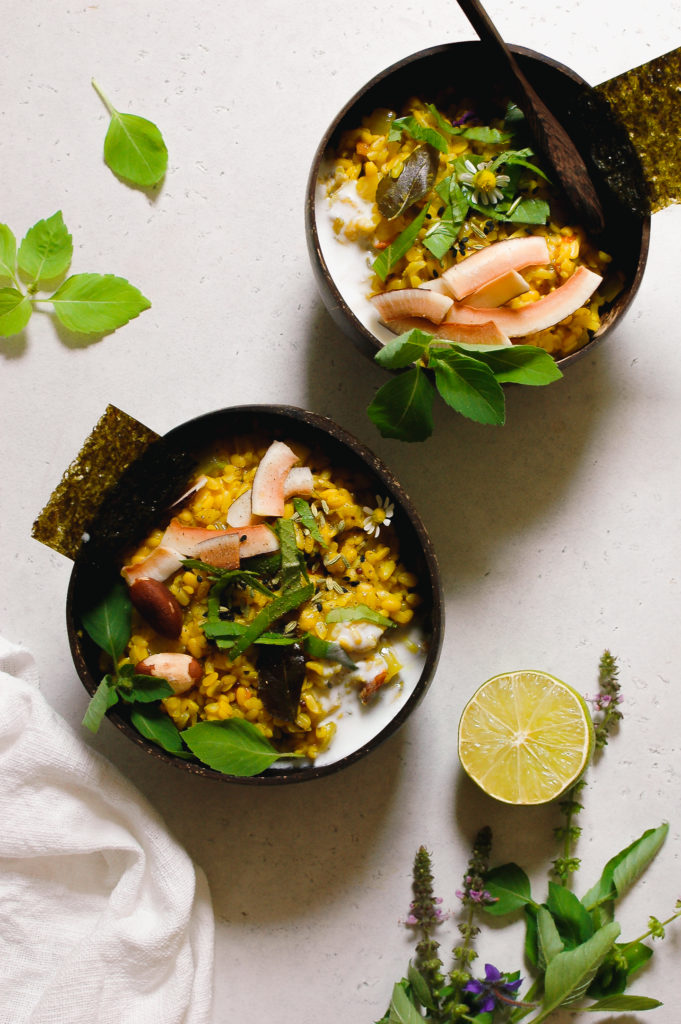 Ingredients you'll need for this Ayurvedic coconut kitchari
There are endless different kitchari recipes out there, but what they tend to have in common is the powerful, feel-good, metabolism boosting, immune supportive, anti-inflammatory spices. The gut healing, mineral-rich bone broth in this recipe will help detoxify the body and fortify your gut microbiome, and the fresh ginger packs a punch with its digestive support. I also recommend bulking up your dish with seasonal vegetables if you'd like (although it wouldn't be real kitchari!).
There is no one size fits all, no right or wrong. Be mindful of your own body's needs and cravings, and make swaps with the ingredients that you feel called to. Play around with the quantities and types of spices according to your taste, body constitution and season. These are the ingredients I used:
Homemade, grass finished bone broth (make your own using this recipe and make sure to source the highest possible quality: grass fed and finished, pasture raised)
Split mung beans (these are better for digestion than other beans)
Basmati rice, any colour (Lundberg brand is one of my favourites)
Grass fed ghee or virgin, cold pressed organic coconut oil
Yellow onion, small dice
Hing/asafoetida (optional. Harmonic Arts is my favourite brand. As it has fenugreek, avoid taking when pregnant)
Ceylon cinnamon (optional, but recommended if in cooler season)
Ginger root
Garlic
Sea salt and black pepper, to taste
Local, seasonal vegetables (optional)
Wild Bloom Botanicals coconut milk powder
Cilantro or holy basil, goat yogurt, 1-2 Brazil nuts (or a handful of other chopped nuts), a few sheets of nori seaweed, and/or lime juice to garnish
You might also like these recipes
Make kitchari your reliable friend when you're sad, sick, cleansing, for your kids and loved ones when they're feeling under the weather, when you feel you're not grounded from a flight or even when feeling at the top of the world!
Thanks to Wild Bloom Botanicals for collaborating with me on this post. All thoughts and opinions are my own.
Click here for the Wild Bloom Botanicals organic coconut milk powder.
If you tried this Ayurvedic kitchari or any other recipe on this blog, let me know how you liked it by leaving a comment below. Be sure to follow along for more inspiration at Pinterest, Instagram and Facebook.
Ayurvedic kitchari with coconut and grass fed bone broth
Boost your immunity, reset your digestive system, facilitate spiritual growth and effectively detox the body with this delicious, warming, nourishing Ayurvedic kitchari with coconut and grass fed bone broth. Visit wildbloombotanicals.com for more superfood goodness.
Ingredients
1/2

cup

organic yellow split mung bean (moong dal), or split chickpea (chana dal)

1/2

cup

organic basmati rice

any colour

4-8

cups

grass fed and finished, pasture raised bone broth or filtered water

2

tbsp

grass fed ghee

or virgin, cold pressed organic coconut oil

2

tsp

organic fennel seeds

2

tsp

whole organic cumin seeds

1

tsp

organic mustard seeds

5-10

organic curry leaves

1

organic yellow onion, small dice

1

inch

freshly grated organic ginger root

or to taste

2-3

cloves

garlic, finely chopped

1

tsp

organic turmeric powder

1

tiiiiny pinch

wildcrafted hing/asafoetida

optional, about 1/8 tsp

1/2

tsp

organic Ceylon cinnamon

optional, but recommended if in cooler season

3

cups

organic or biodynamic, local, seasonal vegetables

optional

2

tbsp

Wild Bloom Botanicals coconut milk powder

sea salt and organic black pepper, to taste

fresh organic cilantro or tulsi/holy basil, to garnish

1

dollop

goat yogurt, to garnish

freshly squeezed organic lime juice, to garnish
Instructions
Thoroughly wash then soak your mung and rice overnight or up to 12-24 hours in filtered water. Once they're ready, place them in a sieve, strain, and place them in a large heavy-bottomed pot. Pour in the bone broth. Bring to a boil, then simmer for 20 minutes or until cooked through. You may need to add more broth as you go.

If you're using veggies, chop them up and set aside.

Once the mung and rice are almost cooked through, heat the ghee over medium in a separate skillet. Add the fennel, cumin, mustard seeds and curry leaves, and sauté until the seeds start to pop. Add the onion and sauté until soft and translucent, about 3 minutes, stirring to combine with the seeds. Add in the ginger, garlic and stir. Add in your "final spices": turmeric, hing and cinnamon if using, and sauté until fragrant, about 20 seconds to prevent them from burning.

Add the pan-fried spiced onion mixture to the pot with the mung and rice. Stir to combine and infuse the spices. Add in more bone broth or water if needed, the liquid should submerge the ingredients. For a more soupy texture you can add more liquid, for more of a stew, keep it as is. If you're using vegetables you can add them in. Leave any quick cooking leafy greens aside to add in at the very end.

Bring the pot to a boil, then down to a simmer for 30-40 minutes. Once ready to serve, add in any leafy greens you're using as they'll wilt on their own, and stir in the Wild Bloom botanicals coconut milk powder. Season with salt and pepper at the very end.

Serve with a dollop of goat yogurt, fresh cilantro or holy basil, a squeeze of lime juice, nori, chopped nuts and seeds, or any other toppings you prefer. Enjoy!
Notes
Don't skip out on soaking the split mung beans and rice. This helps them become easier to digest and bioavailable.
If your kitchari is looking too thick, you can simply add more water as needed and mix it through.
Don't forget to taste and adjust seasoning with sea salt at the end if needed.
The combination of soaked beans and rice form a "complete" veggie protein which serves a specific purpose when it comes to Ayurvedic cleansing, but cauliflower is a great substitute for the rice if you don't do grains. I find that I currently digest properly soaked rice easier than I do cauliflower. 
If you're doing a multi-day kitchari cleanse, make sure to continually soak a batch of beans and rice in preparation for cooking the next day. Overnight soaking will suffice. 
Use any veggies you prefer that are in season. Some easy to digest veggies include cooked carrots, zucchini, celery, summer/winter squash with seeds removed, sweet potato, green beans, and beets. Lean meat can be used as well for blood sugar support during a cleanse, though these additions are not real kitchari. 
For diarrhea or inflammation in the gut, use 2 parts rice to 1 part mung. 
For constipation or energy depletion, use 2 parts mung to 1 part rice. 
If you're in a balanced state, use equal parts mung and rice. 
If having kitchari for dinner, it is best not to consume anything afterwards including dessert or milk, for best medicinal effect.