Activated buckwheat granola cereal with coconut and grass fed local goat kefir from River's Edge Goat Dairy in Ontario. Naturally sweetened with maple syrup!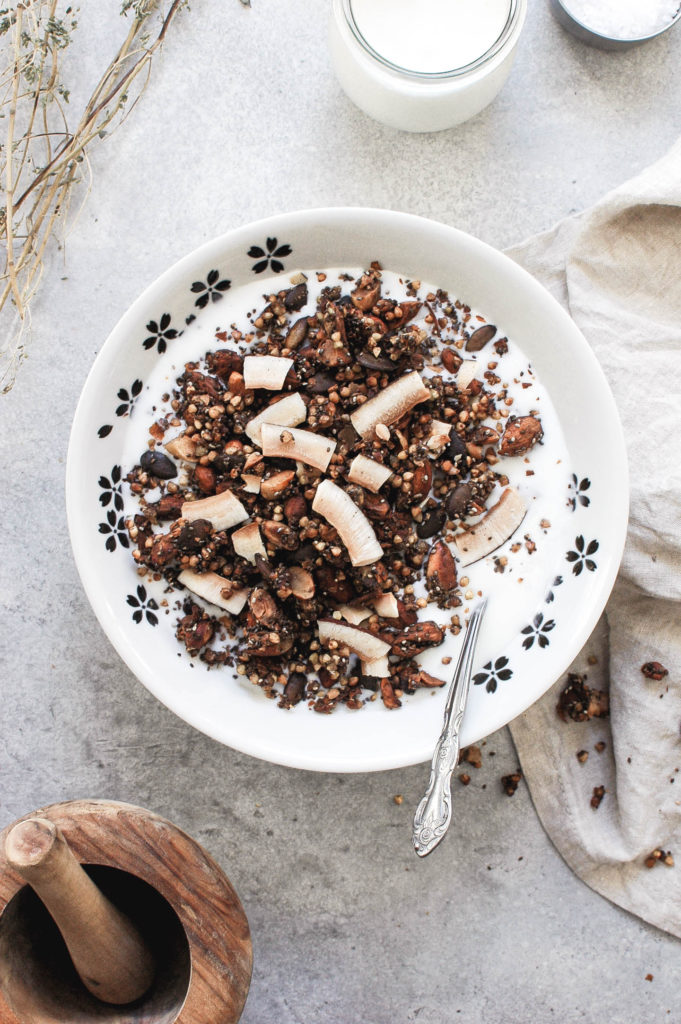 Does anyone remember those ultra processed, sickly sweet cereals in boxes as a kid? Aka nothing close to what I would feed a kid now: even the granola kinds are sprayed with pesticides, monocropped, void of nutrients, drenched in sugars and toxins and fortified with damaging iron fillings if you're in North America… it's just not my jam.
This homemade version sort of gave me flashbacks to that, except this time it's full of nature's multivitamins with properly activated nuts and seeds and grass fed goat kefir sourced from a local farmer I trust, the sort of dairy that actually doesn't break me out in acne or give me digestive or inflammatory issues. Who knew?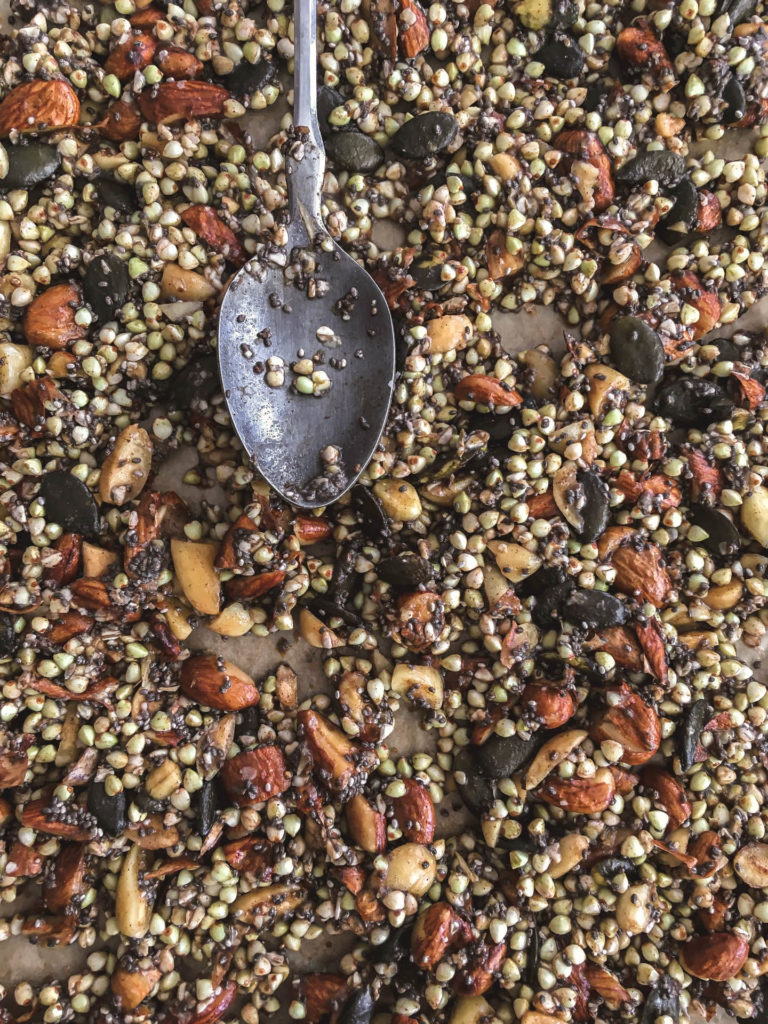 Dairy has become quite demonized culturally, and for good reason (looking at you, factory farmed dairy), but full fat, grass fed, ethically raised, local milk has begun to make a comeback. If you're reading this, you probably know by now that full fat, plain, fermented, grass fed kefir, also known as the champagne of milk, is actually an incredibly multifunctional (and refreshing, effervescent and delicious) superfood, especially when made with raw, full fat milk.
Full of probiotics and antimicrobial peptides that inhibit the growth of pathogenic microorganisms while repopulating the gut microbiome with the good bacteria, kefir has been identified to have a variety of biological activities including promoting deep and restful sleep from serotonin and GABA production. Beneficial for peak mitochondrial function including antihypertensive and immunomodulatory benefits, goat kefir in particular is more bioavailable, nutrient dense, and digestible to humans than even cow kefir. Either one of them is a daily must, in my opinion… but I prefer goat's. 🙂
You just can't get this micro/macronutrient profile with milk substitutes, but if you're truly lactose intolerant, opt for coconut milk, coconut kefir, or activated, homemade nut milk, if you must. At the end of the day, any kind of fermented kefir or yogurt is recommended for classic granola yogurt flavours in this activated buckwheat granola cereal!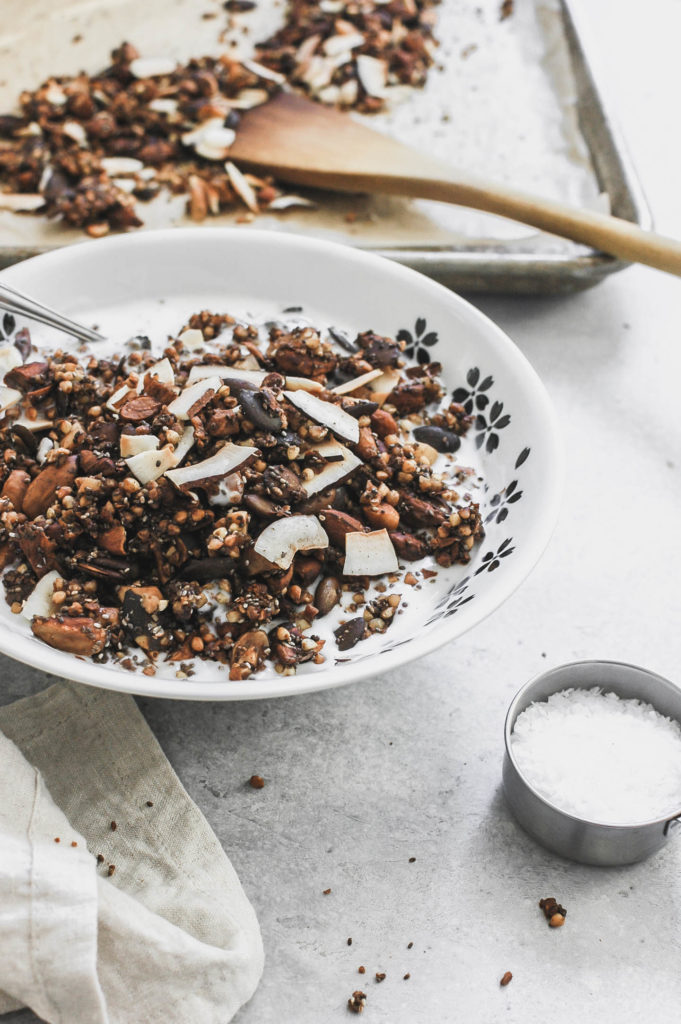 Ingredients you'll need for this activated buckwheat granola cereal:
Raw buckwheat groats, or buckinis – ACTIVATED! …and buckwheat is completely gluten free for any gluten freebies out there. Buckwheat is technically a pseudograin but still needs to be activated to take full advantage of its nutrient density. It'll get slimy as it soaks, but that's totally okay. Simply rinse it off and drain it before baking.
Raw almonds – ACTIVATED! I know activating might sound silly and it's even been sort of a meme in the past, but don't knock it 'til you try it. Your digestion may thank you.
Coconut flakes – trust me, you need it.
Raw Styrian pumpkin seeds – ACTIVATED! Heirloom Styrian pumpkin seeds (the dark green kind) are highly medicinal as one of the best plant-based sources of omega 3s, antioxidants and phytosterols. They're darker green and more nutritious than their common pumpkin seed counterparts, a source of nutrients such as vitamin A, E, K, and B vitamins, and trace minerals such as zinc, iron, magnesium, phosphorous, potassium, manganese, calcium, copper and selenium. They can even be used as a parasite (including tapeworm) remedy.
Chia seeds – these get soaked while mixing, helping the cereal stay clumpy like a true granola.
Maple syrup – baking anything with local maple is a win in my books. You could also use raw local honey, too.
Celtic sea salt, or any other fine sea salt
Ceylon cinnamon, aka 'true' cinnamon. This can help balance your blood sugar, and imbibes the cereal with a fragrance like no other.
Virgin coconut oil – glass jar packaging recommended.
Grass fed goat kefir from a farmer you personally trust. Cow kefir, sheep yogurt, or coconut milk/kefir will also work. If you're in southern Ontario, Wild Meadows Farm has the BEST local, full fat, pasteurized goat kefir by River's Edge Goat Dairy. When you make an order off their website, you can use the promo code ROOTTOSKY15 for $15 off your first order of a minimum of $150. They deliver throughout most of southern Ontario. (If any kefir is pasteurized and not raw, this is fine, as all kefir contains the beneficial enzymes and bacteria due to its fermentation.)
Chopped, fresh, seasonal local fruit
Click here for more info on nut and seed activation. This practice is a must if you want to improve digestibility and maximize your nutrient intake without falling to a net negative (read: wasting your money and actually DEPLETING your nutritional intake with improperly prepared nuts and seeds).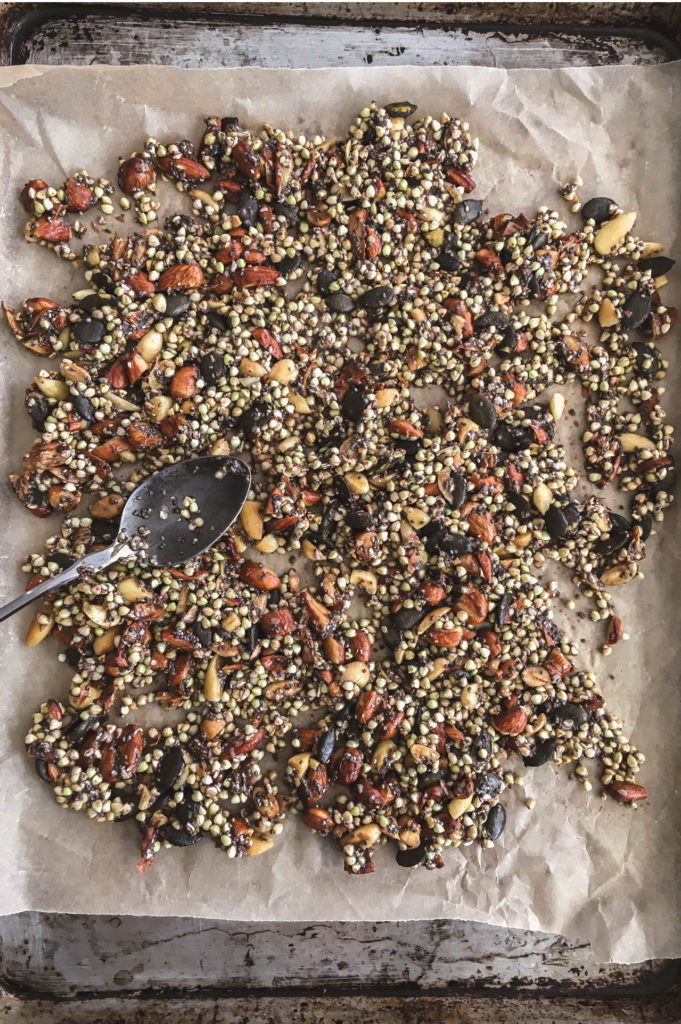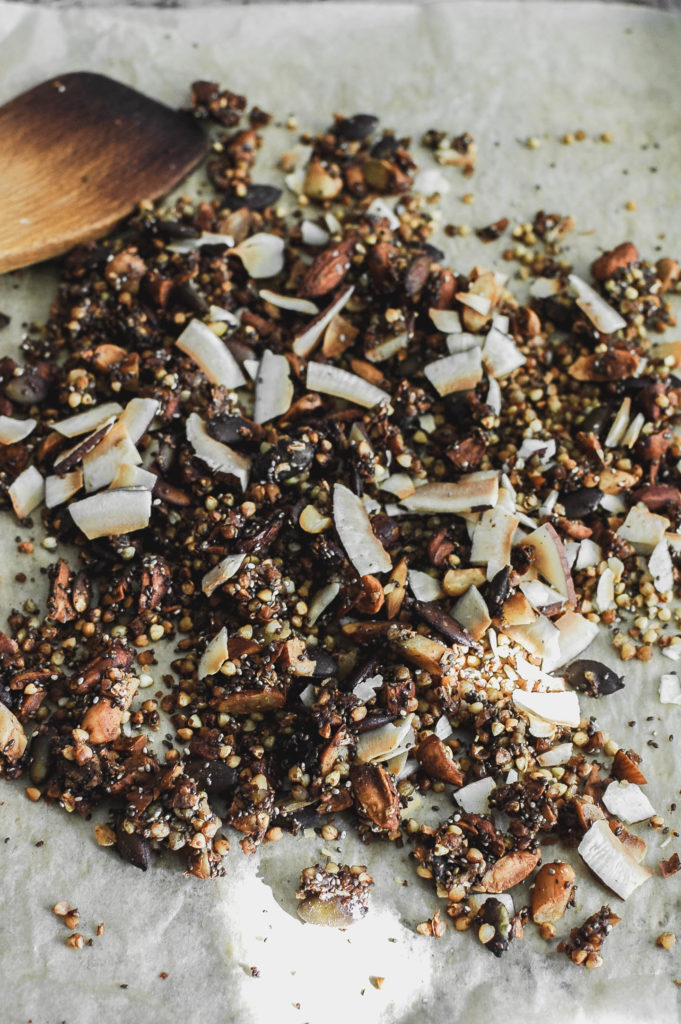 Hope you enjoy!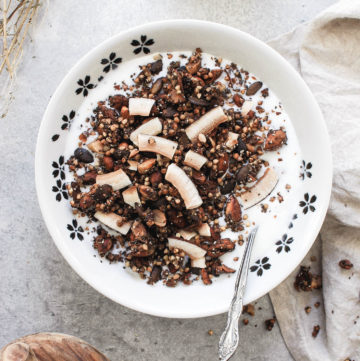 Activated Spiced Buckwheat Cereal with Coconut, Chia, Almonds and Maple in Grass Fed Goat Kefir
Crunchy, super-seedy, naturally sweetened, activated buckwheat cereal, toasted to nutty perfection with maple, spices, and a hint of nostalgia. Serve with grass fed goat kefir, raw local milk, or use as a granola topping in all of your favourite recipes.
Ingredients
1

cup

raw organic buckwheat groats/buckinis, soaked for at least 1 hour or overnight in filtered water

1

cup

raw organic almonds, soaked with the buckwheat then chopped

1/2

cup

organic Styrian pumpkin seeds/pepitas

1

cup

organic coconut flakes

2

tbsp

organic chia seeds

1 1/2

tsp

organic ground cinnamon

1/4

tsp

organic ground ginger

1/4

tsp

organic ground nutmeg

1/2

tsp

Celtic sea salt

1

dropper

wildcrafted chaga tincture

optional

1/4

cup

organic maple syrup

or to taste

2

tbsp

virgin, cold pressed organic coconut oil, melted

1

tsp

organic vanilla bean

grass fed goat kefir, for serving
Instructions
Prepare the top rack in the oven, and preheat oven to 325°F/160°C. Line a large baking sheet with unbleached, biodegradable parchment paper.

On the counter, lay out a clean kitchen towel. Using a fine mesh strainer, rinse the buckwheat groats to get as much of the slime off as you can. If you've activated the almonds and pumpkin seeds in the same mixture, you can rinse the entire mixture at once.

Scrape the rinsed buckwheat groats, almonds and pumpkin seeds onto the kitchen towel, and spread them out. Pat them dry. You can separate and chop the almonds at this point, if you like. Transfer the entire mixture to a large bowl.

Add the coconut flakes, chia seeds, cinnamon, ginger, nutmeg, and sea salt to the nut and seed mixture in the bowl. Stir or toss to coat everything in the oil and spices.

In a small saucepan over low heat, whisk the chaga, maple syrup, coconut oil, and vanilla until it turns into a smooth liquid. Pour this over the nut and seed mixture. Stir to coat everything in the oil and spices.

Transfer the mixture to the baking sheet. Spread out the mixture over the parchment paper, and flatten it as much as you can with a spatula or spoon. Slide the baking sheet onto the top rack in the oven. Bake for 30-45 minutes, or until the mixture becomes lightly crispy and golden brown.

Cool the mixture to room temperature. Serve as a bowl of cereal with goat kefir, and seasonal chopped fresh fruit of your choice.
Notes
This activated buckwheat cereal will keep in a sealed container for 7-10 days.
Use it as a granola on your favourite recipes, on top of ice cream or smoothies, as a strudel, on chia pudding, or on other desserts.
Some great additions to the kefir include magnesium chloride flakes (nigari), black seed oil, and raw local honey stirred in.