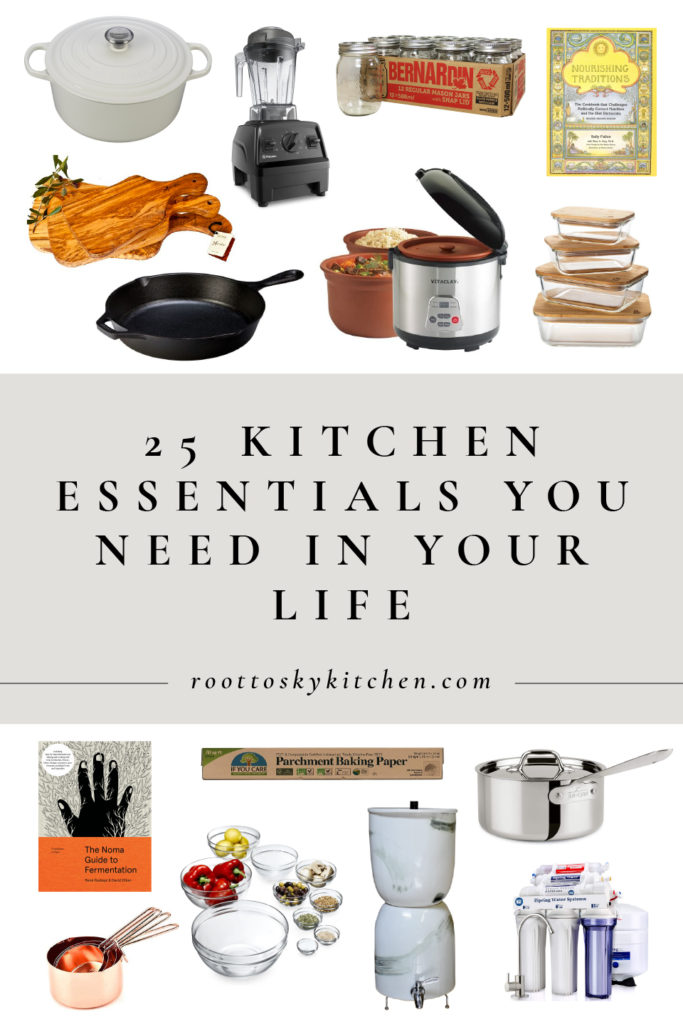 RECLAIM YOUR HEALTH with 25 Zero Waste Kitchen Essentials
Let's face it: all of the different kitchen tools available can get overwhelming and seriously expensive, but I fully believe you can make the most high quality, rustic, healthy and indulgent meals using the simplest, non-toxic and eco-friendly of kitchen tools – something that has been done for millennia, in a zero waste kitchen.
If you know me, I tend to play the role of extreme minimalist, even when it comes to the zero waste kitchen (which I basically live in, by the way). I believe in investing in timeless, non-toxic, well made cookware that can last lifetimes, and I also happen to share cookware with family and housemates, so it's a great way to save money in the long run while using high quality gear that's also health conscious, causes the least harm, and leaves minimal impact on our natural environment. This is analogous with my philosophy surrounding cooking, as the entire process from ingredient growing and sourcing, preparation, cooking and digestion should be like a ritual to nourish and balance the mind and body, to reclaim ownership of your well being through the simple act of cooking, and to uplift yourself and those around you, if they're ready for it, with nourishment and energy.
I started this blog because I believe you deserve to make informed decisions when it comes to the environmental, chemical, and emotional stresses and toxins of this world that can all have an impact on your health. Health is a fractal phenomenon; by taking care of yourself you can then help others. The closer you live with the land, the more it will reciprocate. Everything you see here is a culmination of decades of choices informed by my own ever-evolving and emerging research and experience. I am here to transmit the information I've found that works for me.
Simple, quality tools that are easy and enjoyable to use can help give you the confidence to know how to feed yourself and create flowing vitality, greater ease, physical and mental recovery, and to help you ground, align, centre, and return to your Self. Some of the deepest spirals of life begin through the alchemy of cooking. It is a sacred recognition of the cycles of our lives, with the will to bring to them what will best nourish, bioindividually.
Freshly prepared, delicious homemade food prepared with love is one of the greatest gifts you can give to yourself and others, so I've rounded up 25 zero waste kitchen essentials you need in your life along with some less expensive, yet still solid options, if you're ballin' on a budget. Here's what I personally SWEAR by and have been using constantly for many years. The best part: you can find everything online. PS. You won't find any microwaves on here.
I tend to get a lot of questions about the best kinds of water filters, so here's a rundown based on my ever evolving research and what I know works best for myself.
A reverse osmosis (RO) water filter is hands down the #1 essential I'd recommend in ANY modern day kitchen setup. You can have the fanciest, handmade rustic clay pots and pans, unbreakable appliances, earthy wabi sabi interior design with proper feng shui or attractive functional antibacterial copper faucets, but if you don't filter your water to help manage your health, what's the point of it all?
This does require installation but as far as I know, it's the best kind of water filter you can get. As you're probably aware, most tap water in the "developed", industrialized world does get recycled and initially filtered at water treatment plants, yet when it comes out of the tap, it remains full of toxic chemicals, 'forever chemicals', and other substances such as chlorine (kills any harmful pathogens in the water yet also destroys your gut microbiome that you'd have to repopulate again over time) and various pharmaceuticals that pass through the water treatment process, and it also tastes funny so I highly recommend you consider investing in the best kind of filter you can afford, no matter where you live.
Our Rainfresh model has been going strong for nearly a decade, and we've only had to replace the faucet once (is that a good or a bad thing?). All you need to do is clean the filter by scrubbing it every few months – easy peasy. There are a few plastic components that comprise the filter which might not scream 'eco-friendly' at first glance, but since the water travels quickly through it, there's hardly a chance of plastic chemicals leaching into the water. It's also definitely not a single use plastic either, so this is well worth the investment to protect your health and that of your loved ones in the industrialized world so you can go forth and connect to nature.
Another model I've heard great things about is the AquaTru, which is fully RO and requires minimal setup as a countertop filter, though it's more of an investment. Toxins are present in even the best tap water, which is often bottled and sold at too high of a cost to that of your health, wallet and environment. Invest in your health instead. Crowdsource for one near the holidays if need be.
Brita filters may be the first true budget option that comes to mind, but their filters are not effective at properly filtering the junk from tap water. In my experience, they also leave the water tasting like plastic and they leak filter sediment into the water. Brita filters are not truly water filters, they do not remove any harmful chemicals and in fact the filter contains aluminum and actually increases the aluminum content of the water. Boiling water in general to "clean" it is not effective whatsoever – not only does boiling not remove any pollutants, it actually INCREASES the ratio of harmful chemicals. The steam boiling out of the water is pure distilled water leaving you with a concentration of tap water pollutants. The only time boiling water does any good to the cleanliness of water is if the water contains bacteria or parasites, in which case it would kill them, but to say nothing of any harmful chemical constituents left behind in the water! Brita filters are a scam, and I do not recommend them whatsoever.
A Berkey filter is the best "budget" option, and I literally bring it with me wherever I travel. What can I say, I choose to invest in proper hydration wherever I go. Berkey provides the ultimate in waterborne contamination removal, classifying it as a purifier. This is a more accessible option if you're not able to invest in an RO setup and can take you a long way in the event of a natural disaster or municipal infrastructure disruption: just go to the nearest lake or river, and filter the water for drinking! For regular kitchen use, this works great on the countertop next to the sink so you can continually refill it with fresh water throughout the day. I've found that it leaves the water tasting good without the toxins.
This can be an amazing option if you live in an apartment or if you're a digital nomad constantly travelling around. There are quite a few optional accessories that can go along with it, but I definitely recommend at least including the fluoride filters which can be easily screwed onto the lower section.
If you're located in Canada, Conscious Water carries a wide range of Berkey products, including the travel size which I personally use. Disclaimer: if you click on the link and order one, I'll receive a commission – I'm so obsessed with my Berkey that I became an affiliate, haha. Note that they ship within Canada only!
This video shows you how to set your Berkey filter up, and this page tells you all you need to know about maintenance. It's so easy, and well worth it. When you empower yourself and your loved ones with a trusted, healthy water source, it leads to greater happiness and expansion of consciousness.
The true budget option though? Collecting your own spring water directly from the source. It's fre$h, it's alive, it thoroughly hydrates the cells, promoting improved cellular bio-energy, metabolic function, and gut microbiota. It costs nothing, and you can commune with the water on levels that no other way can. Visit findaspring.com to find one near you. Personally I collect mine, then run it through the Berkey filter to remove any natural debris.
Revered by health professionals and international chefs alike, Celtic sea salt is currently my ultimate salt of choice along with Mayan sea salt. It's harvested from evaporated sea water and scraped from clay-lined pans on the coast of France. Celtic salt has a high moisture content making it really easy for our bodies to digest and use the salt's minerals. It builds immunity, regulates blood pressure and sleep, promotes heart health, increases the body's energy, improves brain function, and eliminates mucus buildup. Not only does it contain the full range of electrolyte cofactors like other sea salts, it's a great source of trace minerals (from its natural colour), and helps optimize cellular hydration and long term health. It's a vital tool when it comes to remineralizing your filtered, restructured tap or spring water – just add a pinch or two to a glass of water, or use it generously in your drinks, tonics, cooking and baking. Celtic sea salt also contains lower amounts of plastic microparticles compared to other sea salts, which are generally unavoidable in this world, but your body also has an amazing capability to naturally detoxify through sweat.
It's not fortified with isolated iodine like typical table salts are, but I personally recommend consuming whole kelp or other sea vegetables and wild caught seafood for my vital iodine intake. Other sea salts such as Maldon or ethically and sustainably hand harvested Vancouver Island sea salt are great options, too.
Himalayan salt is also popular in health conscious circles, but it contains rust and may potentially contain bits of dynamite (heavy metals) unless it's been hand mined, so I personally steer clear of it. Heavy metals are much more difficult to detoxify/chelate than BPA from negligible amounts of microplastics. Always review recent studies on the ocean/sea water quality and composition, and choose your sea salts accordingly.
For more on salt, check out Dr. James DiNicolantonio's book, The Salt Fix. Eating more of the right salts in combination with other lifestyle factors just might save your life.
10/21/21 edit: After a bit of further research, Celtic sea salt is no longer my most recommended option as the Celtic sea is quite polluted. I'd opt for Icelandic, Mayan, Redmond, or Peruvian salt, then any of the other sea salts if you have no other option.
I really like the Kirkland brand as you get a lot for the price, but really any kind of sea salt you prefer or can afford will do the trick. Don't be afraid to use it generously.
All sea salt contains the same sodium chloride molecules and the full range of electrolyte cofactors, and can be used liberally. The issue is when table salt is manufactured with the isolation of sodium chloride from original sea salt, and subsequently paired with a diet full of sugars, industrial seed and vegetable cooking oils, inflammatory monocropped, pesticide riddled grains, and exposure to artificial light and blue light from screens and technology in modern lifestyles, together causing the common modern ailments. Avoid table salt, which is often used in processed, prepared and packaged foods, cafes and restaurants everywhere. Artificially iodized table salt is completely stripped white and is not recommended.
Dishwashable and totally non-toxic, borosilicate glass is the #1 nonreactive material that's the safest to cook with. Personally I'm saving up for borosilicate cookware, but US made stainless steel is also safe to cook with (more on this below). Neither material will leach harmful toxins into your food. With a uniquely vintage look, Corning's Vision cookware might just be your new BFF.
Ideal for making eggs, toasting dukkah, sautéing meats, and even cooking entire curries. I use this pan all the time, and it's easily transferred into the oven when needed. The 18/10 stainless steel will not react with food! Stainless steel can be a safe material to cook with: to avoid potential toxin exposure from mixed metals, opt for a US made stainless steel like All-Clad, or another manufacturer you can personally trust (avoid mixed metals which can leach into the food). It's definitely on the pricey side, but for me, an All-Clad is worth every penny, and it will last lifetimes. 8-inch, 10-inch, and 12-inch sizes are available.
Definitely not a budget option by any means, but trust me when I say this will last for the rest of your life. It's so versatile, and stainless steel made by All-Clad is a reliable, durable, non-toxic cooking material. Eat delicious, home cooked food and feel energized, unstoppable and healthy, every damn day.
Clay cooking vessels have been around since ancient times, even before farming became a thing. I am obsessed. They've been used for storage, fermentation and preservation of food and liquids, and used in cooking. Who needs an air fryer when you've got one of these? The clay will imbibe a sense of warmth and primordial earthiness to your cooking with natural non-stick properties and even heat distribution. According to Ayurvedic science/wisdom, cooking with earthen vessels can help keep you connected with nature and Self, and the clay can even be medicinal as the tiny amounts absorbed into the food from cooking can help detoxify and fortify the physical body.
Clay vessels are a natural alternative for cooling down liquids, as water stored in the refrigerator disrupts the tri-doshic balance.
Not only will you want to go for nutritious foods, you'll also want to preserve their nutrients. Clay directly enhances, preserves and even increases the nutrients and taste of the food. Studies have shown that cooking food in earthen vessels retains most of the micronutrients. However, food cooked in most metalware becomes poisonous.
Clay has porous qualities, allowing for effective heat distribution when cooking. They take a longer time to heat than metal pots, and this even and slow cooking plays a very important role in retaining the nutrients inside the food.
Storing leftovers in earthen pots will help keep food fresher for longer.
Clay is naturally non-stick, requiring less oil for cooking (though it is generally encouraged to use tallow, lard and ghee liberally, regardless of the material of your cooking vessel).
Clay is a non-reactive, non-toxic material. Often, metals in modern pots can release toxic chemicals from the heat, gradually inducing low levels of unnecessary inflammation and affecting your health. Clay cookware is non-toxic and prevents poisoning and any related ailments. All it consists of is important micro-nutrients like calcium, phosphorus, iron, zinc, and sulfur. Many people even like to consume actual clay as part of a regime to aid in bodily detoxification.
Clay cookware interacts with the acidity of food and helps balance pH levels, inhibiting the development of cancer in the long run.
Clay is biodegradable and environmentally friendly, meaning no harm is caused to the surroundings.
If the clay pot breaks, you can use it as a planter!
Click here to find out how to make your very own clay pot.
A must have for simmering bone broths and brewing endless other recipes. Not only is the Instant Pot a total staple, but it's also quite possibly the ultimate modern witch's cauldron. It contains a removable inner stainless steel pot that you won't need to worry about breaking, and it's incredibly easy to use, especially if you're a lazier cook who still wants quality nutrition.
I know Le Creuset isn't cheap, but one ceramic Dutch oven will go a long way in most any kitchen. I especially recommend this if you're into any sort of notion of posterity, as this high quality, timeless, functional and aesthetically pleasing cooking vessel can be passed down through generations on end. Oh, and it's pretty enough to serve in.
The Zwilling J.A. Henckels Dutch oven comes out at just around $100. This red one is what I currently use, and it's been solid in many applications, from sourdough baking to soups, stocks, stews, curries, roasting, and more. An overall highly reliable kitchen centrepiece.
This isn't the exact Cuisinart model I use, but I generally trust their quality. Mine's decades old, and still holds up to this day. The main compartment is plastic, but as long as the contents are blended fairly briefly and at room temperature, you won't need to unnecessarily worry about any plastic toxin contamination in your food.
The Vitamix is a holy grail item for plenty of health-conscious cooks, especially those more plant oriented in their approach. It's an expensive high speed blender that will magically create smooth AF green smoothies (no chewy bits!), the creamiest soups, soft serve frozen fruit ice cream, smoothie bowls, homemade seamless activated nut butter, cheese and milk, sauces and vinaigrettes, raw cakes, and well, the possibilities are endless. Invest if you care.
This is the exact Hamilton Beach glass blender that I use almost daily, and it has held up nicely over the past 5 years. Glass is the ultimate food safe material, and this model is much more affordable than a Vitamix. It can also make smoothies, herbal tonics, and soft serve organic/grass fed/fruit based ice creams just as well, I'd say.
A basic, decent blender can streamline much of your kitchen prep, and can even replace milk frothers and other excessive gadgets. Whether it's a soup or a smoothie, a blender is pretty crucial.
10. Mason jars – the iconic zero waste kitchen star
I can't emphasize it enough: no kitchen arsenal is complete without these gems. Fermentation, preservation, leftovers, pickling, smoothies, drinking glasses, soaking and sprouting nuts, seeds, legumes, grains and beans, storing large batches of broths in the refrigerator… Mason jars are invaluable when it comes to surviving and thriving in uncertain times. Glass is food safe and non-reactive with your ferments. Also, Bernardin is the bomb.
Copper is attractive, functional, and naturally antibacterial. What more could you want? Copper helps neutralize toxins and ionize and balance the pH in liquids, making them fit for consumption, according to thousands of years of Ayurvedic science. Trace levels of Copper ions become infused into water or onto the skin via contact (similar to beneficial negative ions via barefoot earthing or direct exposure to the rain/fog). This is called the oligodynamic effect, and these ions are thought to stimulate immunity and wellness.
If you're hardcore into the local, ethically pasture raised/wild caught, grass fed and finished, nose-to-tail animal food life, a chest freezer can be an incredible investment for decades to come. I recommend a fairly large size, about 200 L, the capacity of which can hold up well in case of emergency, like if the food system gets disrupted. It's always nice to have an emergency backlog of nourishing, high quality foods.
I'm OBSESSED with the rustic feel of this cutting board. These natural, biodegradable cutting boards by Sarafino are handcrafted with fallen or pruned olive tree branches in Reggio Calabria, Italy – on fertile land where the largest olive trees in the world continue to grow. It has the distinct advantage of being a COMPLETELY uncoated solid wood block, and therefore doesn't contain any toxic glues or varnishes that could seep into your food.
To maintain its quality, occasionally rub food grade organic hemp wood oil (or other food grade oil) into the wood to preserve and maintain its natural appearance. Also works well as a serving platter, food photography prop, or an abundant charcuterie board.
Organic bamboo is sustainable as it grows like a 'weed', making it a prime candidate for a long lasting, affordable and reliable, uncoated cutting board. I use these exact boards that my family uses, but not as much as the goose neck one above.
Most cotton is monocropped and heavily sprayed with glyphosate, so why not opt for simple, organic cotton? These GOTS certified, BPA-free, machine washable, 100% organic, pesticide and flame retardant free cotton oven mitts are made with completely natural materials so the mitts will eventually make their way back to the earth with minimal disturbances. I've been using this exact pair for a few years now, and so far it hasn't caused me any problems.
Cooking needs to be enjoyable, and a sturdy and sharp knife will transform your life when it comes to cooking for happiness. Never underestimate the power of a simple, inexpensive kitchen knife. I use this santoku knife for everything. It just needs a bit of sharpening every few months, and I swear by this inexpensive Zwilling J.A. Henckels knife sharpener every time.
I actually don't recommend juicing as a 'cure all' or panacea for 'health', as juicing eliminates the fiber matrix that makes fruits and vegetables healthy, and actually refines the fructose/glucose/sucrose found in fruits for a nice insulin dump (no, thank you). Not only that, but you end up consuming more anti-nutrients such as oxalates in spinach that displace biotin in mitochondrial carboxylation enzymes. You'll want the fiber from the whole fruits and vegetables like they're meant to be consumed, so I only recommend a juicer if you've got the funds and capacity for blood sugar spikes, or opt for a blender instead. With that said, juicing is tasty, and sometimes a shot of organic carrot juice with its structured water is just what you need.
They're attractive. They keep food fresh. They're leakproof. They're 100% plastic, phthalate, and BPA free, the ultimate zero waste kitchen staple. The lids are bamboo, and the base is oven, freezer, and dishwasher safe borosilicate glass, with rectangle and round shaped options. Hello.
Glass storage containers are some SERIOUS life savers. Because I'm constantly cooking up different recipes, these make an excellent storage option for any leftover food. The bamboo lids are sturdy, they look nice, and won't leach any toxins into the food. The glass part is also oven safe, so you can remove the lid and pop your leftovers right into the oven without having to deal with the possible health risks and nutrient loss when using a microwave. (I personally avoid microwaves.)
Mandatory in any kitchen with an oven. To avoid any toxin (possible aluminum) exposure from the metal into the food, I highly suggest lining the baking sheet with unbleached parchment paper, or a Silpat mat (food safe silicone) with every single use.
Cast iron is super versatile for making pretty much anything. Curries, bacon and eggs, meats, pancakes, breakfast skillets, frittatas, okonomiyakis, extra large cookies… cast iron's got your back.
It's durable, lasts forever, affordable, naturally non-stick, retains heat, doubles as a serving dish, looks rustic and attractive, sears foods evenly, transfers to the oven seamlessly, and is widely available.
Like anything, there are both benefits and disadvantages. You'll want to avoid cooking acidic foods such as tomatoes, and fully cover the bottom with cooking fat, as the cast iron can leach metallic iron into the food which can be inflammatory when ingested. It also requires a bit of special maintenance. This is why I actually prefer cooking with US made stainless steel or borosilicate glass as cooking materials.
Overall, cast iron is still a solid option, and is one of the least bad alternatives to borosilicate glass, especially when compared to toxic, coated non-stick pans or certain mixed metals which I prefer to avoid at all costs, even if there have been studies proving the 'safety' of more recent non-stick models… my intuition tells me no.
Oh, and do not ever!!! scrub the bottom or you'll get more iron exposure causing detrimental free labile iron in the bloodstream.
I could not live without this biodegradable parchment paper, perfect for your zero waste kitchen goals. Parchment paper is such a staple in everyday kitchen alchemy, and 100% unbleached, chlorine-free, biodegradable and backyard compostable, greaseproof parchment paper won't leach any toxins into the food you create as the FSC, BPI, USDA, Ok Compost, and GOTS certified paper is coated with heat resistant food safe silicone, packaged in 100% recyclable paperboard. It's also reusable, so instead of throwing out your old paper after roasting some organic fries with sea salt, pepper and tallow, wipe it down and reuse it a couple times until it rips or turns dark and burnt, and save money.
Crafted in France out of food safe fiberglass mesh and food grade silicone that'll last forever. It provides consistent heat distribution and promotes even baking and browning. Silpat is the original non-stick baking mat that won't leach toxins into your food. Like parchment paper, it'll protect your food from the aluminum in typical baking sheets while it roasts or bakes in the oven. I prefer this for baking at temperatures that aren't excessively high (around 350°F).
A total game changer for garlic and ginger in particular. Great for making dressings, sauces and dips, and can also zest citrus fruits and chocolate shavings really nicely. Lately I've been using mine for incessant amounts of grated garlic tahini with lemon zest – not to mention all of the health benefits that arise from it.
This thing changed my life, and I'm pretty sure nicely spiralized vegetables have the power to convert even the most vegetable averse out there.
The Excalibur dehydrator is handy for raw food recipes, sugar and nitrate-free ethically raised homemade beef jerky, fruit leather, drying herbs, and more.
I could not live without mixing bowls. Lead-free, stackable glass bowls will help you with cooking any meal out there. I prefer to lay out all of my chopped ingredients in various bowls before I start cooking, so a size selection like this is convenient. Also great for salads, baking, and collecting scraps as you chop.
25. Stasher bags (THE ultimate zero waste kitchen storage bags)
I SWEAR by these, and consistently use them for storing frozen broth cubes, tallow cubes, herbed butter, chocolates, 'fat bombs', snacks, nuts and seeds, and broth scraps in the refrigerator, freezer, or pantry apothecary. Silicone is 100% food safe, and won't leach any unwanted chemicals into your food.
Some books that'll guide your zero waste kitchen to new levels:
---
Bonus basics that'll turn cooking from a chore to an adventure in a zero waste kitchen:
Wooden spoon: a must in any kitchen. Try going with a naturally coated or completely uncoated, non-toxic spoon, like this one from Williams Sonoma – it truly changed my life and I've been using it nearly every day for many years. Make sure it isn't comprised of separate pieces held together by toxic glue which can react with heat, and ideally carved out of a single piece of wood. You can even take a day off to carve your very own personalized spoon out of recycled or fallen wood.
Wooden spatula: another versatile essential that I use consistently for frying eggs, sautéing, and even serving. The Williams Sonoma Open Kitchen Beechwood Angled Spatula is the best, and I expect to use my trusty spoon and spatula for many years to come.
Dr. Bronner's All Purpose Soap: I basically drink this stuff. (Kidding, but I actually wouldn't mind if I ingested it.) Not only do I use it for washing my hands, shower and face soap, rinsing fruits and vegetables, and hand washing my laundry, but it works much better than any other conventional or "eco" dish detergent I've used. Recommended for hand washing dishes rather than in dishwasher machines. As a non-toxic castile soap, it cuts grease like nobody's business, and it's totally biodegradable too, without any nasty fragrances, parabens, or other bioaccumulative molecules seeping into your pores. I'm a convert for life.
Vegetable peeler: this lil device changed my life, especially when it comes to making fancy, delicious shredded veggies in salads, sushis, and more. Random fact: raw carrots can help detox excess estrogen from the body, and I've been using them quite often lately.
Ladle: for all of the broths, stews and soups.
Silicone (food safe) spatulas: useful for scraping cookie or cake batter and blended smoothies, pestos, sauces, dips, etc. Highly heat resistant to boot.
Silicone chocolate moulds: perfect for making fat bombs, CBD/immunity gummies, medicinal mushroom chocolates, and other goodies. Silicone won't transfer toxins into your food at mild temperatures. Silicone rubber is generally non-reactive, stable, and resistant to extreme environments and temperatures from -67 °F to 572 °F (-55 °C to 300 °C).
Biodegradable Coconut Bowls and reusable wooden cutlery: goodbye, plastic! I'm obsessed with coconut bowls and for some reason, they always make my smoothies, sprouted oatmeals and room temperature snacks taste better. They're made with all natural materials that'll go right back into the earth. Ps. room temperature smoothies are more optimal for the body than cold smoothies, and oats need to be sprouted or fermented before consuming.
51raw untreated bamboo cutlery for on-the-go! I initially discovered this amazing brother-sister duo on Instagram, and not only do they stock biodegradable, untreated, toxin-free bamboo cutlery and other health supportive necessities, their outlook and holistic approach to whole body nourishment and thriving is incredibly inspiring.
Organic vegetable and/or herb garden: I can't stress how positively my garden has impacted my life. I urge you to grow something whenever you can, even if all you have access to is a balcony and pots or a community garden. It can change your life. It's economical, it's empowering, it creates rich abundance to share, and it connects you to the Source and the earth's rhythms in the best ways. Pure consciousness for a zero waste kitchen life. Bonus points for nude or barefoot biodynamic gardening for the healthy sun on skin and skin on earth purposes (B vitamins from the soil absorbed into the skin promote longevity, not to mention the benefits of breathing your biome). I eat well because of my garden, and it also makes me a better human. Create your own new paradigm. Cultivate your own food.
I hope you've found something useful out of this! What are some of your favourite zero waste kitchen essentials that I might have missed on here?